6 min read 
The tech sector entered a correction just over a month ago. Driven by high valuations and uncertainty over growth outlook this correction was exacerbated by the EU when it levied a huge fine against Google. Down a little more than 4% at the low the tech heavy NASDAQ Composite has now begun to move again. This move is in line with underlying trends and supported by economic and earnings growth outlook which has pushed the index to new all time highs. Provided no surprises pop up we can now expect to see the index continue to drift higher.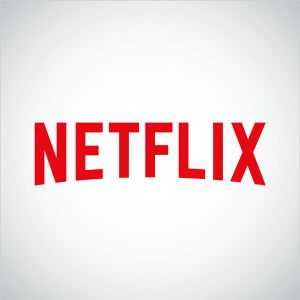 Several tech companies have reported positive earnings so far but it is Netflix providing the lift which drove the sector to set those new highs. The company missed on the EPS end but all in all delivered a stellar report. Earnings per share missed by a mere penny but grew YOY by double digits. Revenue grew by more than 32% on the back of strong subscriber growth. US subscribers grew by more than 1.07 million, about 60% above expectations, to bring total membership to just over 104 million. International subscribers grew by 4.14 million, also well above expectations.
While past results are excellent and help keep investors happy it is forward outlook that drives stock prices. Netflix was able to provide positive forward guidance. The company is expecting to see subscriber growth come in above expectations along with increases in revenues and EPS. This news drove the stock higher in the pre-opening session and caused it to gap up by more than 8% the morning of the release. This move broke through resistance soundly and set a new all time high for the stock as well. On a technical basis this move is strong and indicative of new money flowing into the market. There may be a small pull-back on profit taking and rotation but that will no doubt turn into a new buying opportunity for savvy traders using the ladder style Classic Options here at IQ Option.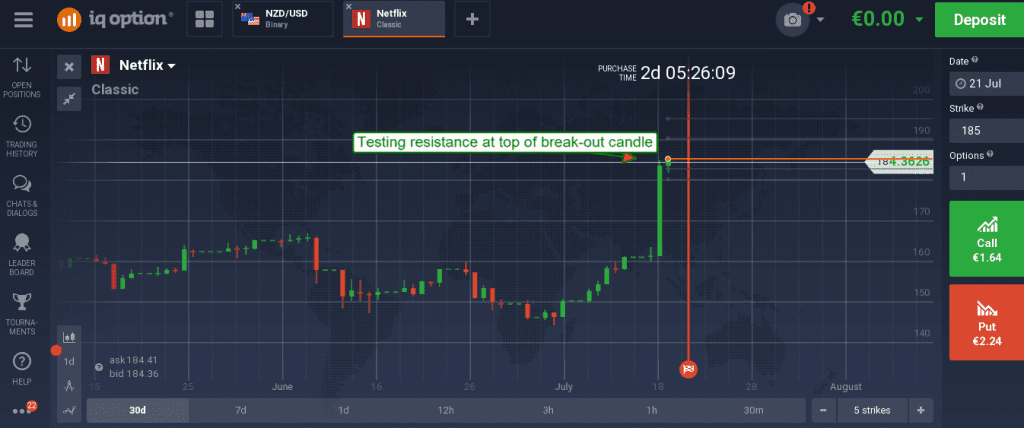 There are a few possibilities for near term traders as well. Resistance is now at the top of the break-out candle, near $185.50 and the current all time high. This level will likely be tested resulting in 1 of 2 possibilities. The first is that the market will continue to rush into this trade and drive the stock above resistance which would be a bullish indication. The second is that resistance will be strong enough in the near term to keep the stock from moving higher which would be bearish, but near term only. A confirmation of resistance could see the stock move down to test support at the bottom of the break out candle.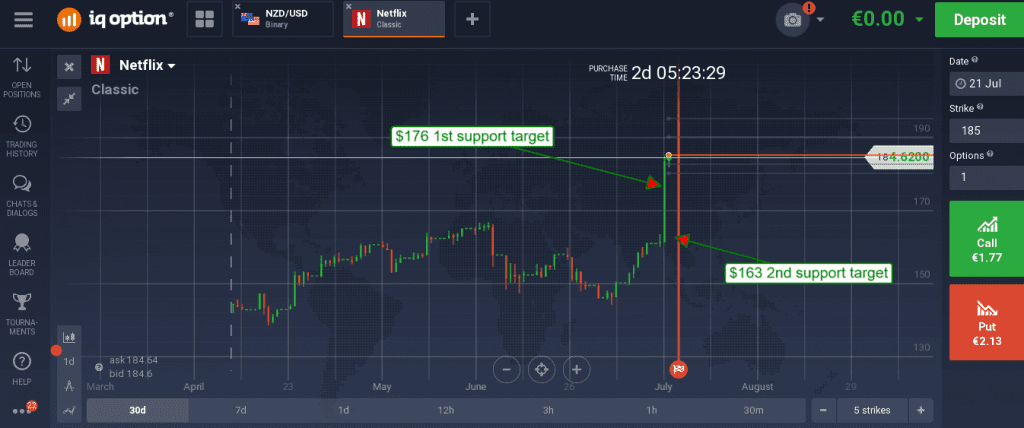 Support at this level could be strong. The bottom of the break out candle is the top of a rather large gap/window that will likely prove to be a pivotal price point for Netflix. This level is near $176, a break below which would be very bearish in the near term as windows and gaps have a way of closing rather quickly. A window represents a massive jump in prices, a jump that on one hand will provide quick profits for holders of the stock and on the other will leave many traders in the dust wondering what just happened. If traders who've missed out on their opportunity to buy in are bullish enough to buy at the top of the gap support will be strong. If they aren't, a break of $176 will most likely not find reliable support until price action reaches the $163 level.
Trade on Netflix here