After a few consecutive weeks of an upward move and touching an all-new high this week, Monero is finally slowing down. Still, the market cap of the coin is above $5.2 billion and it holds the 10th spot among the largest coins in the market. With the drop in the value, the trading also decreased and in the trading volume in the last 24 hours was recorded to be about $120 million.
Key Highlights
Against USD, Monero touched an all-new high this week at $470
After dipping down from the peak, the pair is currently trying to gain the upward pace again and is trading around $330
XMR/BTC gained 41 percent and is currently trading around 0.024 BTC


For Monero against USD, the week started with an upward move. Though the pair faced resistance around $390, it finally went up to reach an all-new high at $470. With a strong support at $450, the pair tried to maintain the peak level, but the support could not hold the value for a long time and a dip in the value followed. After reaching as low as $250, the pair recovered and reached around $380, but again a downward move took over.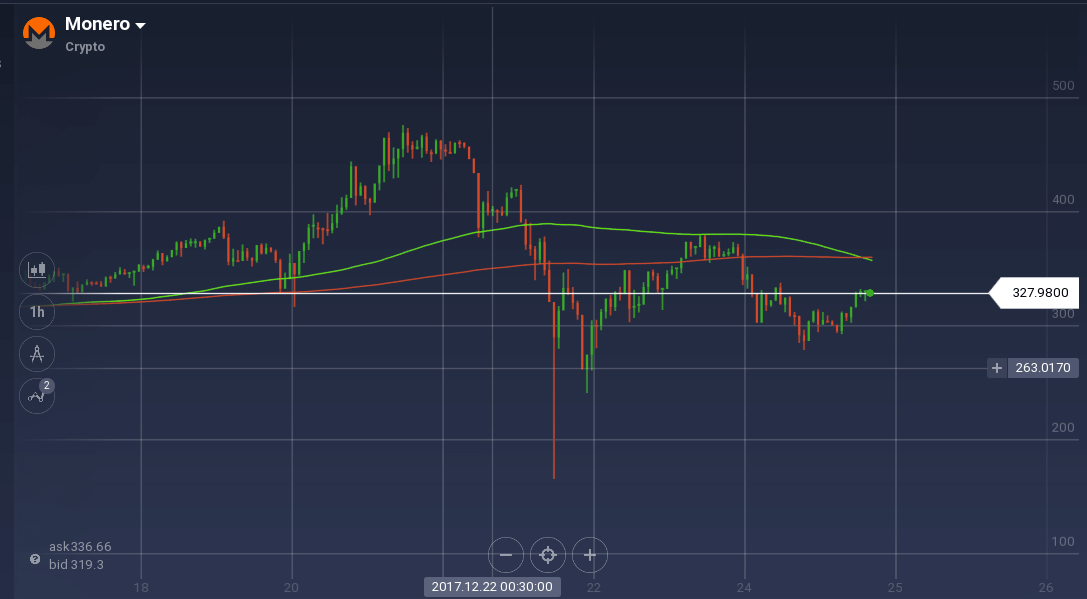 In the daily chart, after dipping down to $286, the pair is gaining an upward pace and is currently trading around $330.
With the recent upward move, the technical indicators are also gaining momentum. MACD is moving up after a long bearish run. Stoch is also bullish and is running way into the overbuying zone. RSI is currently at 63 percent. With all the dips in the value, 200 SMA went over the 100 SMA recently.



Against Bitcoin, XMR gained around 41 percent over the week as the value went up from 0.017 BTC to 0.024 BTC.
[cta_en link="http://bit.ly/2wuz2Vx" name="Trade on XMR/USD"][/cta_en]