2 min read 
The past week was very eventful for Monero. After achieving highs, the coin was pulling back, but the traders' interests also made it adamant enough to regain those. Currently, Monero is the 13th largest coin in the market with a market cap of over $6.3 billion.
Key Highlights
XMR/USD is trying to recover its prices with a strong support present
XMR/BTC gained above 20 percent over the week and is currently trading around 0.029 BTC

In the weekly chart, the coin started with an upward pace and reached $446 from $346 in less than 24 hours. Strong resistance at $432 forced the prices to go down. Though the coin tried to find support on the way and receive the prices, it finally went down below $343.
That point acted as a pivot but the coin was again facing resistance at $379. With a sudden buying rage, the coin went above $416 until it faced the stiff resistance above $430. This also resulted in a pullback and the coin dropped to below $380. The coin is now trying to recover again with a strong support at $385.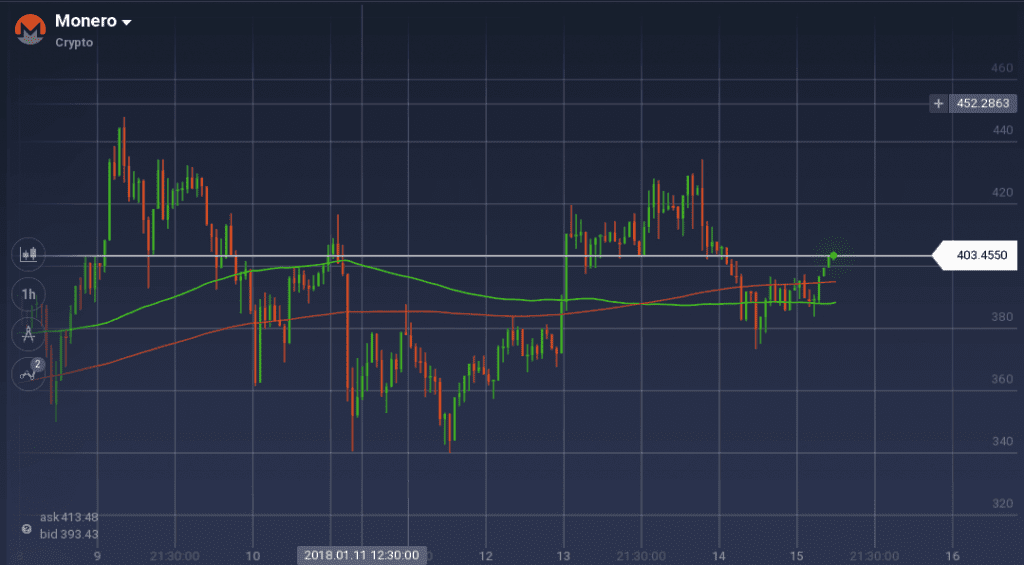 As the coin is trying to recover the prices, the oscillators are soaring high. Stoch went above the overbuying mark and RSI is currently at 69 percent, touching the 70 percent overbuying mark. But due to the dips from the peak, 100 SMA went under 200 SMA. Currently, the coin is approaching 23.6 percent Fibonacci level.

Against Bitcoin, the performance of Monero was good. The pair went up from 0.024BTC to 0.029BTC and thus gaining over 20 percent.
Trade on XMR/USD