The cryptocurrency market has endured a heavy hit last week, especially since Thursday and over the weekend. The total market cap had dropped to $275, a record low since it climbed $800 billion. However, in the recent hours, the market is rebounding and set on the positive track as most of the coin are adding to their values.


Ripple
The token issued by the blockchain-based financial firm Ripple has suffered from a massive loss as the market was at a record low. It dropped to as low as $0.53 over the weekend trading sessions. Overall, the coin lost 19 percent around the week, however, it is gaining at an aggressive pace as in the last 24 hours, XRP gained more than 11 percent against USD. The coin holds $26 billion in market cap – $6 billion loss in 7 days. With the climbing prices from the pit, the trading volume has also increased as it was recorded to be $985 million in the last 24 hours.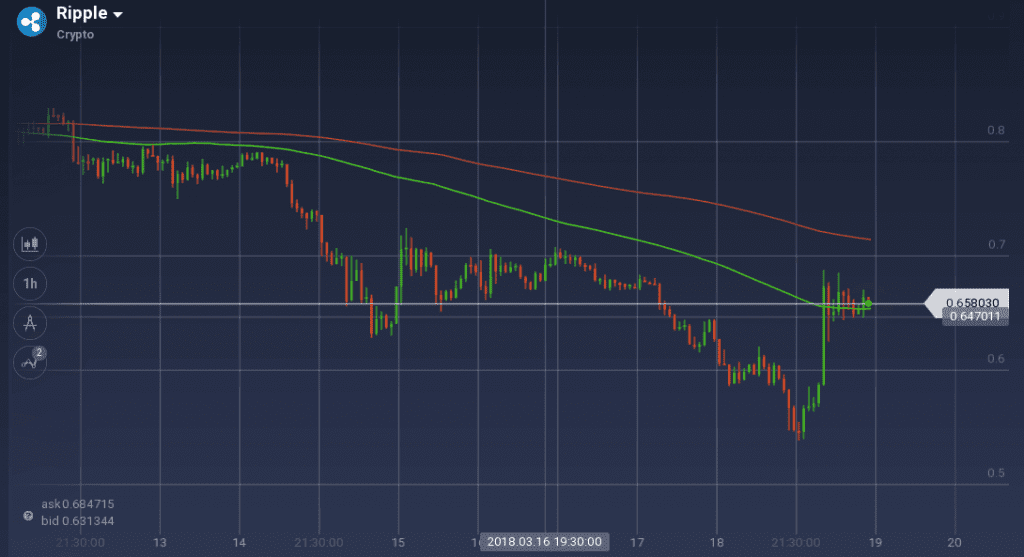 On the weekly chart, the market moving drops of the week were completely visible – $0.78 to $0.63 and $0.67 to $0.53. Multiple resistances – $0.79 and $0.70 – also acted as barriers to recovery after the dips. However, after dipping to $0.53, the market is in a recovery mode as the coin moved up from $0.54 to $0.68. The coin is currently facing some resistance at $0.67, but support is also there at $0.64.



Due to the sudden recovery in the prices, the oscillators jumped to overbuying zone. MACD is also giving bullish signals. Currently, RSI is at 61 percent with a downward inclination.
Tron
Like every other coin, Tron also has suffered from a tremendous loss. Even after the recovery of around 16 percent in the last 24 hours, the coin has a loss of 21 percent over the week. It holds market cap of around $2 billion and is the 15th largest coin on the market. TRX has recorded trading volume of over $133 million in the last 24 hours.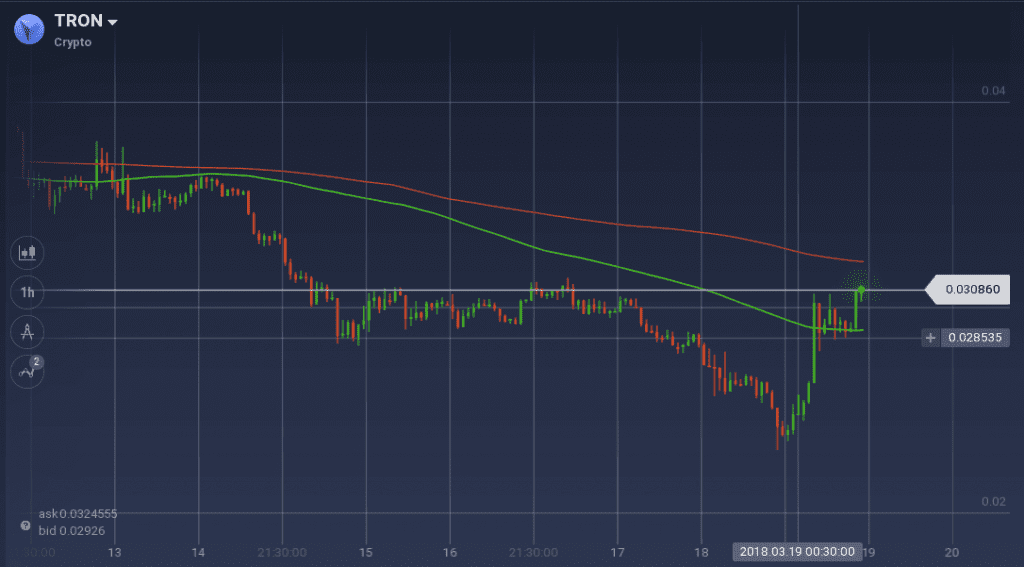 In the early week, TRX was trading sideways between the narrow resistance and support band of $0.036 and $0.034. However, the support was too week to hold the value as the bear took over the market. After a minute recovery, the coin again faced resistance at $0.31, however, a support also formed at $0.39. With the second rapid downturn, TRX's value dipped to $0.023 until it rebounds back to $0.030 to face another resistance. With support at $0.028, the coin is testing this resistance over and over.



Because of the recovery with rage, all the technical indicators are running bullish. Stoch and RSI are hovering beyond the overbuying zone. MACD and ADX are also showing a similar trend.
Conclusion
After a heavy dip in the prices, the market is back on track. However, it is to be seen, if it can maintain its positive pace for a while, or will suffer another depreciation.
[cta_en link="https://iqoption.com/lp/ultimate-trading/en/?aff=88&afftrack=cryptoanalysis1903″ name="Trade crypto here"][/cta_en]