In the crazy crypto world, Litecoin had a mixed performance the week. The coin spiked up in the initially, but ultimately maintained a gradual bearish run. But it is still the 6th largest coin in the market with over$12.6 billion in market cap.
Key Highlights
LTC/BTC pair maintained the downward pace after the pullback from the weekly peak
Currently, the pair is trying to find a support around $230
Overall, LTC/BTC pair gained around 17 percent since the start of the week and is currently trading at 0.0169 BTC


In the weekly chart, the coin maintained an upward inclination initially, and suddenly with a rage among the buyers, the value spiked up to cross $300 from mere $242. But as always, the peak resistance stopped the growth. Though with some support around $277, LTC/USD pair tried to breach the resistance, it ultimately gained a downward momentum. The pair started to fall and reached around $230. Even though the pair tried to recover in the midweek, the newly formed resistance at $256 checked the growth and ultimately it went down again.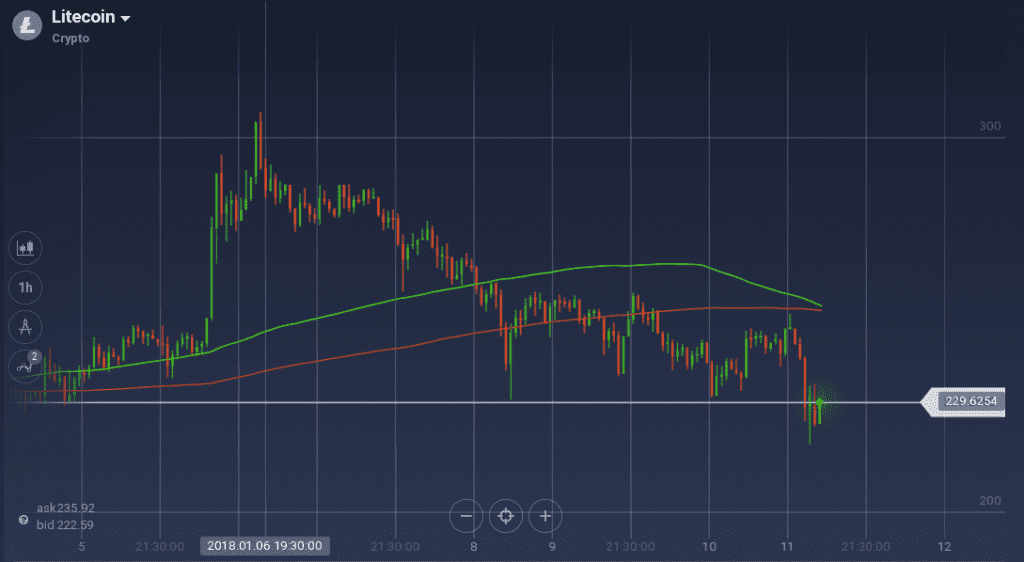 On the daily chart, the coin lost around 5 percent and the downward pace is still dominating.
Because of the current falling prices, the technical indicators are signaling bearish run. Though currently, a trend reversal is possible. Stoch and RSI both are taking a U-turn after reaching the overselling mark. RSI is currently at 31 percent going upward. But MACD is still running bearish. Because of the long maintained bearish movement, 100 SMA is also close to going below 200 SMA as the gap between them is closing up.



Against Bitcoin, LTC took a leap in the early week. But after that, the pair was traded sideways throughout the week. This is mostly because of the falling price of both the coins. Currently, LTC/BTC is trading at 0.169 BTC.
[cta_en link="http://bit.ly/2ybO8RQ" name="Trade on LTC/USD"][/cta_en]