9 min read 
Irma transformed streets into rivers, hammered Caribbean islands and the Florida Keys with deadly fury, and left about 3 million people without power and millions temporarily displaced. But even with flood waters still flowing some residents in the southern part of the state were counting themselves fortunate that the most dire predictions evaporated. They emerged tentatively Sunday night, despite curfews and downed trees, to walk pets and take in storm-freshened air. The estimated financial impact shrank as well.
An expert disaster modeller had predicted total damages as high as $200 billion. However, the hurricane dwindled to a Category 2 before reaching the Tampa Bay area. That could keep damages under $49 billion, with insured losses at about $19 billion, sparing insurance companies, Watson said. By comparison, total losses from Hurricane Katrina reached $160 billion in 2017 dollars after it slammed into New Orleans in 2005.
The dramatic drop in Irma's estimated cost, though, didn't mean the region would be spared a savage human toll. It has already laid waste to the small island of Barbuda, killed at least 25 people and left thousands homeless across the Caribbean. Early reports suggested that the low-lying Keys were devastated, with photos showing cars submerged almost to their roofs.
iPhone X: The billion dollar phone?

Apple's most important new product for years will be called the iPhone X, according to a leak of the company's latest mobile operating system on Saturday. The iPhone 8 and iPhone 8 Plus are successors to the current iPhone models, while the iPhone X is the premium version with an all-new design, crisper OLED screen, improved cameras, and a 3-D facial recognition scanner for unlocking the device.
The "X" in the iPhone's name may be a reference to this model being a special 10th anniversary edition. The iPhone 8 and iPhone 8 Plus will look similar to the iPhone 7 and iPhone 7 Plus, but include faster processors. The new devices will be unveiled at an event on Tuesday. If successful, this could help Apple to become he first billion dollar company in the world. Time to get into Apple?
Tungsten: China Drives Critical Commodity Price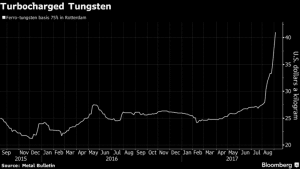 The price of one of the most critical materials for the Western world's economy and defences is spiking faster than any major commodity. Tungsten, used to harden steel in ballistic missiles and in drill bits, has surged more than 50 percent in the last two months amid growing concern about supply cutbacks in China, where about 80 percent of the metal comes from. The country is clamping down on polluting mines and enforcing production quotas. "The Chinese have been trying to impose control over the production in tungsten," said an expert. "They've used environmental policy to clamp down on non-quota production."
The price of tungsten in Europe has jumped 52 percent since early July. The advance has beaten all 22 major materials in the Bloomberg Commodities Index. The European Union classes tungsten as a "critical" commodity and the British Geological Survey places it at the top of its supply-risk list of materials needed to maintain the U.K.'s economy and lifestyle. In 2012, it became a flash point when then U.S. President Barack Obama filed a complaint to the World Trade Organization against Chinese supply curbs.
China limits supply to about 91,300 metric tons a year, but routinely breaks its quota by as much as 50 percent, partly because a lot comes as a by-product from mines that produce other metals.
Dollar stabilises; focus on North Korea, Hurricane Irma

The dollar edged higher on Monday, pulling away from last week's lows against its major rivals after North Korea marked the anniversary of its founding without resorting to any further missile or nuclear tests.  Instead North Korea observed the 69th anniversary of its founding on Saturday with a celebration honouring the scientists behind the massive nuclear test it conducted last week.
The dollar added 0.5 percent against its perceived safe-haven Japanese counterpart to 108.42 yen, moving away from a 10-month nadir of 107.32 yen touched on Friday. The yen tends to benefit during times of economic and political uncertainty due to Japan's net creditor nation status.  Relief over the lack of further provocative action by North Korea has led to short-covering in the dollar, said a trader for a Japanese bank in Singapore.  "I think this shows that the market had been a bit panicky on Friday, on fears over weekend risks," the trader said.
The dollar index, which tracks the U.S. unit against a basket of six major currencies, was 0.2 percent higher at 91.522, after skidding to a 2-1/2 year low of 91.011 on Friday.  "If you look at all the factors, it's not necessarily negative overall for the dollar," an expert. U.S. President Donald Trump said on Saturday that he will ask the Republican-controlled Congress to further speed up its efforts to overhaul the U.S. tax code, citing the potential impact of Hurricane Irma as a reason to hasten reforms. The euro was down 0.2 percent at $1.2013, after it rose as high as $1.2092 on Friday, its loftiest since January 2015.
Despite the strength of the common currency and prospects for further gains on expectations of a turn in monetary policy, the European Central Bank has signalled it is gearing up to taper its massive stimulus programme.  Reuters reported on Friday that ECB policymakers agreed at their meeting on Thursday that their next step would be to begin reducing its bond buying, three sources with direct knowledge of the discussion said.
Trade now