2 min read 
With their new blockchain tech, IOTA has offered clients some pretty unique features like zero fees, infinite scalability, fast transactions, secure data transfer, quantum-proof cryptography, etc. Their network also has no transaction fees.
Key Highlights:
Against USD, IOT lost 16% in the entire week, but in the past 24 hours, there was an appreciation of 15%.
IOT/BTC pair depreciated 30% week-on-week and currently trading at 0.000051 BTC
IOTA holds the seventh position in terms of cryptocurrency market cap with a current market cap of over $1.03 billion. Though in its peak in August, it almost touched $3 billion.

Now looking at its performance on the exchanges last week, its value depreciated 16% as IOT/USD pair fell from $0.43 to 0.37. Though a mid-week support level at $0.37 signaled a recovery, the resistance at $0.41 acted as a strong pivot point and initiated a downward rally. In mere 48 hours, IOT took a dive from $0.41 to $0.33.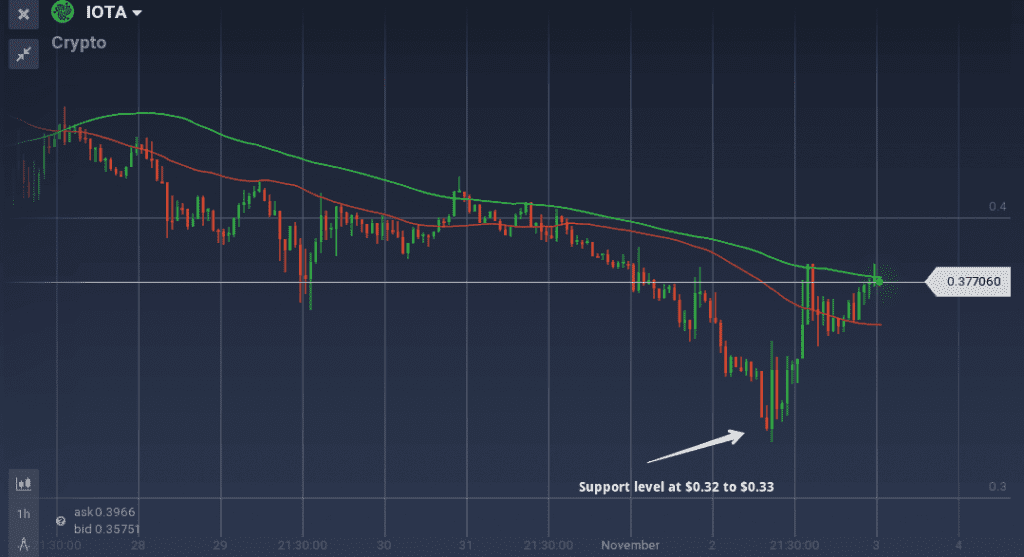 Support at $0.32 to $0.33 also acted as a pivot, and a lot of buying activity can be seen.
In the daily chart, a positive upward movement is prominent as the value recovered from $0.324 to $0.376. This is an appreciation of over 15%. This upward rally is also forming a strong trend line support level.
All the oscillators are also indicating a strong bullish trend. MACD is showing strong positive sign after a crossover, and the Stoch is also going up. RSI is at 60% and indicating that the market is far from the overbuying zone.

Against Bitcoin, IOTA depreciated more than 30% in the last 7 days. The value dropped from 0.000073 BTC to 0.000051 BTC. This has mostly to do with the bullish BTC/USD. But recently a support near 0.000045 BTC is turning the curve in a positive direction.
Trade on IOTA