3 min read 
The past week was one of those weeks in which most of the digital currencies soars and sets records. The same was true for MIOTA, a non-minable coin. But unfortunately, a recent dip in the value cost the coin its 7th position in the largest coin's table as the coin slipped to 9th spot. The current market cap of IOTA is now above $1.95 billion.
Key Highlights:
In the last 24 hours, IOT/USD took a dive and lost more than 21 percent.
IOT/BTC pair lost around 13 percent during the previous 24 hours and currently trading around 0.000089 BTC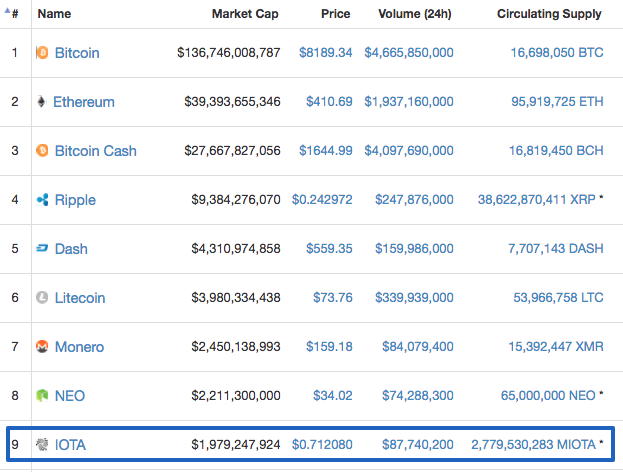 In the weekly chart, the token soared almost the entire week. It had a great start to the early week with a sprint from $0.55 to $0.88 in nearly 48 hours. But resistance at $0.88 pushed the price down until it found support at $0.73. $73 to $75 level acted as an excellent support and the later also acted as a pivot too.
With another upward run in the mid-week, the token reached its weekly peak at $0.97, only to take a quick dive. A new support level formed around $86 to $87, but the resistance above $0.93 didn't let the coin go up further.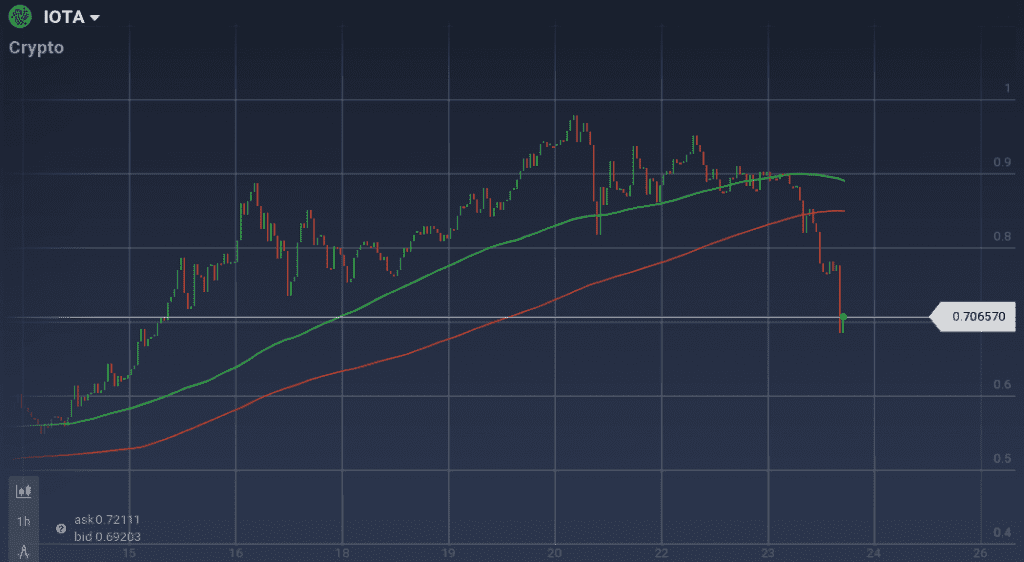 In the daily chart, IOT/USD pair took a sudden steep downturn and dived to $0.68. The pair lost more than 21 percent in the last 24 hours.
Because of the recent dip, the indicators went bearish. MACD is running strongly bearish under the axis. Stoch and RSI fell below the overselling mark, which also shows the exhaustion among the sellers.
Against Bitcoin, MIOTA was performing okay in the early week. IOT/BTC pair went up from 0.00010 BTC to 0.00011 BTC, the weekly peak. But the recent dip in the IOT/USD value affected the IOT/BTC pair as well, and the pair is currently trading at 0.000089 BTC.
Trade on IOTA