2 min read 
In the crazy and crowded crypto market, MIOTA has managed to gain a lot of attention with its insanely soaring prices. The coin made it to the headlines after its massive gain in early December. It even knocked some of the big coins to get a pass on the top five coin's list. But now, the coin is slowly pulling back from its highs. Still, it is the 9th largest coin in the market and has a market cap of above $9.6 billion. The trading of the coin is fair, with around $168 million in volume in the last 24 hours.
Key Highlights
A bearish rally of IOT/USD dominated the weekly chart and the coin is currently facing a strong resistance at $3.45
IOT/BTC gained 13 percent over the week, and currently trading at 0.00025 BTC

In the weekly chart, the coin maintained a gradual downward rally throughout the week. After gaining from $3.9 to $4.3 initially, the coin started to move down. The downward trend was very strong and no support was there, until recently. $3.2 proved to be a good support level and also acted as a pivot. But new resistances also formed at $3.7 and $3.5 checking a quick recovery. Currently, the resistance at $3.45 is becoming a big obstacle, and the coin is testing it over and over.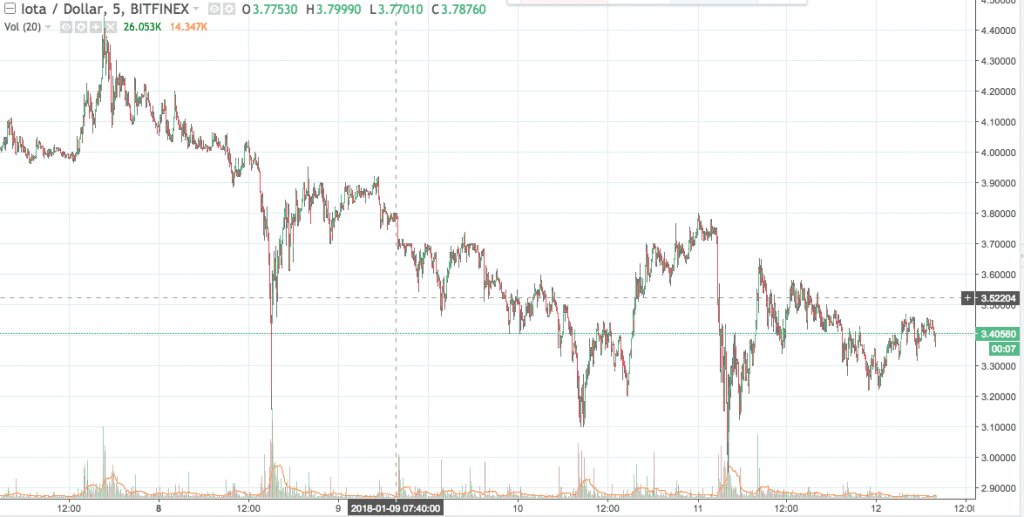 Because of the current movement between resistance and support, the oscillators are also moving up and down. After a brief recovery, Stoch is indicating a downward movement. RSI is currently at 43 percent.

Against Bitcoin, IOT faced a massive resistance at 0.00026 BTC. The coin gained around 13 percent overall as it went up from 0.00021 BTC, and currently trading at 0.00025 BTC.
Trade on IOT/USD