7 min read 
The market for cryptocurrency has taken a massive downturn lately. Except for a handful of coins, each one lost a significant amount of its value. The market cap even crumbled to $354 billion.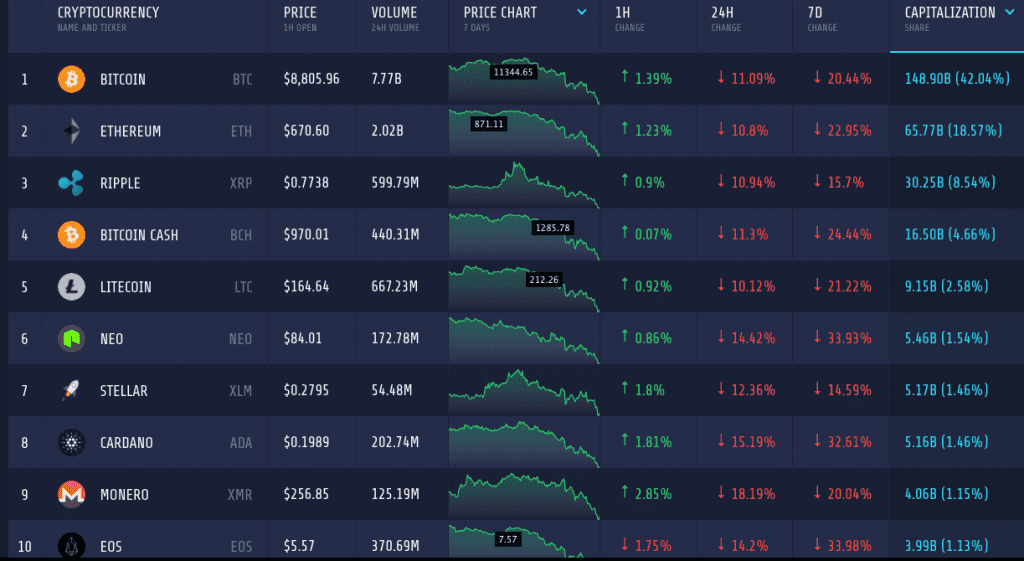 There is a set of coins which were not as planned as others, but they have performed very well in the market. However, being a part of the market, these forked coins are not immune to the bear. Let's find out how they are doing in the recent market.
Bitcoin Cash
The first fork of Bitcoin has performed very well on the market in late 2017. Though it is the result of an ideological split among the promoters of Bitcoin, the team behind the coin is very active and trying to make it superior to any other coins in terms of market acceptance. However, with the recent bear, BCH was down by more than 24 percent on the weekly chart and 11 percent on the daily. It is still the 4th largest coin with $16.5 billion in market cap.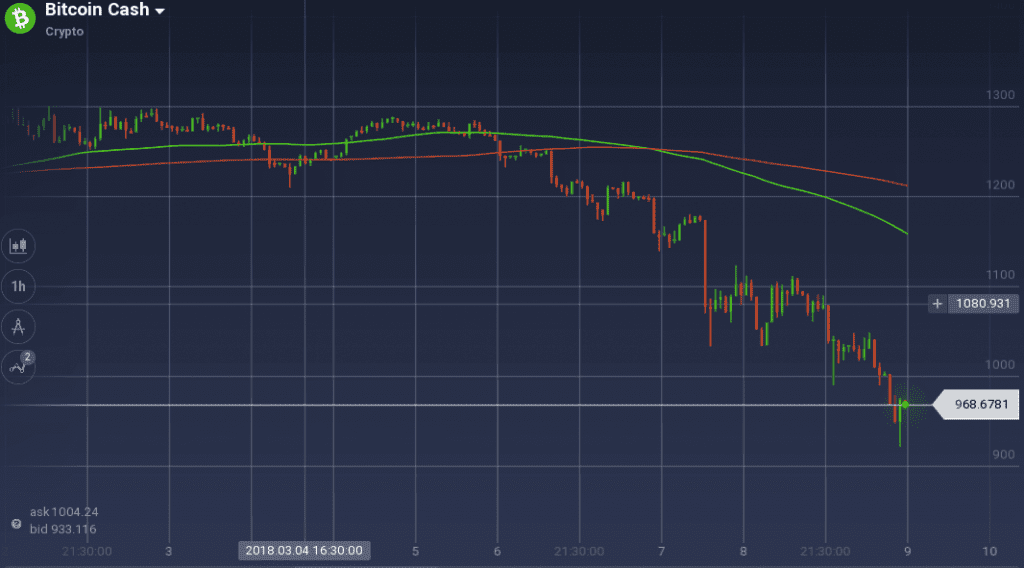 The coin was dominated by the resistance at $1298 in the early week. After pivoting from $1210, the coin faced another resistance level at $1285. This stiff resistance resulted in a downward momentum and BCH started to fall without any sign of significant support. Though $1065 tried to form some support at the midway of the bear, resistance at $1110 did not allow any recovery and finally pushed the coin on its downward course.

As recently the coin is trying to rebound, the technical indicators are also showing some signs of positive movement. Stoch and RSI are rebounding from the overselling zone. Though MACD is running bearish, small signs of positive movement can be seen.
Bitcoin Gold
Unlike Bitcoin Cash, Bitcoin Gold did not succeed to acquire a wide user base. However, its reputation of being a fork of Bitcoin had given it enough boost to start well. It holds over $1.3 billion in market cap and is among the top 20 coins in the market. In the recent falling market, BTG was hit quite badly as it lost around 30 percent in last 7 days. Compared to other coins, the trading volume of this coin is very small with $25 million in last 24 hours.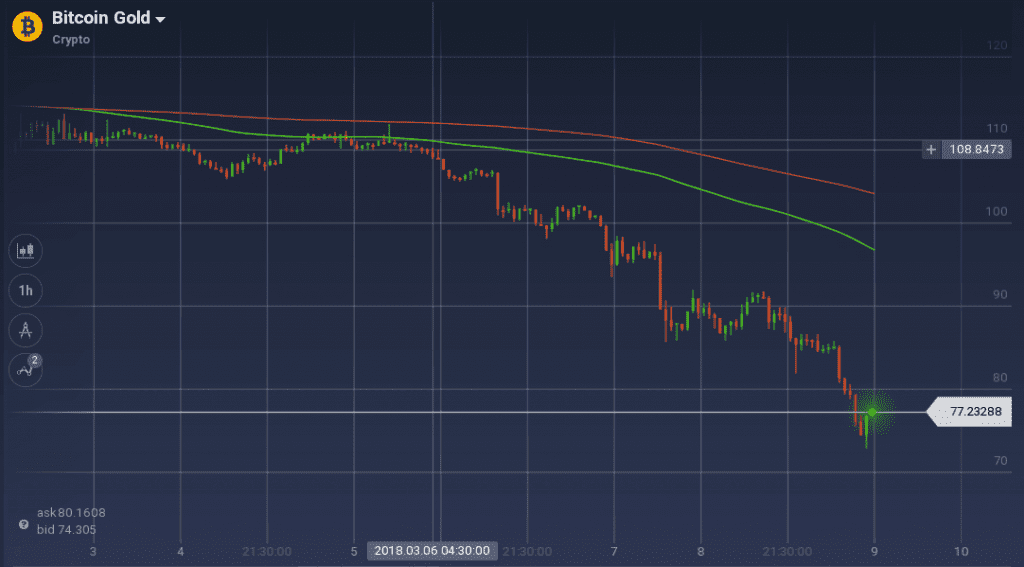 The weekly price curve of BTG is very similar to BCH. After facing resistance at $111, the coin took a downturn. However, multiple support levels – $100, $95, and $86 – tried to hold the price, but all failed. In mere 72 hours, the coin went down from $108 to $77. Currently, it is trying to rebound without the presence of any significant support.

The oscillators were running under the overselling mark due to the steep bear. However, with the recent vague sign of recovery, they tend to rebound. RSI is currently at 27 percent. However, 100 SMA is still running below 200 SMA, showing the dominance of the bear.
Ethereum Classic
When it comes to Ethereum Classic, the judgment of forked and original becomes a little murky. Despite all the controversies, the coin has performed tremendously, especially before a few weeks. However, the market bear hit this coin as well, and ETC depreciated 34 percent on the weekly chart. It is attracting a huge number of traders because of its price volatility, and the trading volume of the past 24 hours was $673 million.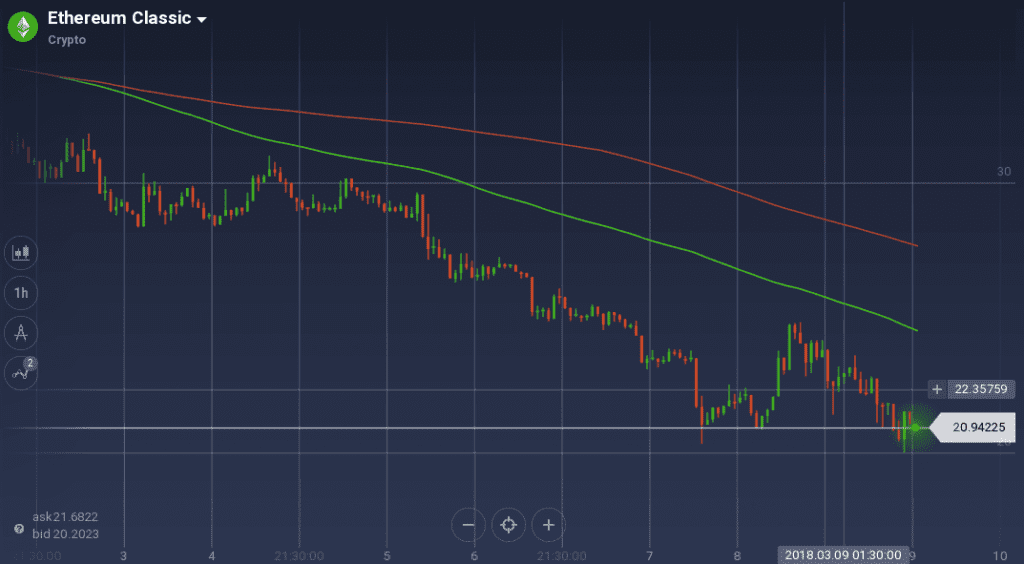 On the weekly chart, ETC faced multiple resistance levels – $31.7 and $30.8 – at the start of the week. However, strong support was present at $28.4. As the bear took over the market, ETC also started to gain the downward momentum. Unlike other coins, the bearish trend of ETC was not a steep one, as many support levels tried to hold the prices. After dipping to $20.3, the coin found some support which tried to act as a pivot. After rebounding to $24.7, the coin started with is bearish pace again.

Due to the presence of support and resistance, the technical indicators are showing mixed signals. Stoch is rebounding from the overselling zone, while RSI, being at 36 percent, is gaining a downward pace. MACD is also running bearish.
Conclusion
As the market is dipping, there is an opportunity to hoard some coins at a discounted rate. However, pessimistic traders can also make profits from a bearish market by short selling, and this might be a good time to do so.
Trade crypto here
NOTE: This article is not an investment advice. Any references to historical price movements or levels is informational and based on external analysis and we do not warranty that any such movements or levels are likely to reoccur in the future.
In accordance with European Securities and Markets Authority's (ESMA) requirements, binary and digital options trading is only available to clients categorized as professional clients.
GENERAL RISK WARNING
CFDs are complex instruments and come with a high risk of losing money rapidly due to leverage.
76% of retail investor accounts lose money when trading CFDs with this provider.
You should consider whether you understand how CFDs work and whether you can afford to take the high risk of losing your money.