5 min read 
In the 8 years Donald Trump has had a Twitter account, he has posted more than 34,000 tweets. About a hundred of them were sent after he was sworn in as president of the US on January 20. The short bursts of text defended controversial executive orders, supported cabinet nominees, and disparaged the media. Trump's attachment to this social platform has become the subject of national security protocol.
The latest example when Trump's tweet shook the market happened on Wednesday, when President Donald Trump tweeted his dissatisfaction with retailer Nordstrom for dropping the apparel line of his daughter, Ivanka.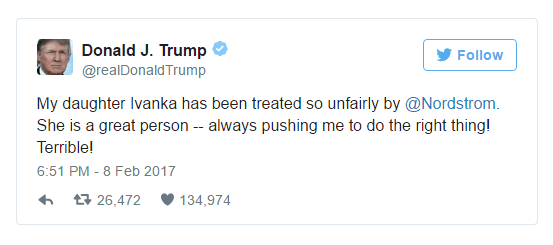 "My daughter Ivanka has been treated so unfairly by @Nordstrom. She is a great person — always pushing me to do the right thing! Terrible!" Trump wrote.
Though Nordstrom claims its decision to reduce Ivanka's stock is due to "brand performance," those involved in the boycott efforts against Trump-family brands see it as a result of their labors. (Before dropping Ivanka's line, Nordstrom also sent an internal memo to employees offering company support for immigrants in the wake of Trump's immigration ban.) No matter the cause, the stock seemed to take a turn into the negative right after the tweet was sent, but then something interesting happened.
Despite the chief executive of the largest economy in the world directly targeting the company, Nordstrom's stock jumped right back into positive trajectory.
This looks like a new stock market rhythm emerging: Donald Trump tweets about a company, and its stock goes straight down.
The entire thing happens in a matter of seconds. There is a sell-off and then the stock comes right back.
Lockheed Martin, which was attacked by Trump for the cost of the F-35 fighter jet program, initially plunged around 5% following the tweet in December.* The stock, however, bounced back in the days following and is now trading 0.8% below the level from before the Trump tweet.*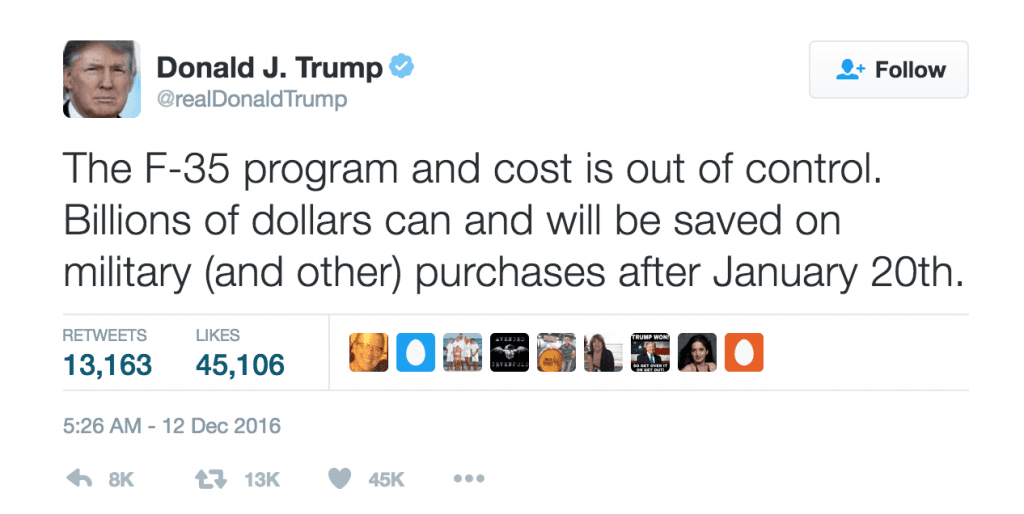 Lockheed appears to have gotten the worst of the companies about which Trump has tweeted, mostly likely since Trump has a significant amount of authority over the F-35 contract.
Boeing, which Trump hit for the cost of a replacement to Air Force One on December 6, fell by just 1.5% and ended that same trading day in the green.* Boeing's stock is up just more than 9% since the tweet.*
General Motors only fell 1% after Trump tweeted about their factory.* Toyota fell only 0.5% after the president went after their production plans.* GM's stock is roughly flat since the tweet, while Toyota is down around $8 a share — though that came after weak earnings.*
The declines in the stocks at which Trump takes aim seem to be diminishing, though.
Nordstrom slid by roughly 0.6% at most after the Trump tweet and was back up into the green within minutes.* Lockheed and Boeing's falls were larger and came just weeks after Trump won the election.
Will you be watching the tweets of Donald Trump?
Sources:
bloomberg.com
businessinsider.com
* Past performance is not a reliable indicator of future performance.
** Forecasts are not reliable indicator of future performance.
Trade here
NOTE: This article is not an investment advice. Any references to historical price movements or levels is informational and based on external analysis and we do not warranty that any such movements or levels are likely to reoccur in the future.
In accordance with European Securities and Markets Authority's (ESMA) requirements, binary and digital options trading is only available to clients categorized as professional clients.
GENERAL RISK WARNING
CFDs are complex instruments and come with a high risk of losing money rapidly due to leverage.
77% of retail investor accounts lose money when trading CFDs with this provider.
You should consider whether you understand how CFDs work and whether you can afford to take the high risk of losing your money.