5 min read 
Australia is benefiting from rich natural resources and industrial production, making it be one of the most productive countries over the world. Australian economic growth relies heavily on exporting raw commodities; therefore, any volatility in commodity prices or demand for raw materials can pose a threat to the development of this exporting country. The Australian dollar apparently is called a commodity currency, which represent primary characteristics of the country 's economy.
Why is China?
Known as the largest workshop with 40% of the world production is done over there, Chinese growth becomes a primary factor that most likely impacts those nations that this country is closely associated with. To maintain the manufacturing, China should import resources and raw materials (iron, copper, gold, etc.) to fuel this industrial engine, and then export the finished goods to the rest of the world.
China has become the biggest trading partner of Australia and a consumer of Australian iron ore and coal.  Australia is having stronger link to Chinese growth than any country, which has economic relation with China, does because the country's economy depends heavily on the foreign investment and more sensitive to volatility of global commodity prices.
Chinese economic data releases tend to impact the Australian dollar the most among the major currency pairs. Strong China economy typically implies that the Chinese demand for commodities from Australia could increase, which in turn can drive the value of Australian dollar upward while weak Chinese data could hint at a downturn in trade with Australia that become a negative factor on the Aussie.
What to look?
As we mention above, any slowdown in the economy of China, that will naturally affect the need and demand for Australian commodity, have a strong impact on the Australian dollar, undervaluing its value. As a result, a reduction in the rate of growth regarding inflation in China could simultaneously reduce the inflation of the Australian economy. If inflation runs to low, central banks (RBA) look to stimulate the economy by lower rates, that causes the value of Australia drop down.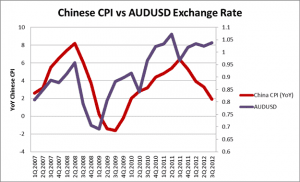 The chart above shows the Chinese CPI and the AUD/USD exchange rate overlaid on the same chart. As China's economy strengthens (as we saw during the 2009-2011 rebound in CPI – red line), the AUD/USD exchange range moved higher as well (blue line).
However, as of late, these 2 lines are diverging as the China CPI continues to soften at 34 month lows while the AUD/USD exchange rate remains at elevated levels. Therefore, a surprise China CPI reading to the downside may create an environment where the AUD/USD 'catches up' and sells off.
In addition, traders can take the China Caixin Manufacturing PMI, which measures the level of a diffusion index based on surveyed purchasing managers in the Chinese manufacturing industry, into account when considering trading AUD. A figure above 50.0 shows an expanding manufacturing industry in China, which will add a growth in demand for raw materials from Australia, boost the Australian economy and therefore supports a rise in the value of AUD. Below 50.0 indicates contraction in the Chinese manufacturing industry, which implies the demand of Australia 's goods will decrease and lead traders to sell the Aussie Dollar.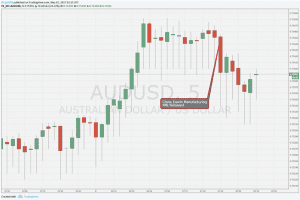 The chart shows AUD/USD dropped after Caixin China manufacturing PMI for April fell to a seven-month low of 50.3. Traders had dumped the Aussie as they bet on a gloomy outlook of the Chinese manufacturing activity and also vague prospect of Australian economy. Data released in May, 2nd, 2017.
Trade now
NOTE: This article is not an investment advice. Any references to historical price movements or levels is informational and based on external analysis and we do not warranty that any such movements or levels are likely to reoccur in the future.
In accordance with European Securities and Markets Authority's (ESMA) requirements, binary and digital options trading is only available to clients categorized as professional clients.
GENERAL RISK WARNING
CFDs are complex instruments and come with a high risk of losing money rapidly due to leverage.
77% of retail investor accounts lose money when trading CFDs with this provider.
You should consider whether you understand how CFDs work and whether you can afford to take the high risk of losing your money.