6 min read 
Harley Davidson (HOG: NYQ), is the parent company of Harley-Davidson Motor Company (HDMC) and Harley-Davidson Financial Services (HDFS). The company will be reporting Q2 2017 quarterly earnings on July 18th 2017 prior to the opening bell of the US equity market.
Originally founded in Milwaukee, Wisconsin 1903, the company operates today across two major markets – motorcycles and financial services. Manufacturing and sales for the company takes place across the globe – with production facilities in India, Brazil, and numerous locations across Northern America.
1) Share Price – A Bumpy Ride
Over the past twelve months the Harley Davidson share price has risen by a respectable 6.35%.  However, over this period of time the shares have progressed along a high volatility path – and as such the shares are currently trading down almost 10percent when looking at the year to date time frame.  Given this substantial volatility over the past year we expect continued high volatility through the remainder of 2017.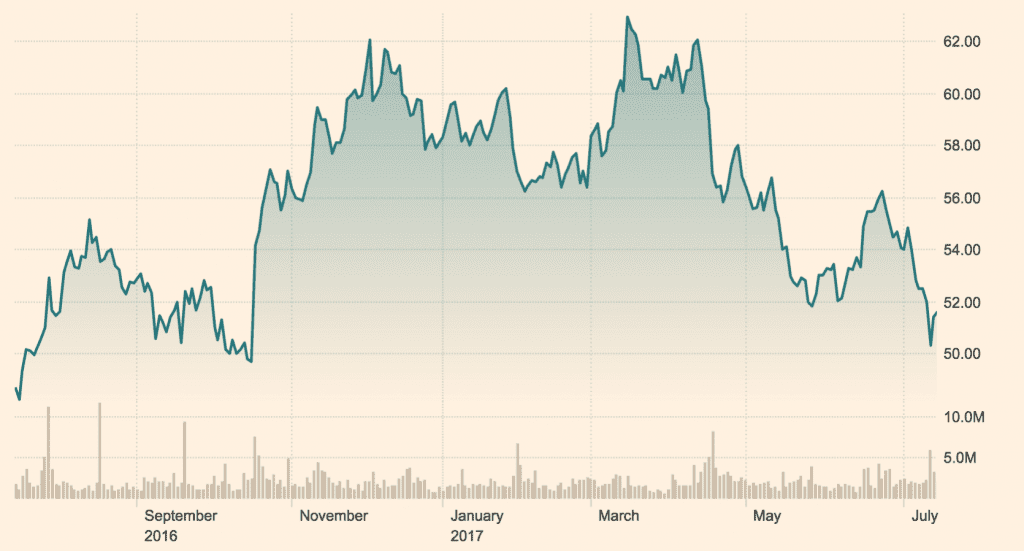 2) Earnings Expectations
Harley Davidson will be reporting Q2 2017 earnings figures on July 18th 2017. Wall Street analysts' consensus forecast for earnings per share (EPS) is for 1.37USD – this is a contraction from last year's Q2 reported EPS which was 1.55 USD. Further to this, dividends are forecast for 1.46 USD for the upcoming financial year – representing a year on year improvement of 3.93%.
3) Settlements – Eating into Margins
One significant contributing factors to lower earnings has been the 15USD million settlement charge Harley Davidson has had to make to the Environmental Protection Agency (EPA) due to its "super tuners". This component was found to be releasing harmful emissions that have cost the company in fines. 3USD million of this fine has been earmarked towards replacing conventional components to reduce air pollution. The settlement deal also involves buy backs and discontinuations of certain models – factors that contribute to reduced profits for the company in 2017.
4) Competition Accelerates
Harley Davidson can expect a continuation of the growing competition it has experienced globally through 2016 and 2017 – dollar strength has made manufacturers based outside of the US more competitive on price.  This is expected to lead to lower retail sales revenues as more competitors enter the market and create greater numbers of discounts and promotions in the marketplace.
5) Contraction in Demand
The company has experienced especially lowered demand in the Asia Pacific region over the past year and this is forecast to continue through the remainder of 2017. Further to this, millennials are less interested in motorcycle ownership compared with previous generations – leading to a cultural contraction in demand.
6) Shipment Figures
The estimate provided by Harley Davidson company leadership is for, at best, the same number of shipments in 2017 as that achieved in 2016. More realistically, management expect the shipment numbers to be slightly lower. Specifically, for Q2 2017 the motorcycle company has forecasted shipments of approximately 83,000 motorcycles. This is a reduction  year on year compared with the figure of 88,160 motorcycles that was achieved for Q2 2016.
Overall the outlook is flat for Harley Davidson shares over the short, medium and long-term horizon. The company has stable fundamentals and a strong dividend outlook in place. However, the motorcycle manufacturing market has become increasingly competitive. This has made it tough for the company to generate growth and this trend is likely to become even more challenging through the remainder of 2017 as preferences of relevant consumers evolve beyond motorcycle ownership.
Trade here
Sources:
http://uk.businessinsider.com/harley-davidson-q1-2017-earnings-2017-4