4 min read 
With over $29 billion market cap, Ethereum is standing only after Bitcoin. With the latest Byzantium hard fork, its effect continues to take shape on the network. Miners were rewarded with a challenging adjustment but also lost some of the previous block rewards, from 5 ETH to 3 ETH. These modifications were done in part to combat Ethereum's inflationary curve, as well as prepare for a network which uses pure PoS in the future.
Key Highlights:
With a short-term bullish trend, Ether is testing the resistance at $309
Support at $290, kept the price above that level and prevented fall multiple times
Against BTC, ETH lost 7.4% of its value week-on-week and is currently trading at 0.050 BTC
The movement of ETH against USD was mostly positive for the entire week. In the weekly chart, the resistance level at $309 is holding the price to rise any further. Even though ETH jumped from $278 to $310 in the early week, the resistance at the level resulted in a quick fall to $290. Resistance above $299 also forced ETH to trade below that level most of the time in the mid-week. But a rage among the buyers in the past 24 hours, breached that resistance level. Currently, ETH is again testing the $309 resistance level and trading at $308.9.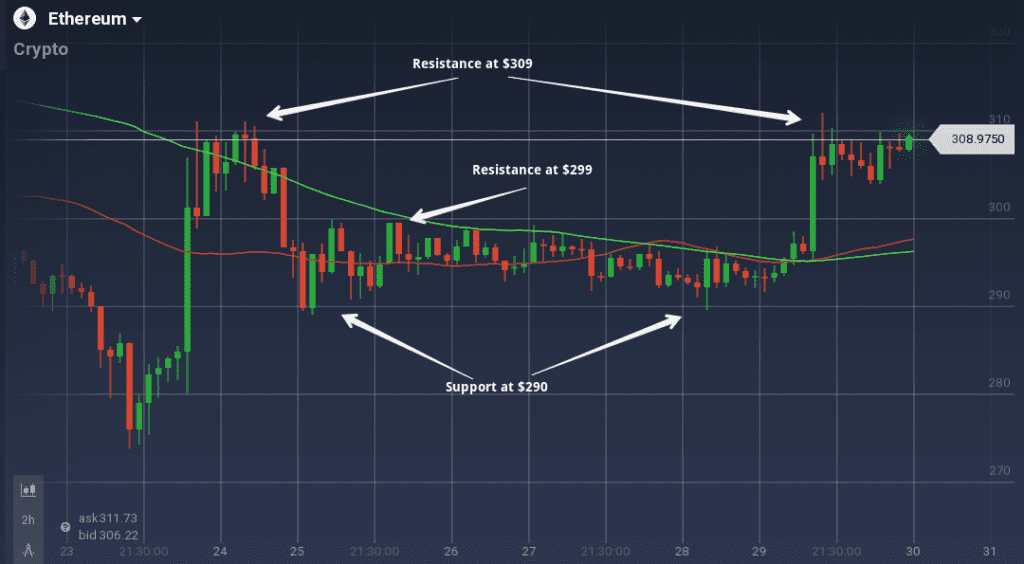 In the 24-hours chart, there is a rise of 4.5% in the ETH value. The trading value mostly remained within the narrow band between $304 and $309. Even though the resistance at $309 is marginally breached a couple of times, a strong rage among buyers is needed to breach it. Support at $304 can also be seen.
Moving towards the statistical tools, a bullish trend can be seen in almost all the tools. Stoch is moving upward, but it is almost at the overbuying level. The RSI is also lingering at the 70% overbuying mark. Even though the MACD curves are bullish, there is a possibility of a crossover.

Against Bitcoin, Ether performed poorly this week. A couple of downward trends dominated the pair's movement. ETH/BTC value declined 7.4 percent week-on-week and 5.3% in the daily chart. The pair is currently trading at 0.050 BTC with a short-term upward trend.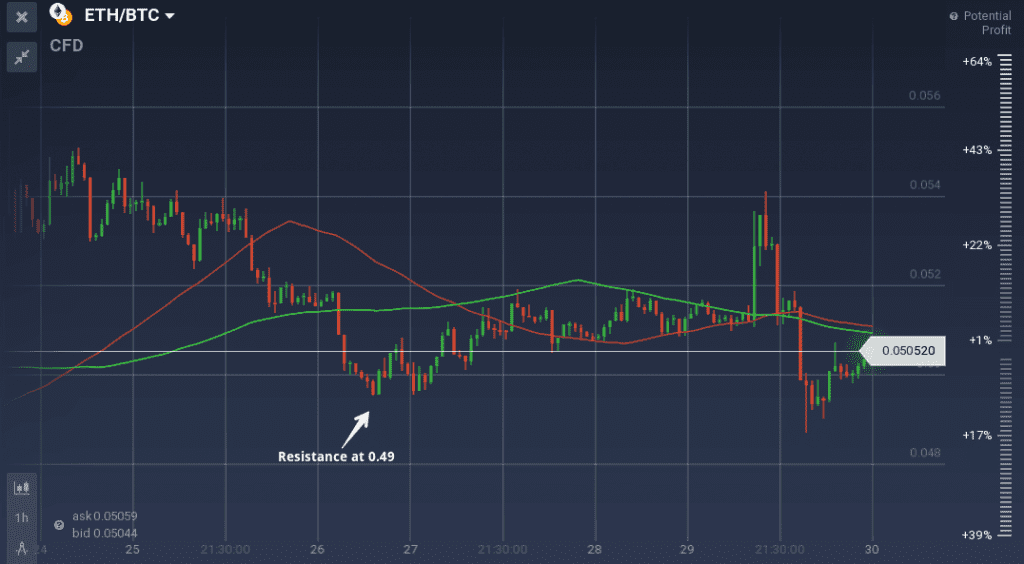 The past week was decent for the Ether traders. ETH broke the $300 resistance, but resistance at $309 prevented any further price rise. But whatever the case may be, it is still one of the most popular tokens among the traders and is most likely to rise in the future.
Trade on ETH