3 min read 
Another great week for Ethereum. When most of the coins were shy to bag any weekly profits, Ethereum gained above 12 percent. The market cap of this coin has reached $131 billion and it is still dominating in that second spot of the largest coin without any close contenders. The coin is also attracting enough traders as in the last 24 hours, trading volume of above $4.7 billion is registered.
Key Highlights
ETH/USD gained a new high, this week, above $1400
After the pullback from the peak, the pair is determined to go up again with support around $1300
ETH/BTC appreciated 36 percent this week and is now trading at 0.097 BTC

Technical Analysis
The bulls dominated the week with subsequent bears. ETH/USD pair started the week with an upward momentum and continued the rally until the resistance at $1380 pushed it down. The pair then found support at $1110, which also acted as a pivot and initiated another bullish run.
After gaining for around 48 hours, the coin faced another stiff resistance at $1420, an all-time high peak for the coin. This resulted in a pullback but the pair soon found support at $1290 with the help of with the coin is again trying to recover its recent prime.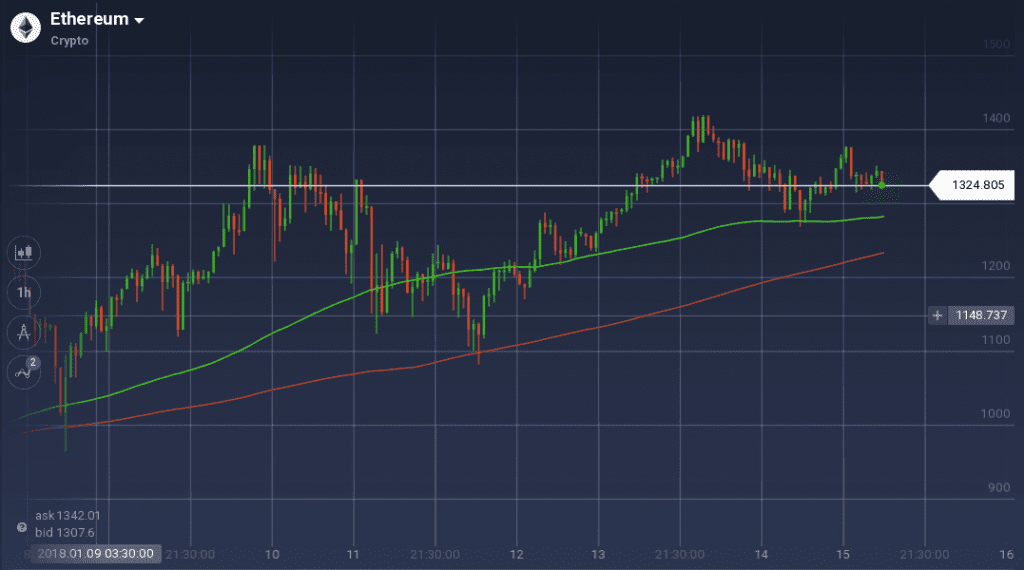 Because of the dominating bulls, 100 SMA is also running above the 200 SMA, indicating the continuation of the upward movement. The prices are also currently at 23.6 percent Fibonacci retracement level.

The technical indicators are indicating bearish because of the resistance the pair is facing. Stoch is going down and so is the RSI. RSI is currently at 46 percent. MACD is providing a mixed signal as the curves are running flat along the axis.
Market Update
The South Korean news made a lot of stir in the crypto market recently. The final announcement of the government of not putting a blanket ban was a relief.
The number of transactions on Ethereum's blockchain is also skyrocketing. It surpassed 134 million transactions and will soon test the limit the of the network. Fortunately, we will soon see the "Casper" update on the network as the developers already released the testnet.
Also, the developers of Parity called for another hard fork at Ethereum's network to release the frozen $230 million.
Trade on ETH/USD