4 min read 
Dash (DASH) is a portmanteau word for "Digital Cash". Released in January 2014 by creator and lead developer Evan Duffield, Dash is an open source, decentralized, P2P cryptocurrency that aims to become the most user-friendly and scalable cryptocurrency in the world. It was first released as XCoin (XCO), then renamed to Darkcoin in February 2014, and finally to Dash in March 2015.
As the world's first cryptocurrency, Bitcoin suffers from some fundamental flaws. Chief amongst them is that Bitcoin transactions are not truly private and anonymous, as they can be traced in the public ledger. While Duffield had ideas on how Bitcoin could be improved, he was faced with the organizational difficulties of convincing the Bitcoin core developers to do some. In the end, he decided to fork the Bitcoin code to create Dash.
There are certain notable features of Dash. First, it operates a two-tier network. While the first-tier handles mining (like Bitcoin's single-tier network), the second tier consisting of "masternodes" handles unique functions like PrivateSend and InstantSend. PrivateSend is a coin-mixing service which adds privacy by adding multiple inputs from users into a single transaction. InstantSend is a service that allows for near-instant transactions verified by consensus of the masternode network.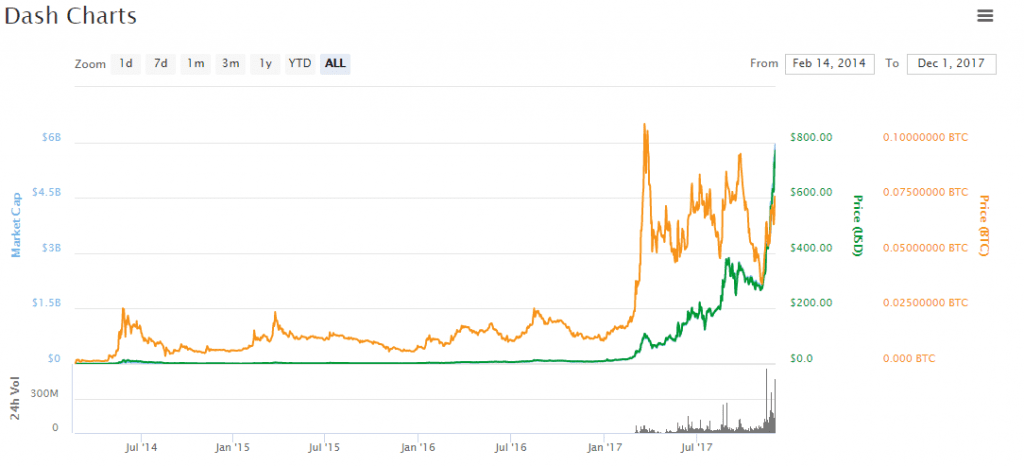 Since its launch 2014, Dash's network has grown to 4,100 masternodes, making its P2P network one of the largest and most secure in the world. According to Coinmarketcap, as of November 2017, the total market capitalization of Dash exceeded $5.7 billion, making it the fifth largest cryptocurrency in the world.
As its name suggests, Dash aims to become as widely used as cash. It has the potential to do so as consumers may want to switch to Dash for daily use given its better privacy and faster transaction. With a stable team paid out of Dash's budget system, Dash has to foundation to grow usage and acceptance. Since its launch, Dash has grown to 30 full-time employees, 20 part-time employees, and many other volunteers.
2017 has seen a number of partnerships aimed at expanding the everyday use of Dash. In April 2017, Dash inked three separate partnerships. First, gift card operator BitCart, which offers 20 percent discount on Amazon purchases, started accepting Dash. Then, Dash became the fourth cryptocurrency merchants on CryptoWoo, a payments gateway, can accept, alongside Bitcoin, Litecoin and Dogecoin. Finally, Dash was included in the Venezuela-based exchange Cryptobuyer, allowing Venezuelans to use Dash for remittances, everyday transactions, and cell phone top ups.
In November 2017, Dash formed a partnership with KuvaCash in Zimbabwe. They will launch a payment service aiming to provide Zimbabwe with its first ever P2P cryptocurrency for anyone with just a phone messaging system. It is designed to bring stability amid Zimbabwe's worsening inflation and collapsing economy.
As more partnerships are formed, the everyday usage of Dash will increase, bringing further potential upside for the currency.
Trade here