DASH is currently the sixth largest cryptocurrency by market capitalization, with a market capitalization of US$2.2 billion. The asset was recently selling for a record high price of ~US$400, before dropping to ~US$200 and recovering, which has given investors more than a 15-fold increase since February 2017.
Key Highlights:
A bullish trend followed the starting bearish trend, and DSH is currently trading at $288
Strong resistance level at $299 acted as a pivot point and also the support level at $261 helped in the trend reversal
Against USD, DSH lost 2.4% in the last 24 hours
Founded by Evan Duffield, an American programmer based in Phoenix, Arizona, DASH was first released in January 2014 as XCoin, rebranded to DarkCoin, and then renamed again in 2015.
A protocol feature called "PrivateSend" lends DASH to be labeled as a 'privacy coin,' along with Monero and ZCash. PrivateSend is essentially a coin mixing service which combines identical inputs from multiple users into a single transaction with several outputs.
The cryptocurrency uses a two-tiered PoW and Proof of Stake consensus model. PoW mining verifies the ledger and receives most of the block reward. Only ~18,000,000 total DASH will ever be mined with block rewards decreasing by 7% a year until no rewards exist.
PoS occurs through Masternodes, of which there are currently over 4500, that perform additional higher functioning tasks. A protocol feature dubbed "InstantSend" allows the Masternode network to confirm transactions near-instantly, bypassing block confirmations through miners.
Technical Analysis
DASH started with a downward trend this week. But the support zone at $261 acted as a major pivot point. Though the resistance at $299 pushed the price down, currently, a positive movement can be seen.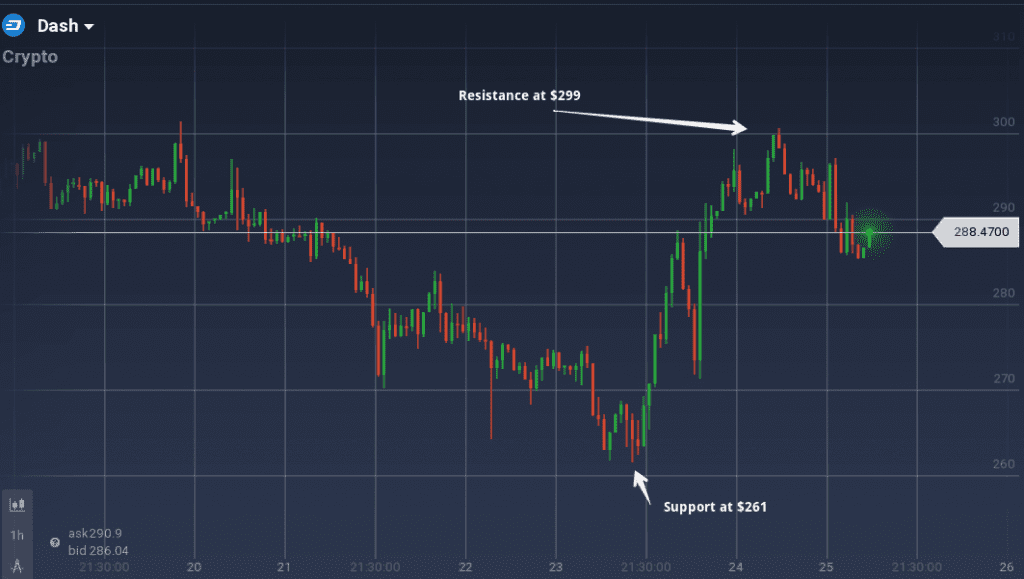 Moving to the daily chart, the price moved within a band of $300 and $285. The resistance and support at both the levels acted as a pivot point. In the last 24 hours, DSH lost 2.4% of its value against USD.


The Stoch being below the oversold level indicated an exhaustion among the bears. The recent surge in the buying took the RSI to 47%.
Against Bitcoin, the price fell in the start, but falling bitcoin and gradually bullish DSH restored the initial value of the week. Currently DSH is trading at 0.05 BTC.
Overall, with all the ebbs and flows, DSH had a decent week. Let us see how the bulls behave in the near term, and whether they manage to pierce the $300.
[cta_en link="http://bit.ly/2h5MRnv" name="Trade here"][/cta_en]