6 min read 
In a recovering market, coins are trying very hard to push their way upward. With this, the total market cap has jumped to $277 billion – an appreciation of $34 billion in 48 hours. However, comparing the volatility of the crypto market, this pace of the rebound is not strong enough as many altcoins are still bleeding.

Ripple
Ripple has made quite a mark on the bearish market as it touched its 16-week low value. However, the coin is rebounding since and is on a bullish track. In last 24 hours, XRP gained 4.7 percent, but is still at a loss of more than 7 percent on the weekly chart. In the last 24 hours, the trading volume was recorded at $588 million, with more than 50 percent of it done against KRW. With the long dominating bear, XRP now holds a market cap of little more than $21 billion.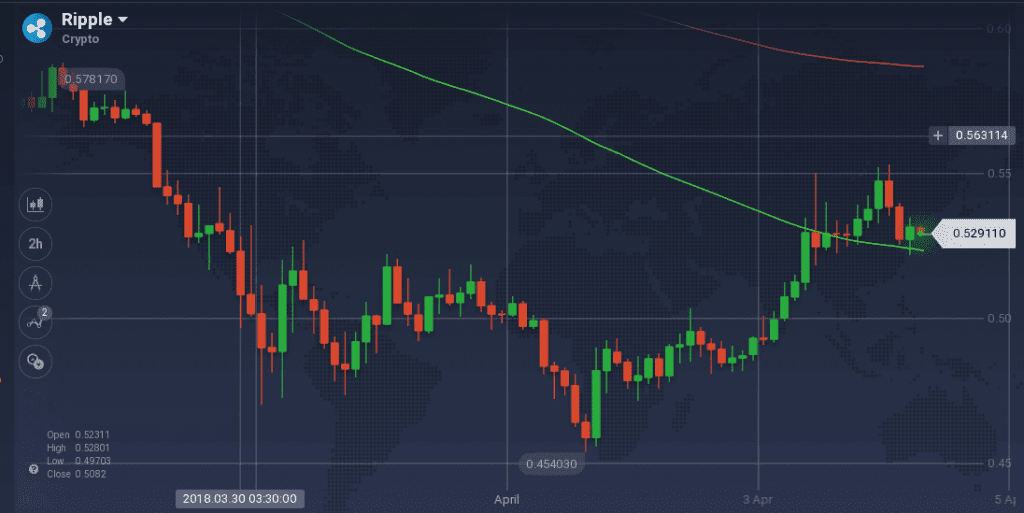 XRP had a rough trading week. The coin maintained a steep bearish trajectory initially as it went down from $0.58 to $0.47. Though the coin tried to rebound in the midweek, a massive resistance at $0.52 became a barrier on its path. After testing the resistance for multiple times, the coin could not make a way through it and ultimately made a downward move. After reaching $0.45 – 16-week low value for XRP – the coin rebounded with aggressive force and has touched $0.55. Though it faced resistance at $0.49, support at $0.48 pushed it through.
XRP is facing another resistance level at $54, but support is also present at $0.52.
Due to the current resistance, the technical indicators are showing dull signals. Stoch is taking a downturn from the overbuying zone and so is RSI. Currently, RSI is hovering around 60 percent. MACD is also signaling bear, after a bullish run for some time.
Litecoin
Litecoin had an event full week in terms of trading. The news of the cancellation of LitePay has greatly affected the trading of Litecoin. The 24 hours trading volume of the coin was mere $380 million, but it is still more than its market rival Bitcoin Cash. Litecoin endured a loss of 4.4 percent on the weekly chart, however, on the daily, it registered a gain of 5.7 percent. With $7.2 billion in market cap, LTC holds 2 .6 percent of the total cryptocurrency market share.
On the weekly chart, LTC trading started with a drop from $139 to $109. Though the coin tried to regain its lost value, it faced multiple resistance levels at $124 and $120. With a rush of a bear on the market again, the coin slide down to $109, before with a pivot, it gained a bullish momentum. Despite many resistive barriers, the coin touched $136, but the peak resistance resulted in a pullback. Currently, LTC is trading around $129, trying to find some support in order to hold the value.

The resistive peak's pullback resulted in the technical indicators to take a downturn. Stoch and RSI are coming down from the overbuying region, however, RSI developed an upward inclination again, with its value at 59 percent. Based on the Fibonacci curves, LTC is approaching 23.6 percent Fibonacci level.
Market Update
Chilean cryptocurrency exchanges Buda, Orionx, and Cryptomkt were given notice their accounts will be closed by Banco del Estado de Chile. This comes after the three were also targeted with account closings by Itaú Unibanco Holding S.A. of Brazil and The Bank of Nova Scotia (Scotiabank of Canada).
According to a report by Nikkei, Monex, a leading online trading company based in Tokyo, has offered to take over Coincheck, the cryptocurrency exchange hacked in January, for several billion yen.
Cryptocurrency exchange Youbit has reportedly re-emerged after a series of hacks and a bankruptcy filing, amid an insurance claim controversy and civil lawsuits. The exchange continues to operate after it was sold and renamed, local media reported.
Conclusion
The market is back on track with gains in last 48 hours. However, the bulls are not out of the woods yet, as there are multiple pullback factors. Despite the bear clutched market, the adaptation of digital coins are increasing day-by-day.
Trade crypto here