Apparently losing its momentum, the most famous digital currency went down by more than 50% against the dollar in the first quarter of 2018. This means the worst ever start to a year and its second-worst quarter on record.
The cryptocurrency recorded its worst start to the year ever in the first quarter and its second-worst quarter on record. Bitcoin's worst three-month spell came in the third quarter of 2011 when it declined by 68% against the dollar.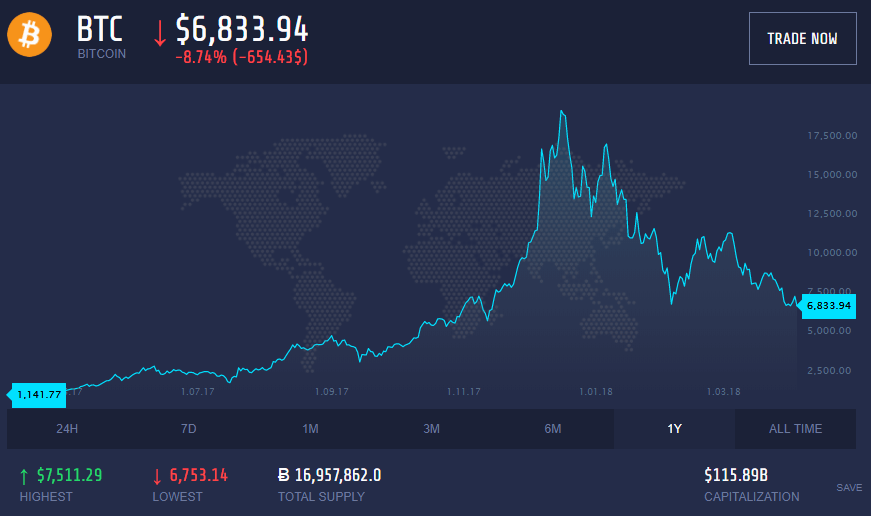 Bitcoin went up to an all-time high of close to $20,000 last December but rapidly started going down at the beginning of the year amid fears of a regulatory crackdown. Then, Bitcoin was below $10,000 by mid-January.
Nigel Green, the founder and CEO of financial services firm deVere Group said: "Towards the end of last year, crypto values went too high, too fast – and, of course, it was unsustainable".
"Since then, in this first quarter, there's been a serious price correction of most major cryptocurrencies. It has been this correction that's been mainly responsible for an evolution in investor attitude. I believe that now the overwhelming majority of investors do not view cryptocurrencies as a way to make a fast buck, as perhaps previously many more might have done."
[cta_en link="https://iqoption.com/lp/ultimate-trading/en/?aff=88&afftrack=BTC0404″ name="Buy Bitcoin now"][/cta_en]