5 min read 
The cryptocurrency market has taken a huge hit again, and almost all the coins are in a downturn. Major coins are bleeding tremendously and as a result, the total market capitalization has gone down to $395 billion – the apex value was above $800 billion.

Bitcoin
Bitcoin is the major loser among the top five coins in the market. The recent regulatory comments fueled the bear and the coin took a huge hit as it went down 9 percent in last 24 hours. The coin has registered trading volume of above $9 billion, as it still holds around 42 percent of the market with $165 billion in market cap.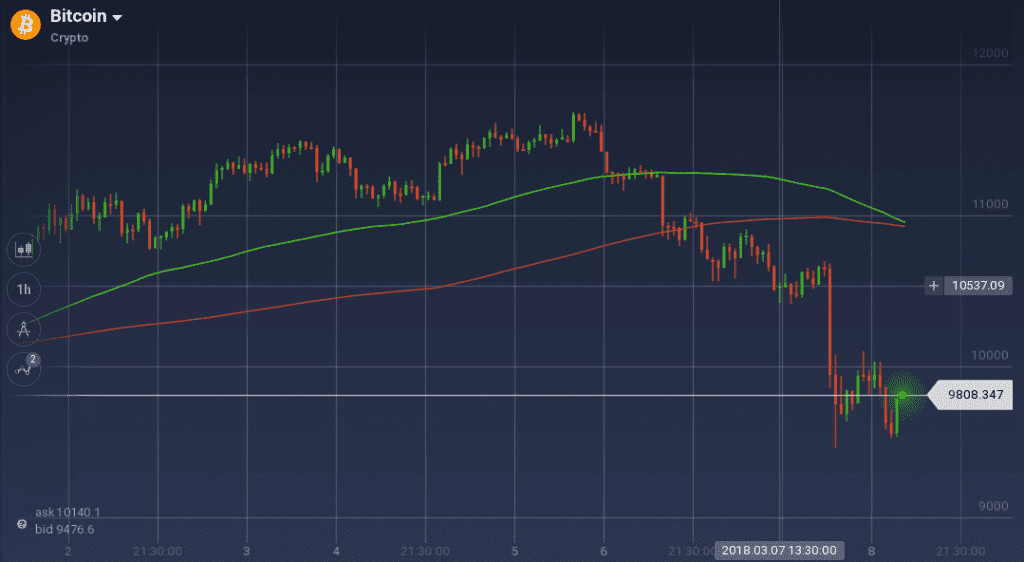 In the early trading sessions, Bitcoin maintained a bullish trend. It was gradual, and despite resistance at $11140 and $11500, the coin was adding value to it. Major supports were also present at $10800 and $11100. After achieving the weekly peak at $11675, the coin started to pullback due to the peak resistance. Because of unavailability of any strong support level, the value plummeted and went below $10500.
In the last 24 hours, the skepticism among the sellers increased due to the negative comments from the U.S. Securities and Exchange Commission and as a result, the coin plummeted even more, going down below $10000 again. Recently, it found some support around $9550 and trying to rebound, but resistance at $9990 might come in its way.

Because of the sings of price rebound, the technical indicators are signaling a bullish movement. Both the oscillators – Stoch and RSI – are gaining an upward momentum recovering from the overselling zone. MACD is also showing upward signals. The value of RSI is at 46 percent.
Ethereum
Ethehrem is one of the leading losers among the major coins. It depreciated by 13.6 percent in last 7 days and because of the continuation of the bear, it further went down 7.5 percent in the daily chart. It still holds $73 billion in market cap capturing 18.5 percent of the entire market.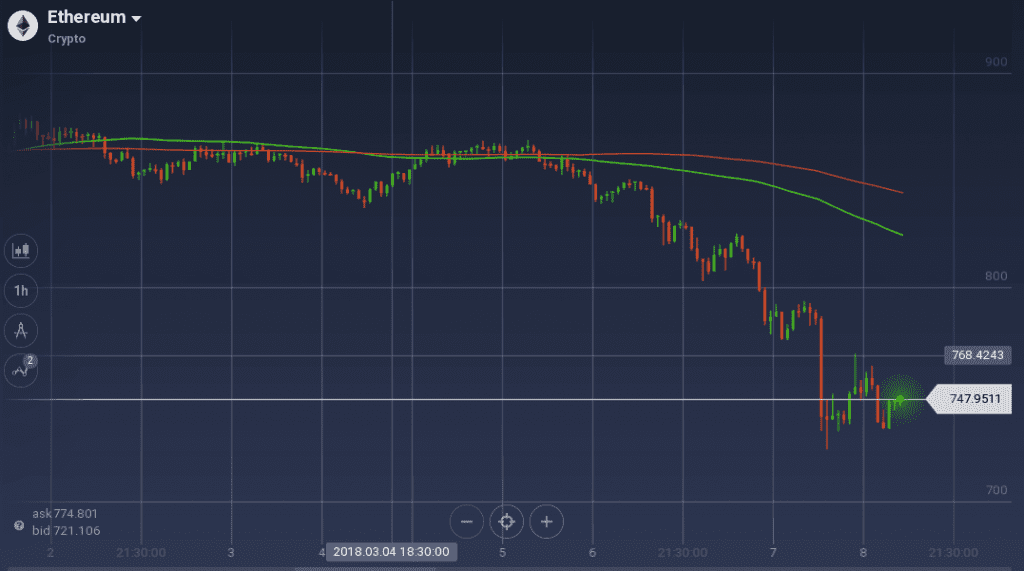 On the weekly chart, resistance at $868 dominated till mid week. Though with support levels at $850 and $832, ETH tried to test the resistance for a couple of times, it could not breach it. Finally, the coin took a downturn with the dominance of the bear on the market. In last 36 hours, ETH went down from $867 to $747, thus losing 13.8 percent. Recently, a support level has formed at $735, and it is trying to act as a pivot to initiate an upward run.

The technical indicators are showing bullish signs due to the formation of the support level. Stoch is running up, but RSI, being at 44 percent, has stabilized. MACD curves are also signaling a bull. However, 100 SMA is running below 200 SMA showing the dominance of the bearish run.
Market Update
Ripple has just announced a partnership with 61 Japanese banks to help launch an app that will help settle domestic transactions in an instant.
Jack Weinstein, a federal judge for the Eastern District of New York, has ruled that the US Commodity Futures Trading Commission (CFTC) can legally classify and regulate cryptocurrencies as commodities.
The U.S. Securities and Exchange Commission announced that it intends to require online cryptocurrency trading platforms to register with it as exchanges.
Conclusion
The market is on a low again, but historical trends show us that the coins had rebounded with a brute force every time. So it might be a pretty good time to buy some coins at a discounted rate.
Trade crypto here
NOTE: This article is not an investment advice. Any references to historical price movements or levels is informational and based on external analysis and we do not warranty that any such movements or levels are likely to reoccur in the future.
In accordance with European Securities and Markets Authority's (ESMA) requirements, binary and digital options trading is only available to clients categorized as professional clients.
GENERAL RISK WARNING
CFDs are complex instruments and come with a high risk of losing money rapidly due to leverage.
76% of retail investor accounts lose money when trading CFDs with this provider.
You should consider whether you understand how CFDs work and whether you can afford to take the high risk of losing your money.