2 min read 
Currently the third largest cryptocurrency in the market, Bitcoin Cash is one of the successful forks available today. Roger Ver, the most vocal man behind this coin is pushing to make this coin the "real Bitcoin." With all these advancements, the token is holding above $48 billion in market cap. In the last 24 hours, it had registered a trading volume of above $1.3 billion.
Key Highlights
After achieving an all-time high, this week, BCH tanked against USD
New resistances formed at $3150 and $2990, but the pair also had support at $2460 and $2900
BCH/BTC pair depreciated 19 percent week-on-week and is currently holding around 0.17 BTC

After reaching the peak above $4000, for Bitcoin Cash, the week started with a pullback. In just around 36 hours, the price dropped below $2000 until $1980 acted as support. This also acted as a pivot and initiated an upward movement of the price curve. The pair recovered to above $3100 where the newly formed resistance pushed the prices down again. With support around $2450, the pair bounced back.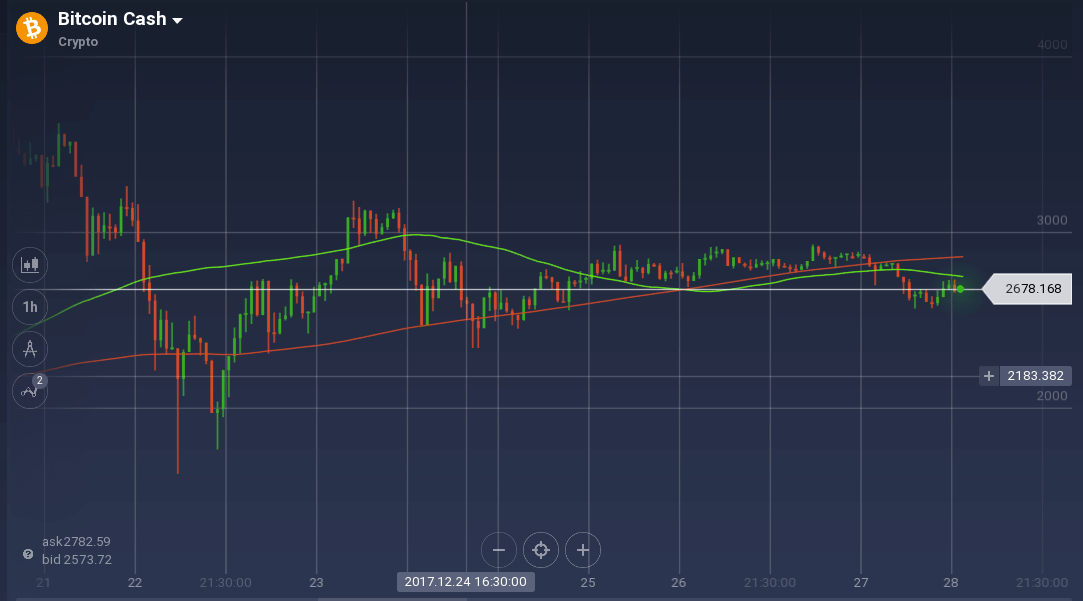 The pair continued to move within a narrow band of support and resistance at $2730 and $2900 respectively. Though recently the support could not hold the prices and the pair dropped to $2600.
After the recent drop, the oscillators are indicating signs of upward movement as the price is recovering. Both Stoch and RSI are going up after a trip below the overselling mark. RSI is currently at 47 percent pointing upward.

Due to the steep drop from the peak, 100 SMA went below the 200 SMA. Fibonacci retracement is also above 50 percent and approaching 61.8 percent.
Against Bitcoin, BCH had a rough ride this week. But overall BCH/BTC pair lost 19 percent in the entire week as the prices went down from 0.21 BTC to 0.17 BTC.
Trade on BCH/USD now