5 min read 
Apple Inc, (AAPL: NSQ), technology and media titan, reports Q3 2017 earnings on August 1st 2017. Founded in 1977 Apple Inc manufactures and markets mobile communication and media devices as well as music players and personal computers. Furthermore, Apple sells software, services, accessories and networking solutions. The company offers its services and products across the globe – spanning Europe, the Americas, China, Japan and territories across the Asia Pacific.
1) Share Price – Soaring
Over the past twelve months Apple shares have soared by an impressive 43.28% – trading at 149.50USD as of July 31st 2017. The share price has drifted consistently higher over this time – with the Apple share price rising rapidly through 2017 YTD, gaining over 30% since January of this year.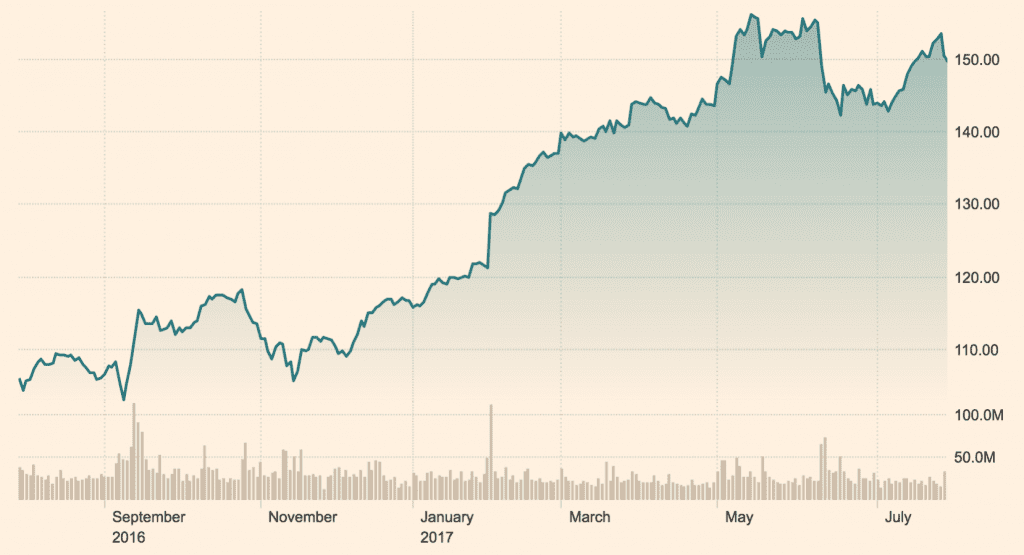 2) Financial Performance
Apple will report third quarter financial results on their scheduled earnings call on August 1st 2017 at 2:00 p.m. PT / 5:00 p.m. ET.  EPS are forecast to be 1.57USD per share which would indicate a significant (10.56%) improvement year on year as compared to the 1.42USD reported for Q3 2016.  For Q2 2017, Apple reported revenues of 52.90USD billion – showing an improvement of 4.63% year on year for the second quarter. *
3) iPhone 8
A key selling point of the iPhone 8 will be the replacement from an LCD screen to an OLED display. However, Apple has hinted at supply chain difficulties in getting the iPhone 8 to market to coincide with the 10th anniversary of the iPhone as initially intended by the tech giant. Current indications estimate the flagship device will fulfil initial shipments behind schedule, in October and main shipments will begin in November and December of this year.  
4) China Region
Increased regulatory measures and greater domestic competition have led to falling revenues across the Greater China region over the past two years. For Q2 2017 Apple's revenues in Greater China fell approximately 14%.
However, for Q3 2017 the company is predicting a turnaround in this trend, albeit a moderate one. The company has outlined a forecast for revenues in Greater China to reach 9.36USD billion this quarter – representing a year on year rate of growth of 5.8%.**
5) Music Services
Apple Music has been burgeoning – with reported user figures exceeding the 40 million mark this year. The company has outlined strategy to drive accelerated growth in this segment. This segment is projected to generate revenues of 7.07USD billion this quarter, according to estimates from FactSet, up over 18% year on year, from the 5.98USD billion reported for Q3 2016.
The technology and media titan is capturing growth opportunities in both geographic and product range terms – expanding to meet evolving demands.  Underpinned by an aggressive growth culture and a powerful balance sheet the future of the company looks strongly positive based on current conditions.
Trade here
Sources:
1) * https://www.apple.com/investor/earnings-call/
2) * http://investor.apple.com/financials.cfm
3) * https://markets.ft.com/data/equities/tearsheet/forecasts?s=AAPL:NSQ
4) ** https://www.forbes.com/sites/adamsarhan/2017/07/30/earnings-preview-what-to-expect-from-apple-on-tuesday-3/#834be146ebc0
5) https://www.forbes.com/sites/adamsarhan/2017/07/30/earnings-preview-what-to-expect-from-apple-on-tuesday-3/#39d42d0e6ebc
6) https://markets.ft.com/data/equities/tearsheet/summary?s=AAPL:NSQ