4 min read 
Tesla Inc (TSLA:NYQ)  is an American energy company with major concentrations in solar panel and automobile manufacturing that specialises in electric cars and lithium-ion battery energy storage.  It is not unusual for revolutionary automaker Tesla to make the headlines. However, what makes the financial markets and media buzz unusual this time is that the attention is for a significantly unfavourable outcome from the company.
1) Record Quarterly Loss
For the last reported quarter (Q2 2017) the company reported a 336USD million quarterly loss. Despite these losses the company also reported 53% year on year growth in deliveries for Q2 as well as expectation beating revenues of 2.79USD billion.  
The company has only had 2 profitable quarters since the time Tesla was listed publicly.
2) Production – Mass Market
The primary driver for the record quarterly loss has been the increased production costs of selling an electric vehicle at a mass market price point.  Specifically the company has been ramping up the production numbers for the Model 3 – in an attempt to meet the 1800 Model 3 reservations per day level of demand they are currently experiencing.
3) R&D
Another large factor influencing losses this past quarter is the cost of research and development. The electric car pioneer is investing huge amounts of capital into researching and developing autonomous driving software and this is eating into bottom line.
4) Supply Chain
The company has set an ambitious goal to produce 5000 cars a week by the end of 2017 and this is leading to tougher, riskier, working conditions in factories. Factory workers have lodged official complaints into the safety of Tesla manufacturing facilities and this has the potential to cause a bottleneck in future if the concerns are not addressed.  The company has a track record of setting somewhat over ambitious production targets and failing to meet deadlines.
5) Share Price Impact
Shares plunged temporarily on the news of the huge losses but have quickly rebounded as Elon Musk, Tesla founder, outlined his plans for his future vision for the brand and impressive revenue and demand numbers for the quarter were released.
The setback in earnings performance has not dampened demand for the brands products – with the company recording continued demand for its mass market car, at an average of 1,800 reservations for the Model 3 each day. These facts have contributed to the quick rebound in share price.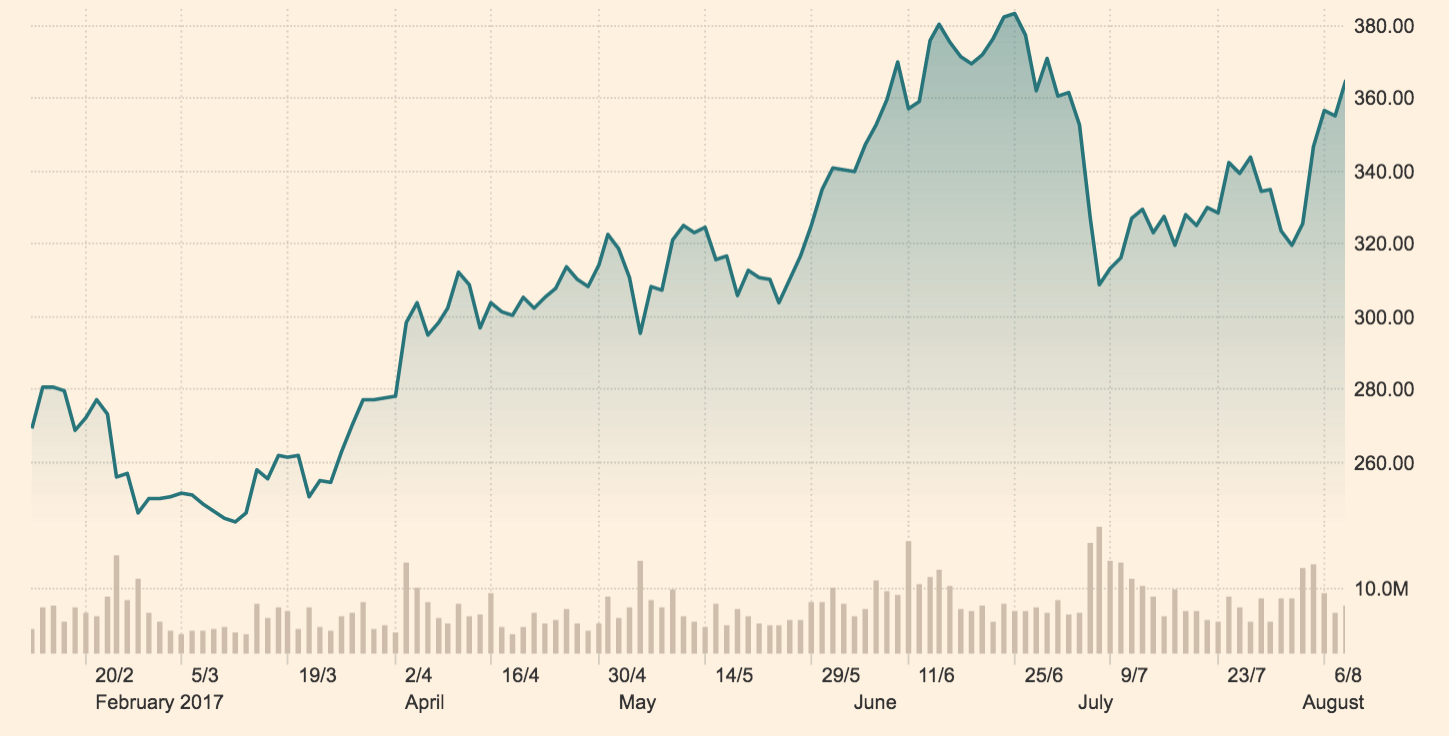 Sources:
https://seekingalpha.com/article/4096050-teslas-service-used-car-businesses-running-minus-30-percent-gross-margins

http://news.valubit.com/tesla-burns-a-record-13-million-per-day-in-q2-and-its-about-to-get-worse/

http://ir.tesla.com/secfiling.cfm?filingid=1193125-14-403635&cik=1318605
Trade here