5 min read 
Xerox Corporation (NYSE: XRX) Stock, one of the leading imaging, business process, analytics, automation and user-centric insight providers, will report earnings on April 25th 2017 for the Q1 2017 reporting period. Take a look below for the five key facts to consider about Xerox.
1) Mixed bag on price
Xerox stock has delivered a flat performance on price since the start of 2017 and has fallen substantially over the past twelve months by a whopping 42%.**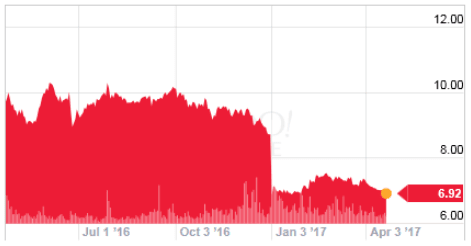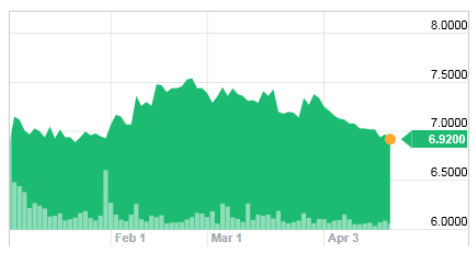 2) Trailing the competition?
The disappointing share price performance over the past year is further highlighted by the fact that compared to business services sector based industry peers Xerox is underperforming significantly when it comes to earnings growth.*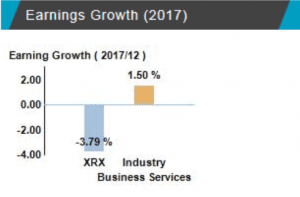 – analysts are forecasting an earnings decline of -3.79% for 2017 compared with last year.*
3) Financial Performance
Xerox Corp reported its last quarterly earnings on January 31st 2017 – announcing a 0.25USD EPS for the quarter, meeting consensus estimates. The information technology corporation posted a return on equity of 13.39% alongside a net profit margin of 3.53% as well as revenues of 2.70USD billion for the quarter, which underperformed forecast analyst expectations of 2.77USD billion.
Analysts expect Xerox Corp to post EPS of 0.86USD for the current fiscal year and 0.87USD EPS for the next fiscal year.*
4) Dividend Outlook
In 2016, Xerox Corp reported a dividend of 0.30 USD, an increase 11.01% YoY. Analysts covering the business and IT services company furthermore expect dividends of 0.26 USD for the upcoming fiscal year, a decrease of 12.73%.**
Xerox has recently declared a quarterly dividend, which will be paid on Friday, April 28th 2017 in which shareholders of record on Friday, March 31st receive a 0.0625USD/ share dividend. This represents a 0.25USD dividend annual and an annual yield of 3.61%. Xerox's dividend payout ratio is presently 59.62%.
5) Good Value Entry Opportunity
Xerox Shares are relatively cheap versus industry peers at current price levels.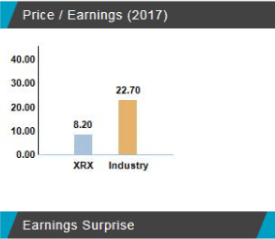 Looking at P/E Xerox offers a value that is more than 50% lower than industry average. This makes the shares good value at current levels.
Although the share price performance has been unimpressive over the past year Wall Street Analysts have a forecast consensus that this stock will beat the market average performance for 2017 based on fundamental and market factors.*
Overall the outlook is flat to positive for Xerox shares for the short to medium term. For the long term the outlook is uncertain given the extreme volatility in the share price over the past year as well as the nature of the industry in which the company operates.
The business and IT services sector is experiencing fast changing dynamics and cut throat competition with the likes of Amazon reshaping the sector with the provision of Amazon web services as well as the rapid growth of the cloud services industry.
This article is not an investment advice.
*information provided is not a reliable indicator of future performance.
**Past performance is not a reliable indicator of future performance
Trade here