2 min read 
With over a year trading on the exchange, Zcash returned an excellent value to its investors. But still, the coin had seen both ups and downs. With the recent bull, the market cap of this coin exploded again with $669 million, little shy to achieve all time high of $702 million.
Key Highlights:
ZEC/BTC pair gained 21 percent week-on-week and 14.5 percent in the last 48 hours
A strong trend supported the bull but resistance at $268 stopped any further growth
Against BTC, ZEC appreciated 16 percent week-on-week with a current trading value at 0.036 BTC

In the past week, the coin gained a significant amount in its value against USD because of the week-long bullish trend.
If we consider the weekly chart first, we can see a small bull in the early week which was strongly challenged by the resistance level at $233 to $240. But the support level at $223 also prevented any further dip. Both these levels of support and resistance were tested multiple times, before the ultimate steep bull of the week. The trend line also acted as a support level.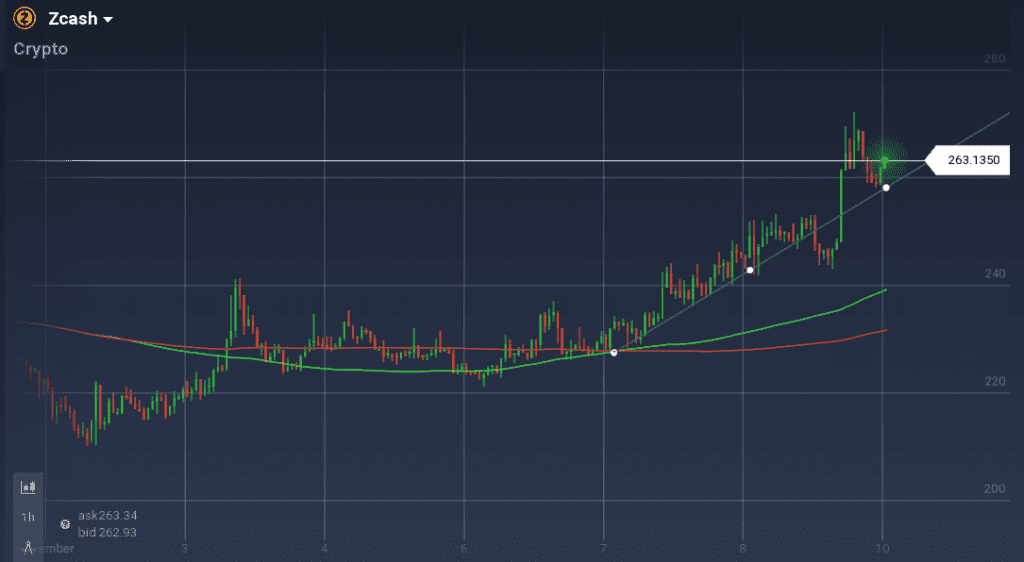 In the daily chart, a resistance above $268 stopped the growth, at least for a short period. There was also a support at $245.
The oscillators are also signaling a bull, even though there was a recent bear for a short period because of the $245 resistance. Stoch is turning upwards and RSI is at 58 percent. MACD is running bullish overall but giving a mixed signal for the short-term as there is an intersection.

ZEC/BTC pair also had a great performance this week. The pair appreciated 16 percent as the value went up from 0.031 BTC to the current 0.036 BTC.
Trade on ZEC