3 min read 
Privacy coins are becoming very popular among all the people. The assured anonymity of the transactions is attracting a wide range of users. Zcash is just one of these privacy coins. As the crypto market soared in in the recent months, Zcash added a lot of value to it. The coin is now trading around $666 as compared to $220 in the early November. The coin is currently holding a market cap of above $2 billion.
Key Highlights
ZEC/USD is currently facing a major resistance at $720, which if breached, an upward rally might follow
The coin had a strong support between $605 to $640 all along the week
ZEC/BTC pair appreciated around 26 percent around the week and currently trading at 0.048 BTC
For Zcash, the week was pretty good as compared to other coins. In the early week, the coin rallied to $800 from $530 is mere 24 hours. But then with a pullback, it plummeted to below $610. The coin was quick enough to recover, but newly formed resistance at $720 pushed the price down.
Along the week, the coin tested his resistance level several times, but did not succeed to breach it. Strong support between $605 to $640 also checked the coin from taking any further dive.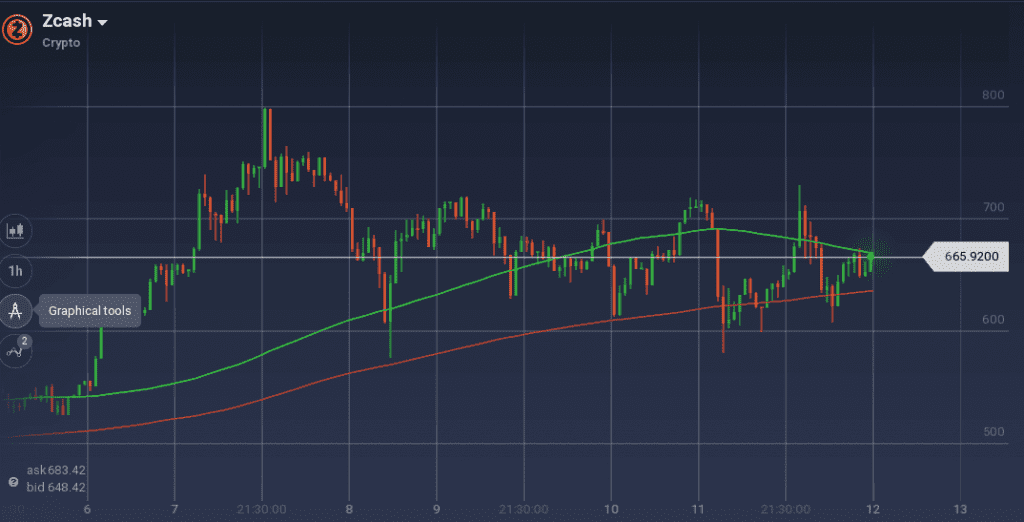 As the coin is going up to, probably, test the resistance again, the indicators are also signaling positively. Stoch and RSI both are on an upward ride, RSI being at 59 percent. But because of the up and down within the narrow band of resistance and support, MACD has stabilized and running flat along the axis.
The 100 SMA has also maintained its run over the 200 SMA, indicating a possible upward movement. The prices are currently at 50 percent Fibonacci level, approaching towards 38.2 percent.

Against Bitcoin, ZEC mostly followed the same path as against USD. The coin jumped in the early week and then mostly traded sideways. Though the pair gained around 26 percent over the week.
Trade on ZEC/USD