6 min read 
Cryptocurrency is probably the most important technological innovation of the last decade. Bitcoin, the world's premiere cryptocurrency that is up 1780% this year, has already been announced the financial blockbuster of 2017. As a client of IQ Option, you will trade cryptocurrencies without experiencing the downsides of online exchanges.
The latter are neither stable, nor reliable and often create bottlenecks. IQ Option, being a certified broker, offers you the opportunity to open both long and short positions in a fast and secure manner, store assets using cold storage, all while enjoying the user-friendly interface.
In order to buy or sell cryptocurrencies, pick the coin of your choice from the list of available crypto assets. Other platforms often make cryptocurrency trading overcomplicated, which is obviously not the case for IQ Option. After choosing the asset all you have to do is enter the desired amount of money and set up stop loss/take profit orders (in case you favor autonomous trading).
Don't forget to follow our blog and never miss important cryptocurrency-related news again. Take advantage of several technical analysis indicators and graphical tools. Both advanced and novice traders will find them useful when making their investment decisions.
How to buy and sell cryptocurrencies
Choose what cryptocurrency you want to buy/sell by clicking the "Open new asset" button (the "+" at the top of the screen) in your trade room.
Choose the dollar value of cryptocurrency you want to buy/sell from the "Amount" window on the right of the screen.
Click the Buy (green button) or Sell (red button) on the right of the screen to enter your position: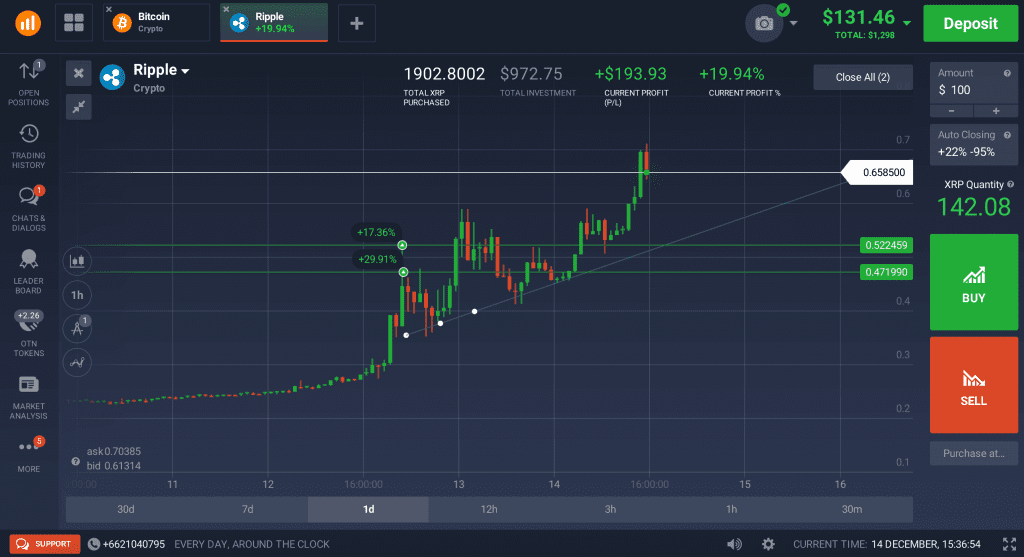 Optional: you can also set a stop loss/take profit order in order to automate your trading activities. In this case, when the price action reaches a certain level, your trade will close automatically. Or you can simply monitor the asset price in real-time and close your trades manually. IQ Option is offering a wide range of cryptocurrencies to choose from, including bitcoin,  Bitcoin Cash, Ethereum, Dash and Ripple. Additional cryptos can be expected to make their way to the platform in the foreseeable future.
Deposit money to your IQ Option account
Newcomers are advised to practice and test their skills using the practice account first and only then switch to trading with real money. When feeling ready, you may proceed with the real account. In order to replenish it, simply do the following:
Click the "Deposit" button at the top-right corner of the screen;
Choose the desired payment method:
Note that you can replenish your account using not only fiat currencies but also bitcoin.
Do not forget to check the 3D-Secure box in case you want to withdraw cryptocurrencies later on.
In Order to Withdraw Money from your IQ Option Account Follow these Steps:
You can now withdraw Bitcoin directly from the IQ Option platform (in case you have activated 3D-Secure when charging your account). The process is very straightforward.
Click on the top-right dropdown menu and choose "Withdraw Funds":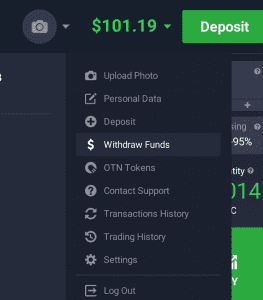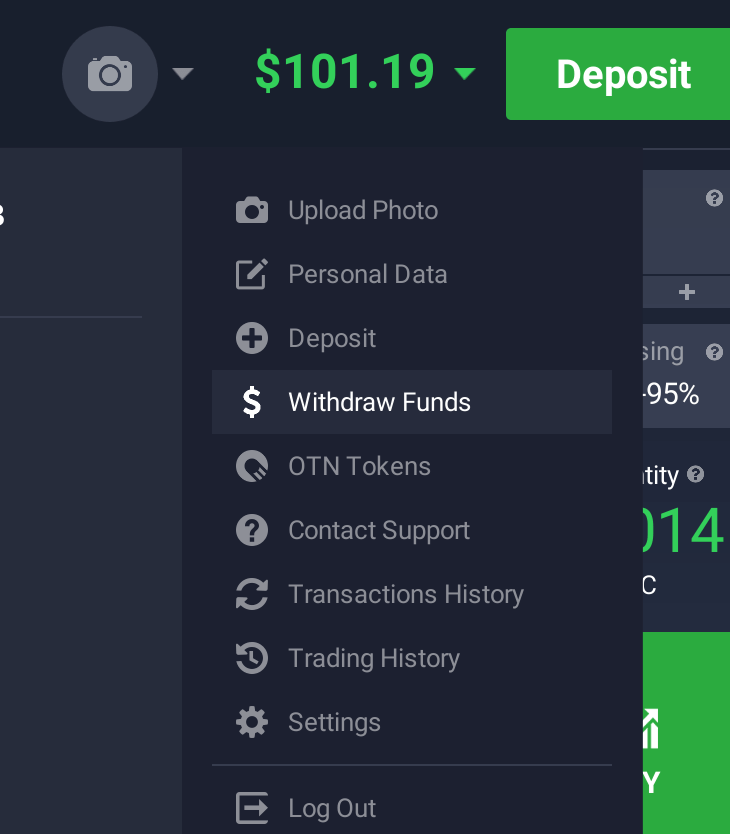 You will then reach a page where you can select how to withdraw your funds, including credit card, debit card and wire transfer to your account.

For additional information on funds withdrawal, kindly consult this article.
For any questions on trading cryptocurrencies, OTN tokens and Bitcoin withdrawal please contact our support team at support@iqoption.com. You can also reach us by phone 24/7. We look forward to helping you get the most out of IQ Option!
Trade cryptocurrency
NOTE: This article is not an investment advice. Any references to historical price movements or levels is informational and based on external analysis and we do not warranty that any such movements or levels are likely to reoccur in the future
GENERAL RISK WARNING
The financial services provided by this website carry a high level of risk and can result in the loss of all your funds. You should never invest money that you cannot afford to lose.