4 min read 
The Bank of Canada released its April policy statement, holding rates steady at 1.25% as expected, and sent the Canadian Dollar crashing lower. While the bank sees growth expanding at a faster rate than previously expected they do not see inflation picking up and that has snapped strength in the loony that has been building for the last four weeks.
The BoC says inflation is likely to run between 2-3% over the next 2 years. This is consistent with an economy at or near capacity but not expected to run hot. While bullish on the economy the outlook does not support BoC policy tightening and that is what traders are looking for, fiscal policy tightening in nations other than the US.
This news weakened the loony considerably against both the euro and US dollar. The USD/CAD shot up on the news creating a large green candle engulfing the previous six and piercing the seventh. This move appears to have ended the four weeks down trend with the possibility of full reversal. With the BoC so dovish on inflation and the FOMC set to raise rates 4 to 5 times over the next 2 years a move up in the greenback is the most likely outcome. Support is now 1.255, a move up from there may go to 1.2735 in the near term.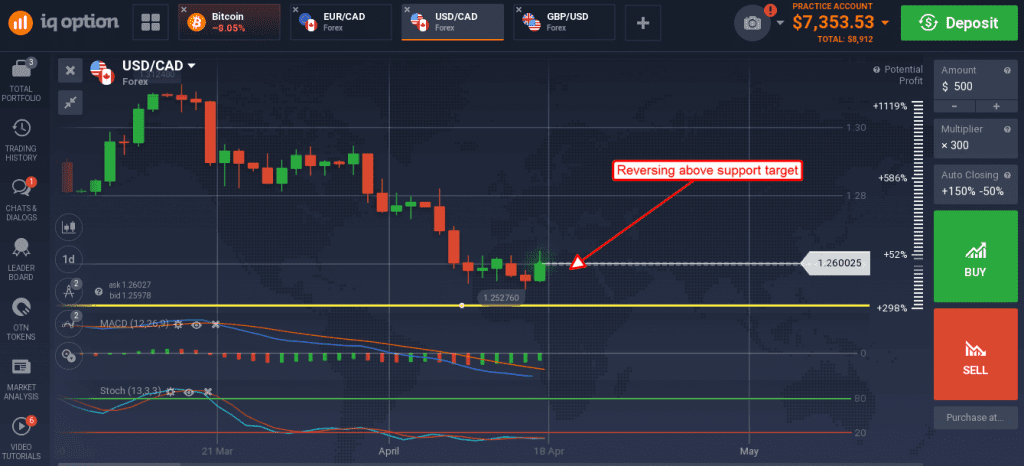 Likewise, tepid inflation data from the UK has extended a similar reversal in the GBP/USD. UK CPI, a measure of consumer level inflation, rose by 2.5% YoY and 2.3% at the core level but fell short of expectations. The data shows a cooling of inflation pressures that raises questions about the Bank of England's need to raise interest rates. They, the BoE, have indicated rates will go up in May but may back off that outlook now that the data shows inflation is cooling.
The GBP/USD fell hard on the news, extending a fall which began on Monday, and looks like it will move lower. There are some signs of support in the candle, long lower shadow crossing the 1.4200 level, but it is not confirmed. A fall below this level could go as low as 1.4100 or 1.4000 in the near term.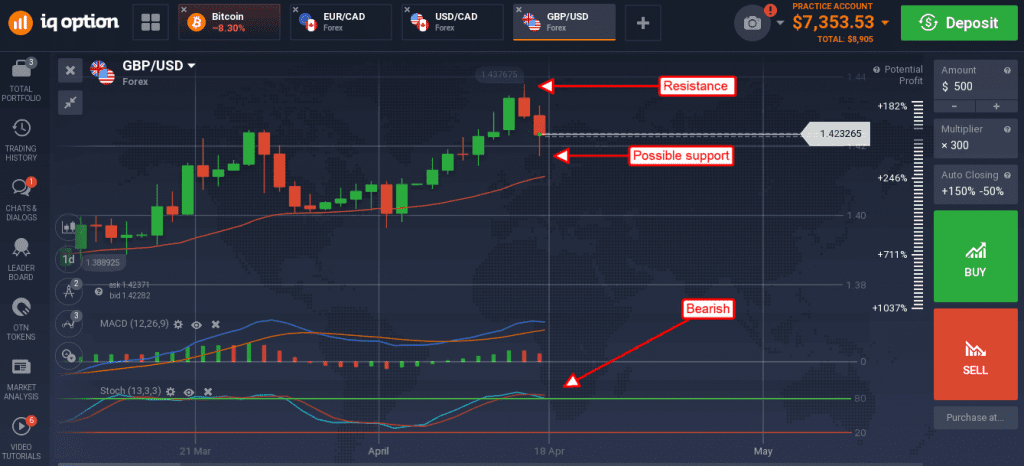 EU CPI data came in as expected at 1.0% YoY which was enough to allow it to move versus the Canadian dollar. The EUR/CAD created a long green candle moving up from a new support target near 1.5510. The move puts an end to a recent down trend but does not necessarily mean full reversal although that looks likely.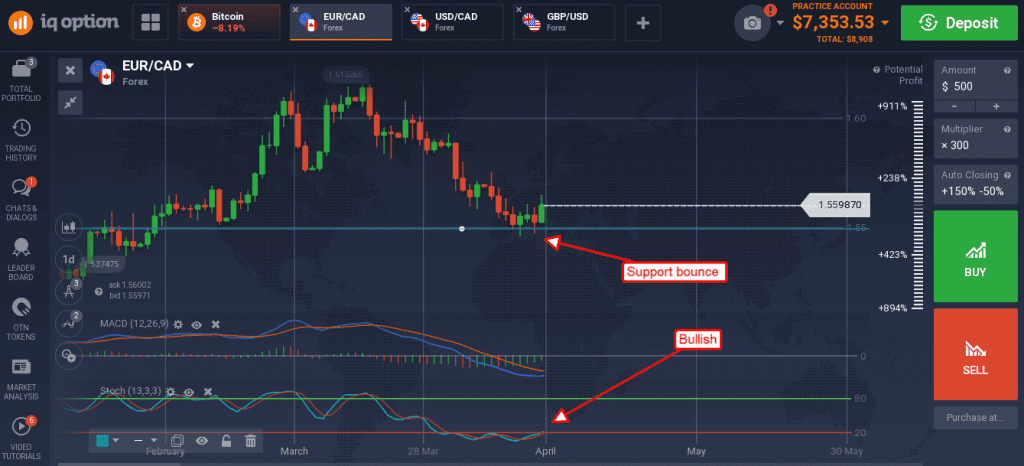 The BoC's new stance puts them at odds with the ECB which is expected to begin tightening sometime next year. The pair may move up to test the short term moving average at 1.5700 in the near term, a break above there would be bullish.
Trade now