6 min read 
Bitcoin Cash is a virtual currency that is derived from the blockchain of Bitcoin. It has no central bank; it is fully decentralized and does not require third parties to function. Its symbol is BCH and it is used for payment process across the Bitcoin Cash network.
What is the principle behind Bitcoin Cash?
Before the development of Bitcoin Cash, the creators appealed for the understanding of the original bitcoin community. The appeal was for them to increase the block size and to expect a surge in the user base of the burgeoning Bitcoin.
However, a lot of people were opposed to the idea of increasing block size, especially miners who would lose collecting transaction fees. This development led to a sharp drop in the mining capacity on the blockchain and a subsequently reduced security. Both teams struck a consensus in the form of Segregated Witness and BIP 91. Two years later, the argument about increasing the size of the block lingered on until both parties parted ways, resulting in a hard fork in the network of Bitcoin.
Bitcoin Cash (BCH) has some similar features and is almost identical to the original Bitcoin.
Differences from original Bitcoin
Bitcoin Cash block is 8MB, thereby permitting more transactions on a single block
It doesn't support SegWit's implementation
The "replace by fee" feature on the original bitcoin is not present on Bitcoin Cash.
It has an EDA (Emergency Adjustment Algorithm)
It has wipeout and replay protection
The adjustment of proof-of-work (PoW) is possible unlike in Bitcoin
Summarizing the differences, we can categorically say that the differences are:
Bitcoin Cash serves as e-cash. It enables direct payment, cost-effective, and fast payment over the internet between two parties.
On the other hand, Bitcoin is seen as a store. It is useful for people that do not require a speedy everyday transaction.
Bitcoin cash came into existence because of hard fork. What this means is that holders of Bitcoin possess the same amount of coins in Bitcoin Cash, provided their private keys are still in their possession and their Bitcoin wasn't on any exchanges during the development of the hard fork.
Trading history of Bitcoin Cash
As of the time of writing this article, historical data gathered from coinmarketcap.com showed that the price of BCH wasn't stable for a period of time. This same fluctuation is like other cryptocurrencies.
As at the 23rd of February 2018, BCH opened at $1,217.36 and closed at $1,279.71 with a volume of 492,542,000 and a market cap of $20,673,300,000. The price came with a low and high of $1,161.42 and $1,319.33 respectively. A critical review of its performance between January 25th and February 23rd showed that BCH recorded its all-time high on the 18th of February 2018 at $1,641.40. Its current price movement and other important data can be obtained on www.coinrate.com.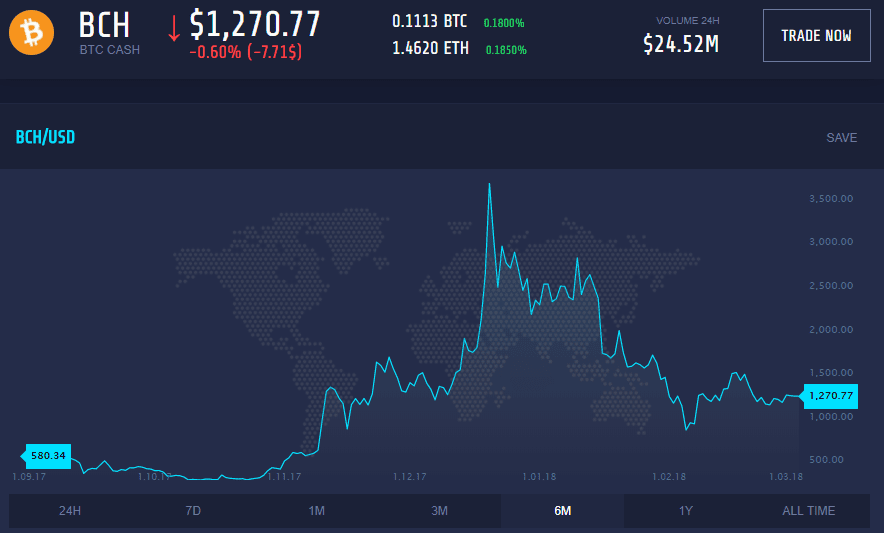 Future of Bitcoin Cash
Predicting the future of Bitcoin Cash is a bit difficult because its future remains unclear. The possible risk or benefit it would have on Bitcoin is also not certain as of the time of writing this article. However, what we are certain of is that the evolution of Bitcoin Cash is a great lesson for us to learn from. The creators of BCH have made history by hardforking Bitcoin and still retaining its original transaction records. The 8MB block size of BCH is also an interesting aspect to investigate, although we hope it won't negatively affect miners in the future.
Will BCH address the inherent problem of scalability? Will it displace Bitcoin to become the most sought-after chain? All these questions and many others remain a speculation. What we can categorically say is that Bitcoin Cash has induced the community of cryptocurrency with excitement.
Trade Bitcoin Cash
NOTE: This article is not an investment advice. Any references to historical price movements or levels is informational and based on external analysis and we do not warranty that any such movements or levels are likely to reoccur in the future.
In accordance with European Securities and Markets Authority's (ESMA) requirements, binary and digital options trading is only available to clients categorized as professional clients.
GENERAL RISK WARNING
CFDs are complex instruments and come with a high risk of losing money rapidly due to leverage.
77% of retail investor accounts lose money when trading CFDs with this provider.
You should consider whether you understand how CFDs work and whether you can afford to take the high risk of losing your money.