5 min read 
A new round of macro economic data from the UK and EU shows activity is still improving. The bad news is that most of the data was weaker than expected, the little that wasn't didn't do much to strengthen the pound or the euro. Add to this growing speculation US President Donald Trump will appoint a hawkish Fed Chair at the end of Janet Yellen's term and the stage was set for a dollar rally.
In the EU trade balance figures came in much worse than expected as currency conversion hit exports and profits. The balance declined by roughly 7 billion Euros to 16.1 billion. CPI data was also weak, in line with expectations but low at 0.4% on the month and only 1.5% at the core level. Core consumer level inflation is also running weak and below the ECB's target on a year over year basis.
UK data was much the same. Retail prices, housing prices, PPI and CPI show growth and expansionary pressures just not enough to bring a bid to the Pound. The retail price index rose 4.1% YOY but missed target by 0.1%, the housing index gained 5.0% but missed by 0.4% and PPI came in at 2.5% but missed by a 0.1% as well. The only bit to beat was on the consumer end, CPI rose a tenth to 3.0% and in line with expectations.
In the US speculation is growing that Janet Yellen's time as Fed Chairperson are coming to an end. The new talk is that Trump has been vetting some known hawks for consideration as FOMC chairman. This speculation has lent strength to the dollar in the near term and will likely continue to do so until the talk is put to rest, or a new chairman has been appointed.
The GBP/USD shed a half percent on the day's news, confirming resistance at 1.3300. The pair is moving lower after reversing at the 1 year high. Today's move also break potential support at the 1.3200 level and is confirmed by the indicators. Both MACD and stochastic confirm with bearish crossovers while the pair is falling from the short term moving average. Bearish targets exist at 1.3025 and then 1.2910 should the first target be exceeded.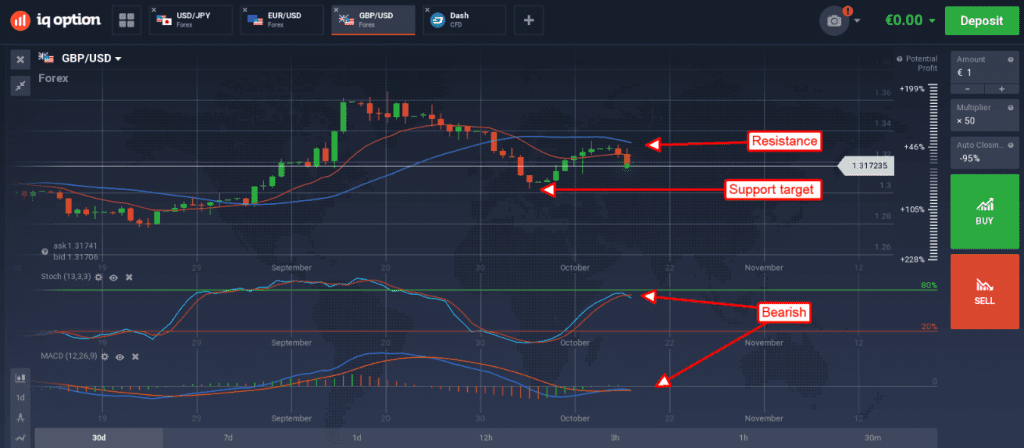 The EUR/USD fell nearly a half percent as well. The pair is extending a fall from a recent near term reversal and is heading lower in the near term. This move is confirmed by crossovers in the moving averages and stochastic, and soon to be confirmed by MACD as well. First target is 1.16750 with potential for a break below this short term support level. A break below 1.16759 would be very bearish and a confirmation of a longer term reversal that has been in the works for at least 2 months. A bounce would be bullish but face resistance at the moving averages.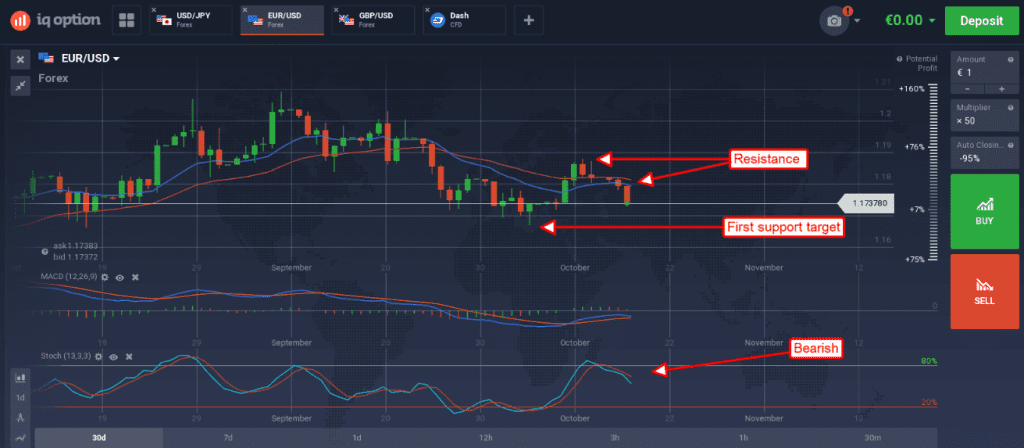 Looking to the next potential movers for these pairs there are a couple of important events tomorrow. First, Mario Draghi is set to give a speech at 8:10 GMT that could move the market but is not expected to produce significant news for the Euro. Shortly after that key data on UK employment, unemployment and average hourly earnings is due and that will move the pound. Unemployment is expected to hold steady at 4.3% with average earnings up 2.1%. Later that day the FOMC's Beige Book, a monthly gauge of economic conditions, is to be released.
Trade now