5 min read 
This week's round of economic data shows that recovery in US economics is still spotty at best. Monday Leading Indicators gained a surprising 1.2% in evidence of further expansion while today's durable goods orders give evidence those gains may be fleeting.
Headline durable goods orders came in at -1.2% and missing expectations by a mile. Economists had been expecting an increase of 0.3% following the previous month's gain of 2.2%. Core durables, ex-transportation, are a little better at 0.4% and only a tenth shy of expectations. Ex-defense is the same, up 0.8% and a tenth shy of expectations. Transportation led the weakness, down -4.3%, and is not expected to show much strength in the coming quarter. Shipments, up 5 of the last 6 months, was up 0.1% led by strength in metals.
The one area of US economics that has shown steady and consistent recovery since the Global Financial Crisis is labor and today's data does nothing to alter that. Initial claims rose by 13,000 as filing in Puerto Rico and the Virgin Islands gets back to normal. This is below expectations and leaves claims trending near historic lows. Continuing claims is the same, rising 36,000 in this week's data and below expectations.
The EUR/USD held steady on the news, pulling back from highs set earlier in the session. The pair is trending sideways within a narrow consolidation range and does not look like it is going to break out of it in the next few days. This range is likely to dominate trading over the next few weeks as we approach the next ECB meeting in early December. The indicators are mixed but generally consistent with a test of support and/or move lower within a range. Support target is near 1.1675 should the pair decide to move lower, upper target for resistance is near 1.1820.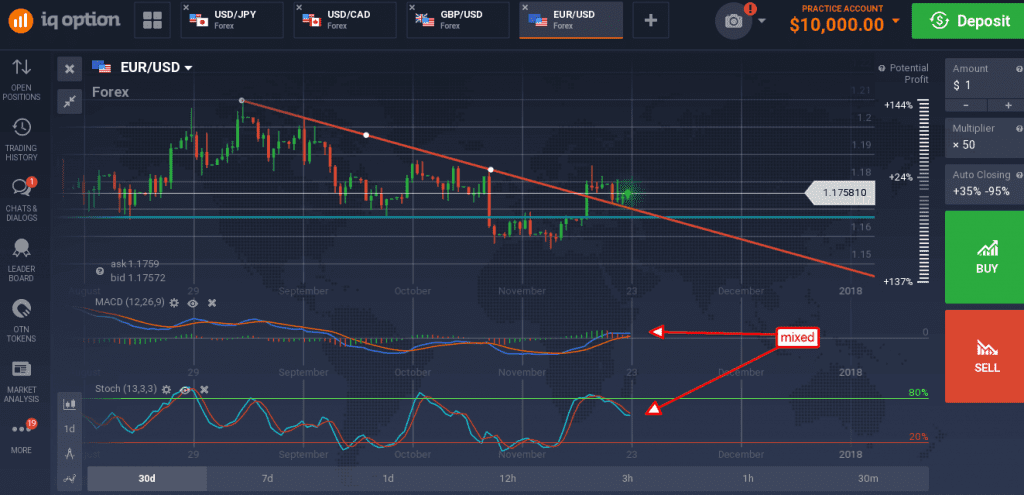 The USD/JPY fell on the news as it does little to strengthen already firm FOMC outlook. The pair moved down to create a medium sized red bodied candle and set a new one month low. This low may be significant but for now is little more than a test of support levels. Support is near 111.8750 and a low set in October.
Both stochastic and MACD are showing weakness consistent with the near term down trend so I would expect to see support tested if not broken. A bounce from this level would confirm support and take the pair back to retest the recent high, a break of support would be bearish with a target near 110.00 and then 108.00.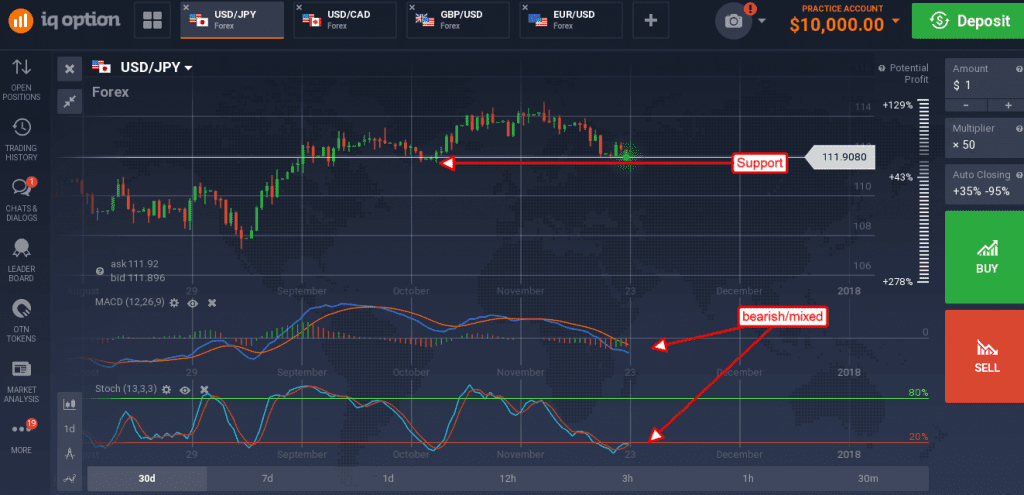 The dollar fell versus the pound as well although gains were capped. The GBP/USD moved up to create a small green bodied candle just beneath the top of a near term trading range. This resistance has been firm for two months now and does not look like it will be broken in the near term. The indicators are both showing bullish conditions but weak conditions consistent with range bound trading.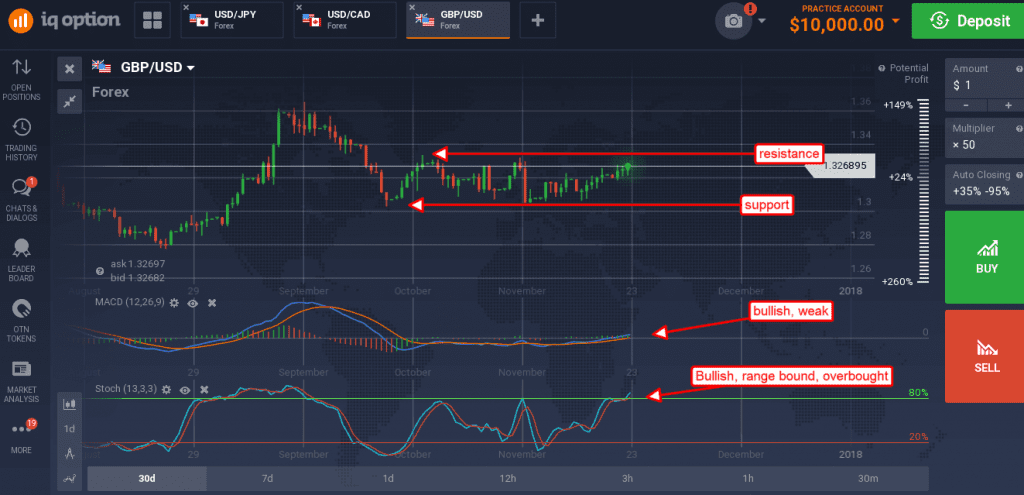 They are also consistent with overbought conditions within that range. Resistance is near 1.3275, a break above which would be bullish with target near 1.3600. A confirmation of resistance would be bearish and likely take the pair down to test the bottom of the range near 1.3035.
Trade now