4 min read 
Forget about the headlines, it's the labor market leading the US dollar higher. This week's data continues to show sustained strength in labor, tightening markets and upward economic pressure within the economy. All adding up to inflation and FOMC tightening.
Yesterday's ADP was good at 190,000. This was inline with expectations, showed relatively broad gains in hiring and helped firm forward economic expansion. Today's Challenger, Gray&Christmas report on planned lay-offs gave further confirmation of health within the market. Headline job cuts rose 17% from the previous month, are up 30% YOY and at a 7 month high; not so good. However, taking a step back to look at the year to date comparison this month's data is not so bad, it's very good in fact. Year to date 2017 job cuts are -22% below the same period last year and at a 20 year low.
Additionally, the hiring portion of the report shows hiring in 2017 at a an all time high and consistent with robust labor market conditions. Jobless claims figures support this data. They were as expected and continue to trend at long term lows suggestive of low levels of labor turnover and readily available jobs. Taken together the data is strong and points to strength in the NFP tomorrow. Current expectation is 200,000, down from last months high 260,000 but consistent with healthy growth in employment. Unemployment is expected to hold steady at 4.1% but I suspect it may come in better than expected.
The EUR/USD held steady in today's trade as strong EU GDP figures offset strength in labor. EU GDP 3rd quarter revision came in at 2.6% and a tenth hotter than expected. While today's move was fairly neutral the pair is slowly chipping away at support near the 1.1800 level. The indicators are bearish and moving lower, consistent with further testing of support and a possible move lower. This move may be sparked by tomorrows NFP, or rejected if the figures are weaker than expected. A move lower may find support near 1.1665 or just below that near 1.1600. Longer term expect this pair to continue trending within the near term range until the ECB/FOMC meeting next week.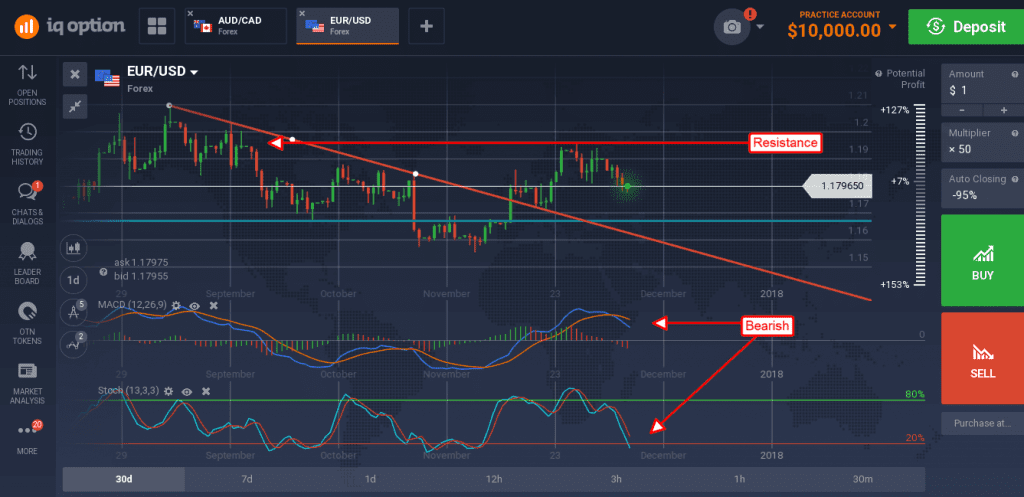 The dollar was able to gain versus the Swiss Franc despite strength in Swiss unemployment. The non seasonally adjusted figure came in at 3.1% and as expected while the seasonally adjusted beat by a tenth coming in at just 3.0%.
The USD/CHF is extending a bounce from the 0.9800 level and beginning to show some signs of resistance near 0.9945. This level is coincident with a small congestion band from mid-November and may cause some volatility in the Friday session.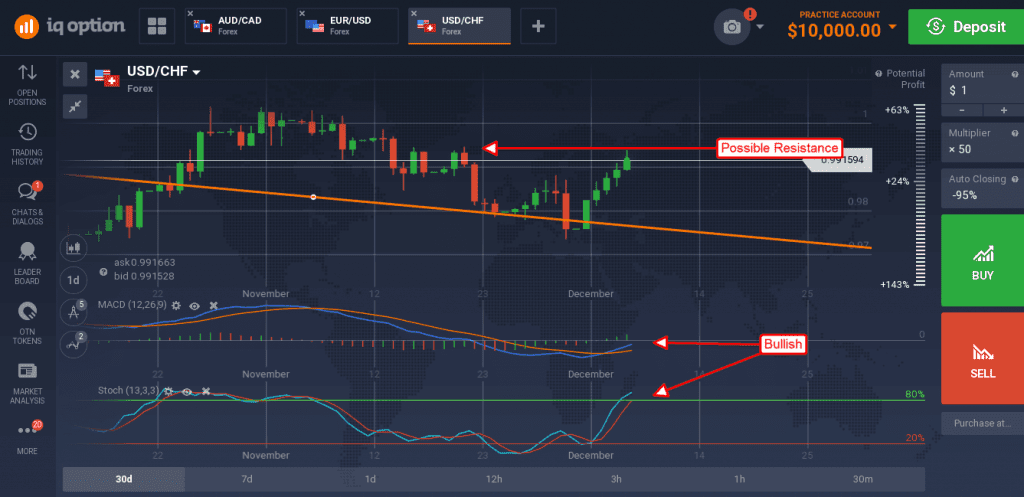 The indicators are bullish with MACD confirming today, a break above 0.9945 would also be bullish and likely take the pair up to 1.0000 or higher. The risk is tomorrow's NFP, if it doesn't match expectations or better resistance could curb gains.
Trade now
NOTE: This article is not an investment advice. Any references to historical price movements or levels is informational and based on external analysis and we do not warranty that any such movements or levels are likely to reoccur in the future
GENERAL RISK WARNING
The financial services provided by this website carry a high level of risk and can result in the loss of all your funds. You should never invest money that you cannot afford to lose.