Today's Swiss CPI data was not bad, but it was a hair shy of expectations and less than robust. The headline figure fell -0.1% as expected from last month's 0.0%. The YOY figure rose as expected but fell short of the projected 0.7% leaving the franc vulnerable to data due out from the UK, the US and Canada.
Tuesday could see a shake up between the franc and the pound. Swiss PPI is due out and expected to show YOY declines that, if missed, could weaken overall inflation outlook. Compounding this a mega-bundle of UK inflation data with more than a dozen CPI and PPI related indices on the schedule. With the BOE's recent upgrade to inflation and rate-hike outlook any strength in this data will firm the pound. The GBP/CHF has been trending lower over the past few weeks but may affect a reversal should the data skew toward strength in the pound.
The GBP/CHF is trending sideways within a narrow consolidation range, near a recently set long term low. This low is consistent with a support target near 1.2960 that will be important over the next few days. The indicators are consistent with support and potential for reversal that has yet to be confirmed. A break below support would be bearish, a bounce bullish. A move lower may find support at 1.2800, a move higher may find resistance at 1.3150 and the short term moving average.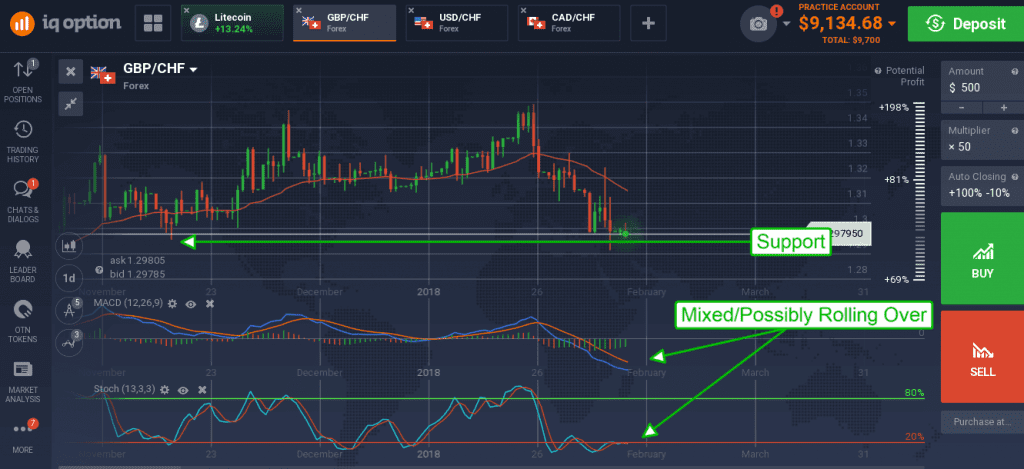 On Wednesday US CPI is due out and expected to hold steady from the previous month. The previous read was 1.8% core YOY with gains near 2% at the headline. This, along with retail sales which are also due out on Wednesday, is likely to firm the dollar. The FOMC is already on track to raise rates at this or the next meeting, strong data will affirm that outlook.
The USD/CHF has also been trending lower over the past few weeks and now consolidating off the lows.
At present the pair is trending sideways over the past few days, just under resistance targets at the short term moving average. The indicators are both bullish and set up to confirm the possibility of a move higher. A break above the average would be bullish and confirm the onset of reversal. Such a move may go as high as 0.9620 in the near term.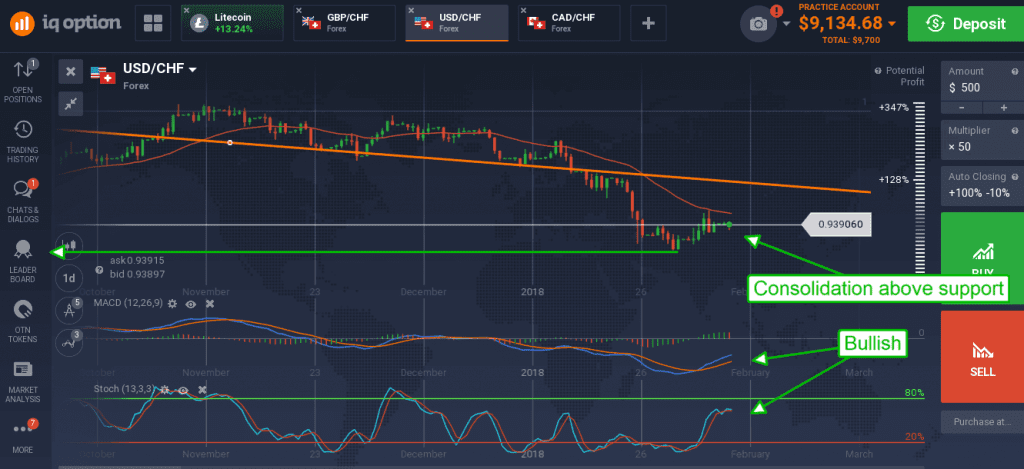 Canadian data, in the form of ADP nonfarm employment change and manufacturing spending, will cause ripples on Thursday and Friday. The nation has seen a recent uptick in activity that may be seen in this data. The CAD/CHF has also been trending lower in recent weeks and showing signs of possible reversal.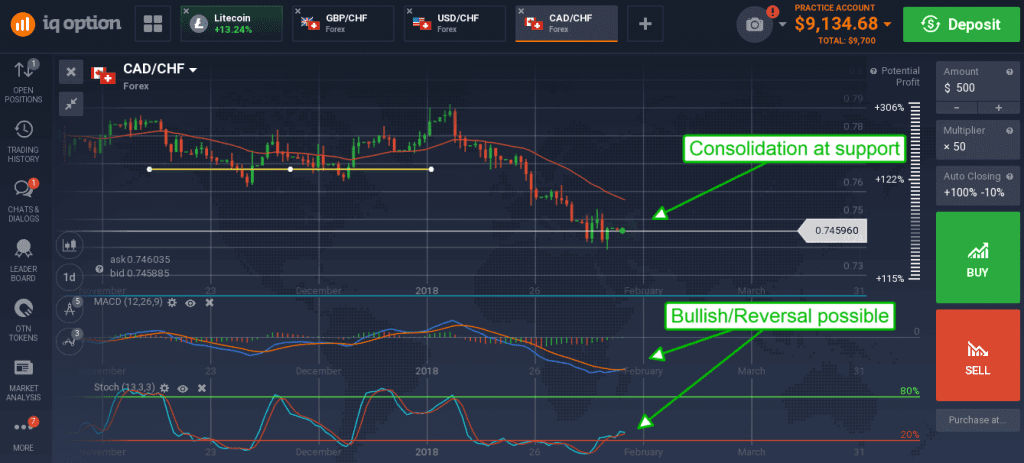 Both stochastic and MACD have rolled into bullish crossovers while the pair is consolidating above recent lows. A move up may find resistance at the short term moving average, a break above that would be bullish.
[cta_en link="http://bit.ly/2w6LBL6″ name="Trade here"][/cta_en]