5 min read 
Forex markets continue their tug-of-war as new data perpetuates a new paradigm in which trader's gamble on whose economy is stronger. Unlike past years, even up until very recently, markets were driven by whose economy was weaker, whose economy was getting the most QE and which central banks were the most dovish. Now, with global economic growth set to accelerate, a new environment has emerged in which strength in one nation's data is offsetting strength in others leaving forex markets range bound.
Today's data was no different and ups the ante in terms of central bank expectations. In Europe the data was mixed; retail sales fell much more than expected in December while employment and inflation figures continue to rise. German retail sales fell -1.9% in December, YOY much worse than the expected 2.8% increase predicted by analysts. The reason for the decline is unclear as unemployment continues to fall within the nation. Unemployment had been expected to hold steady at 5.5% but fell a tenth to 5.4%.
Data from the broader EU shows employment and inflation holding steady. Unemployment came in at 8.7%, as expected and unchanged from the previous month, while CPI came in unchanged and as expected for both the headline and core figures. While mixed, the data does support current ECB outlook although that outlook which has proven to be resilient over the past week. The data helped the single currency appreciate versus the dollar, but gains were capped by stronger than expected labor data from ADP and expectations for the FOMC meeting later in the day.
ADP says US payrolls increased by a net 234,000 blowing away estimates for 186,000. The number is strong and the second month of above 225K increases. Last month came in at 242,000, revised lower, but still a solid figure for the economy. The Employment Cost Index was released soon after and shows a 0.6% increase in labor costs, as expected and down a tenth from the previous month.
The EUR/USD moved up on the news, but the pair remains within its near-term trading range with gains capped near the mid-point of the range. The FOMC is likely to induce volatility regardless their message, A clear break of the trading range will be the signal for entry, trading in the direction of the break.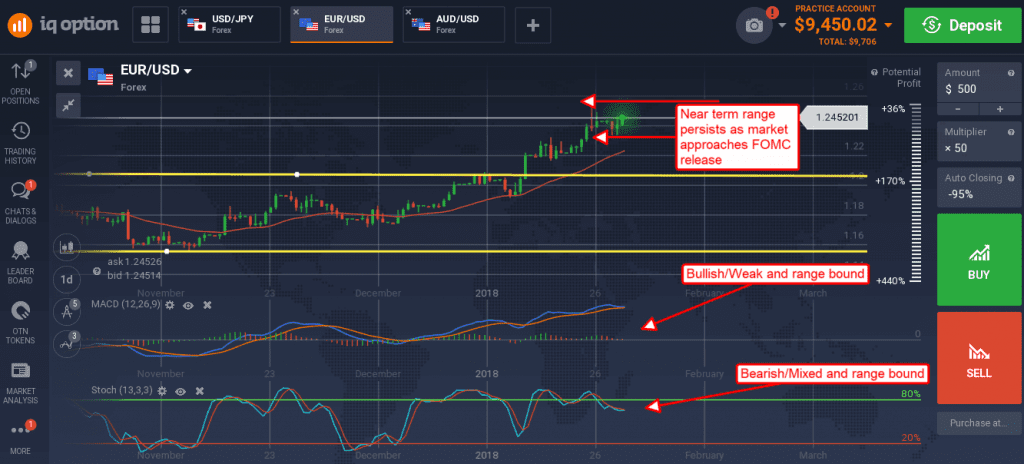 The euro likewise had trouble versus the Canadian dollar as strong GDP data suggests continued improvement with America's northern neighbor. The 4th quarter GDP read came in at 0.4%, as expected but up from the previous read of 0.0% with positive economic tailwinds to support it. Along with this was a smaller than expected decline in PPI which helps support the idea industry is doing OK in Canada.
The EUR/CAD created a small doji candle in the early portion of Wednesday's trading and looks like it is going nowhere. The pair is within a near term consolidation range just below long-term highs at the top of a trading range that is confirmed the indicators.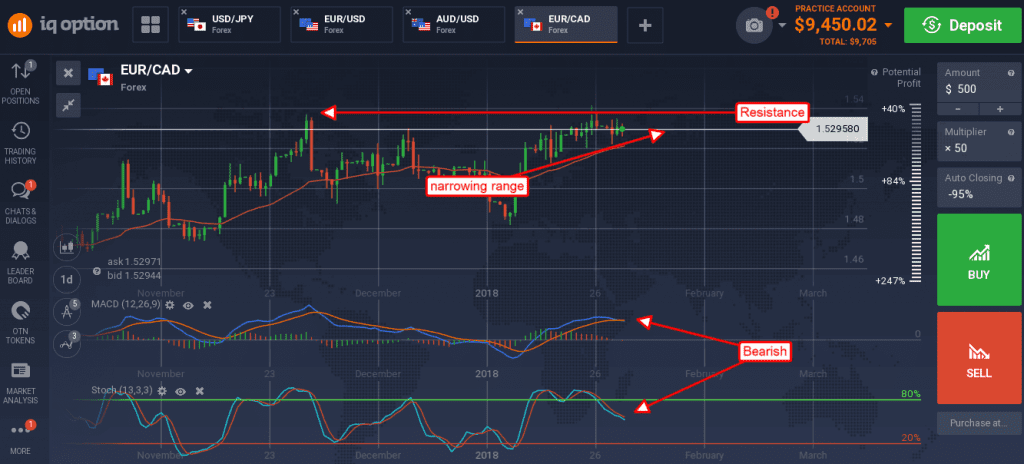 A move lower may find support at the short term moving average near 1.5200. A move higher may find resistance at 1.5400 and the long-term highs.
Trade now
NOTE: This article is not an investment advice. Any references to historical price movements or levels is informational and based on external analysis and we do not warranty that any such movements or levels are likely to reoccur in the future.
In accordance with European Securities and Markets Authority's (ESMA) requirements, binary and digital options trading is only available to clients categorized as professional clients.
GENERAL RISK WARNING
CFDs are complex instruments and come with a high risk of losing money rapidly due to leverage.
77% of retail investor accounts lose money when trading CFDs with this provider.
You should consider whether you understand how CFDs work and whether you can afford to take the high risk of losing your money.