6 min read 
First and foremost, Ethereum Classic is a separate cryptocurrency to Ethereum, although they are related. There are now hundreds of cryptocurrenices listed on cryptocurrency exchanges. Based on the success of its parent platform, Ethereum, Ethereum Classic is also managing to stand out from the crowded marketplace. Let's take a look at what Ethereum Classic has to offer.
1) History
Ethereum was created by Russian, Vitalik Buterin, an early adopter and developer of blockchain technology. Ethereum was created in 2013 to overcome a number of Bitcoin design flaws – and was purpose built to develop and run decentralized apps (known as DApps) and smart contracts smoothly. However, there was a hack of Ethereum in May 2016 in which more than $50 million was stolen. This created turmoil in the Ethereum community. The decision was subsequently made to create a hard fork of Ethereum at Block 192000 so that these losses could be refunded. This hard fork meant that a new path was created from the original blockchain from block 192000 onwards and invalidated the hacked transactions.
Some users were committed to continuing on the old block chain – and this old blockchain has now become known as "Ethereum Classic".
To clarify:
Ethereum Classic (ETC) is the continuation of the old blockchain. Ethereum (ETH) is the digital currency and transactions that relate to the newly forked blockchain.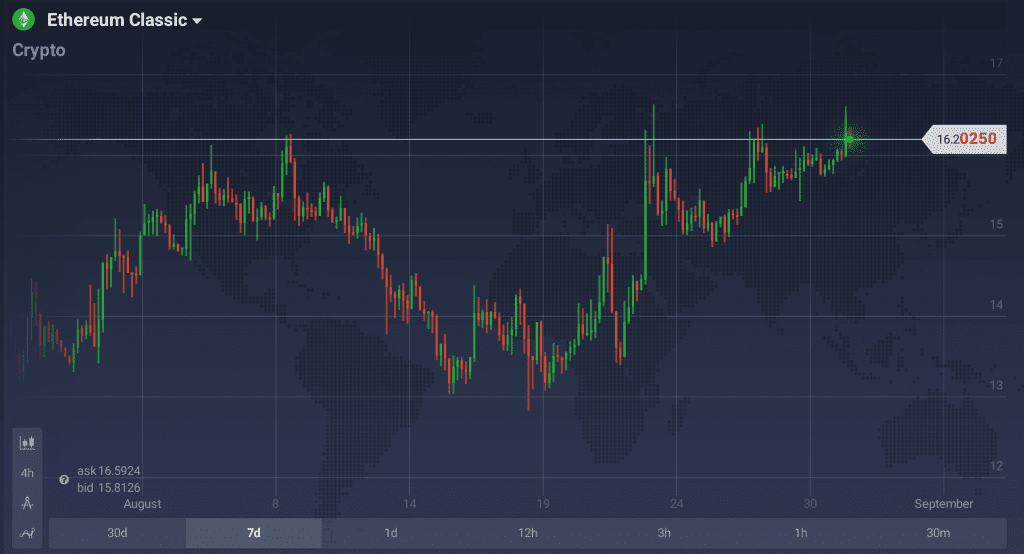 2) Key Features
In many ways Ethereum Classic is the same as Ethereum – offering a decentralised currency system that is widely exchange traded and can be used for DApps as well as smart contracts.
Ethereum Classic evolved out of a community who did not support the hard fork – and therefore mining for this currency continued on the old blockchain. Ethereum and Ethereum Classic are therefore two distinctly traded currencies today – each operating on a separate blockchain.
Read also: How to Trade Ethereum: CFD Trading vs "Buy and Hold"
3) Currency Supply
Ethereum Classic has Ether Classic tokens as its cryptocurrency unit. The digital currency has an unlimited supply and will be issued at a constant annual linear rate of 0.3 times the total annual amount of Ether Classic released in the pre-sale.  Given that over 60 million Ether Classic were created in the pre-sale, over 18 million Ether Classic tokens are placed into circulation each year.
However, there have been rumours circulating that Ethereum Classic will adapt its monetary policy by the 2017 year-end and implement a hard cap of 230 million total Ether Classic tokens.
4) Market Capitalisation
The total supply of Ethereum Classic in circulation as of August 2017 is 94,992,225 ETC tokens – at a price per coin of $16.20, placing the Ethereum Classic total market capitalisation at $1.5 billion. This makes ETC the 11th largest by market capitalisation currently.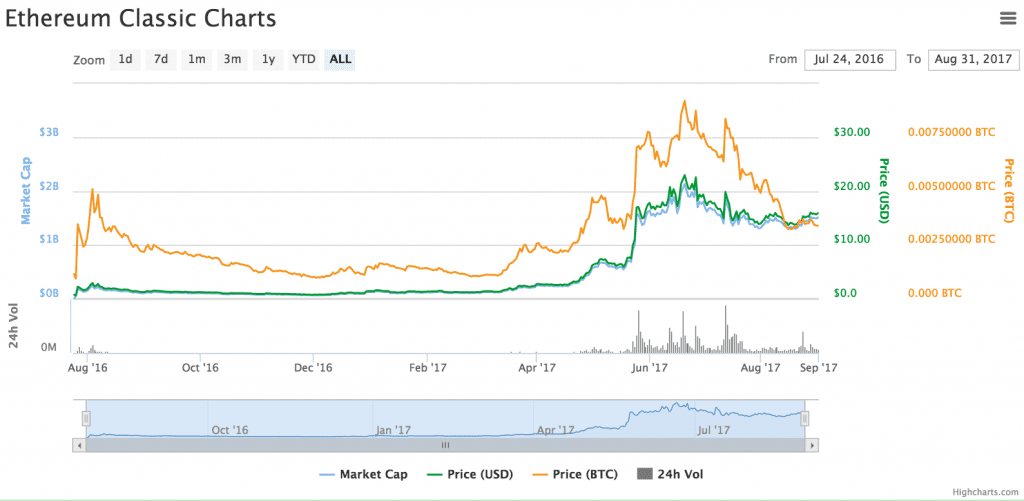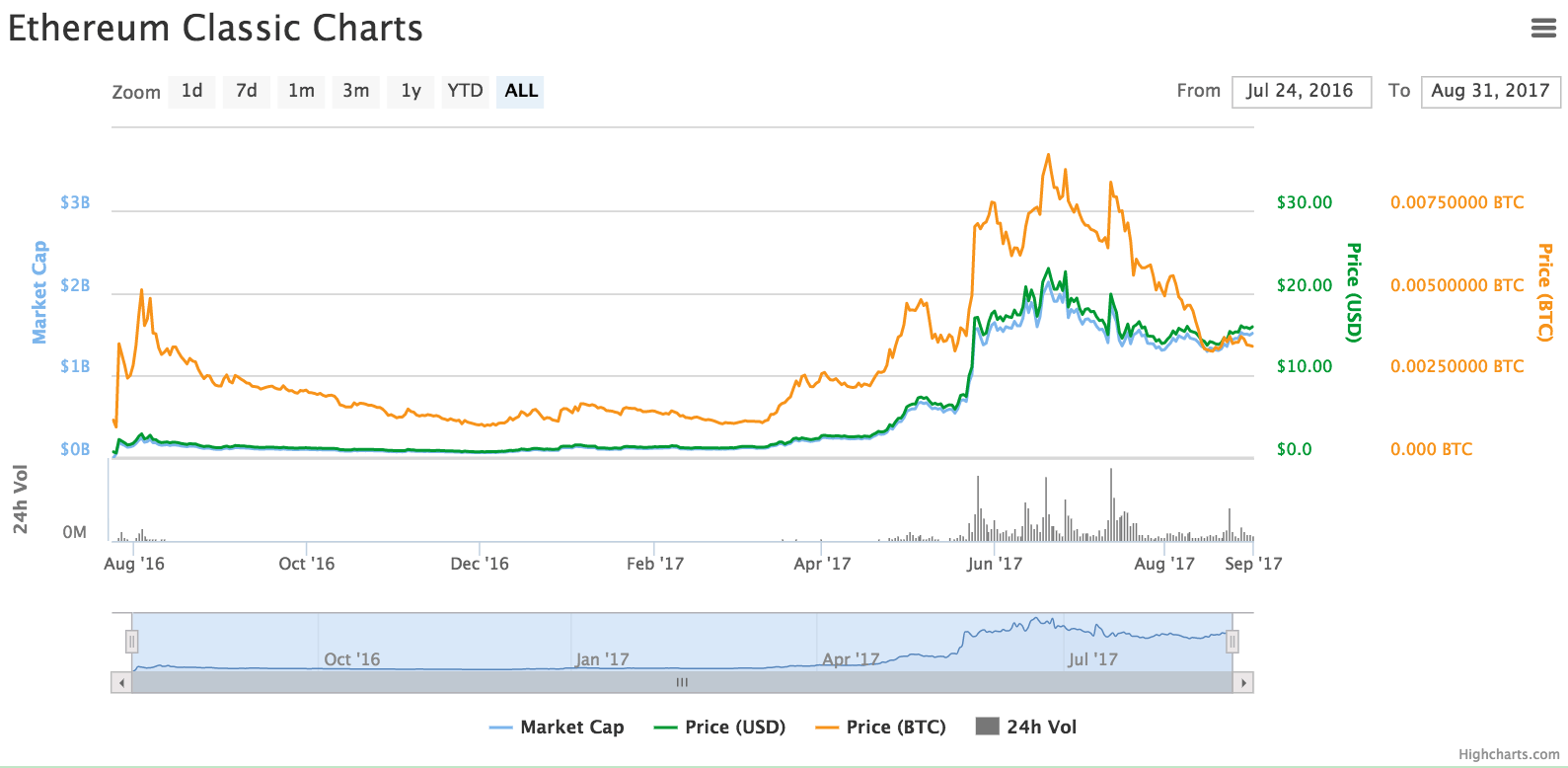 5) Differences to Other Cryptocurrencies
The defining feature of Ethereum Classic is the ability to create smart contracts and run DApps safely, smoothly and without interference.  Ethereum Classic offers all the same functional design features as Ethereum – which is why Ethereum Classic has also remained one of the top cryptocurrencies by market capitalisation over time – currently at number 11.
Transaction Finality
The most valuable design feature of ETC is its "immutability". What this means is that valid transactions are final and can never be undone.  Users of Ethereum Classic and their transactions follow the platforms so-called "Code is Law" principle. There are no reversals and there is no central body to intervene – each transaction is the responsibility of the parties involved and is final.
Decentralisation
The Ethereum Classic framework has governance systems in which there is no reliance on any one central body or point of authority. Based on distributed networks and a protocol that follows consensus, Ethereum Classic has no hierarchy within its platform. This helps promote transparency and a meritocracy for users.
Trade here
Sources:
https://ethereumclassic.github.io/

https://blockgeeks.com/guides/what-is-ethereum-classic/

https://coinmarketcap.com/currencies/ethereum-classic/