5 min read 
Triangles are among the most important chart patterns a trader can use, read on to find out how to apply them in trading.
Three triangles every trader should know
Chart patterns can really help you spot lucrative trading opportunities. There are many types of patterns, the one that will be discussed today is called 'Triangles'. Triangles are patterns in which the price of an asset such as a curreny pair, a cryptocurrency or a stock moves within a narrowing range between two trend lines. These patterns can form in upward and downward trends, or within a specific trading range, and can be used to predict future price movements. You know, to make trades.
There are three primary types of triangles; symmetrical, ascending or descending. In all three cases the pattern is formed by converging trend lines, the difference is in how those lines converge. In the case of a symmetrical triangle one trend line is moving lower while the other is moving higher, in the case of both the ascending and descending triangles one trend line is flat (horizontal) while the other is either moving higher or lower.
The symmetrical triangle is a sign of consolidation, often within a trend but sometimes within a trading range. What it means is that there is a balance of powers between bulls and bears that must be resolved before future movement can continue. The pattern is typically focused on an upcoming event such as key data, a central bank meeting or an earnings report, so identifying potential catalysts can be a huge help in trading it.
If the pattern forms within a trend and breaks out in the direction of the trend, it is a powerful sign of continuation. If it occurs within a trading range, prices are likely to keep moving in the direction of the break. You can also project the profit target using this method. Measure the magnitude of the triangle from its highest point to its lowest and project that from the point of break-out for the first target.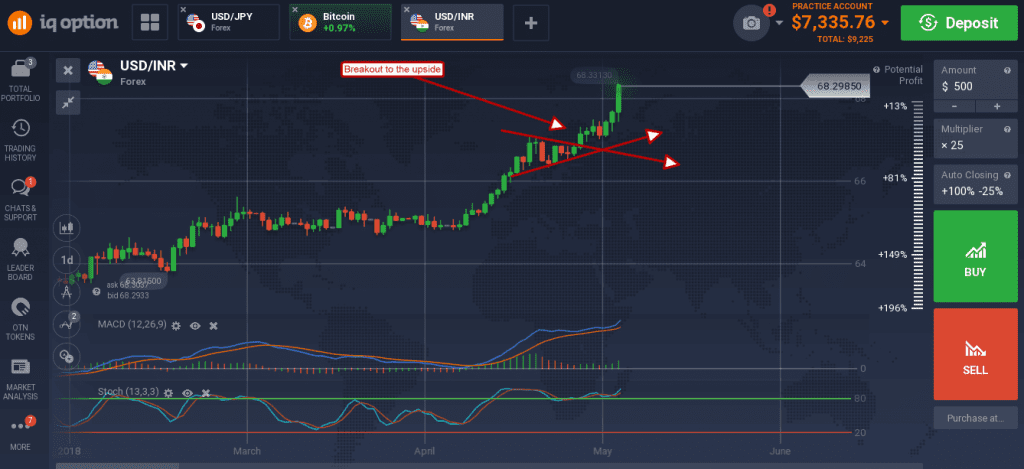 The Ascending Triangle is a strong bullish continuation signal within an uptrend. It is formed when prices hit a resistance level and move lower only to rally back to the same level. This action creates a flat-topped triangle with ascending lower support line evident of anxious buyers scooping up the asset whenever prices fall.
This pattern is driven by momentum, the volume of buyers can eventually overcome sellers and lead to a break-out. Because this is a continuation pattern, a trader can measure the height of the rally (or correction) that led up to it and then project that amount for the first profit target. For instance, if there was a rally of 40 pips that led to a flat topped ascending triangle, the asset is likely to move at least 40 pips once the breakout occurs.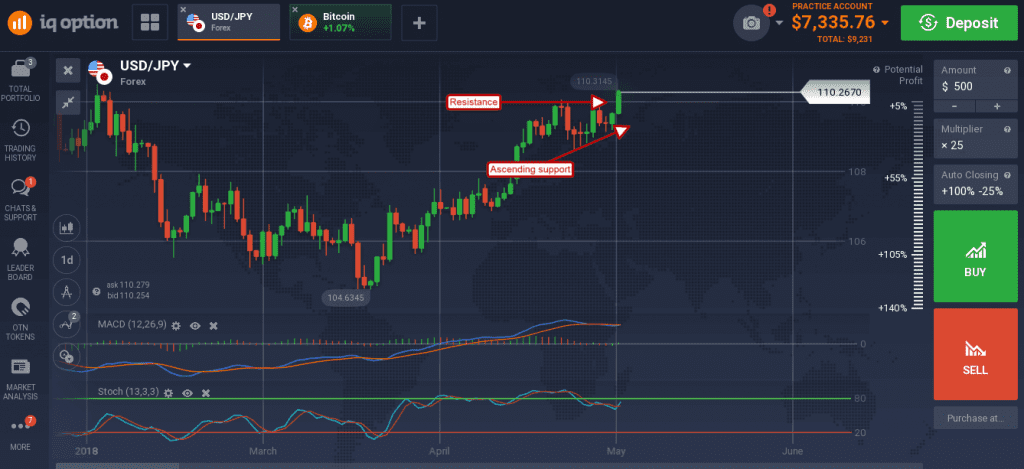 The Descending Triangle is a strong bearish continuation pattern exactly opposite of the Ascending Triangle. It is formed in a downtrend and has a flat-bottom at support with a descending resistance line.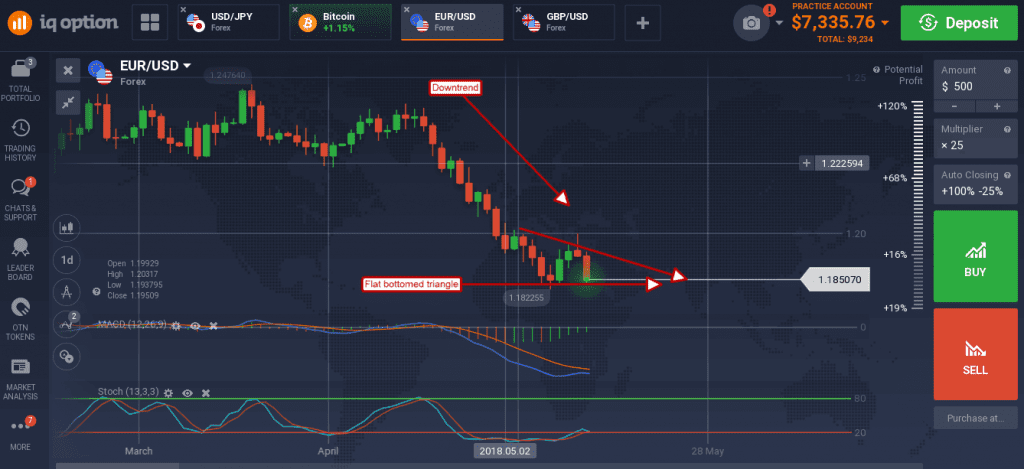 When this pattern completes, that is, it breaks out to the downside, it signals a further decline in prices is on the way.
Trade now
NOTE: This article is not an investment advice. Any references to historical price movements or levels is informational and based on external analysis and we do not warranty that any such movements or levels are likely to reoccur in the future.
In accordance with European Securities and Markets Authority's (ESMA) requirements, binary and digital options trading is only available to clients categorized as professional clients.
GENERAL RISK WARNING
CFDs are complex instruments and come with a high risk of losing money rapidly due to leverage.
77% of retail investor accounts lose money when trading CFDs with this provider.
You should consider whether you understand how CFDs work and whether you can afford to take the high risk of losing your money.