5 min read 
Wallets are an important component of the cryptocurrency ecosystem. As defined in the 2017 Global Cryptocurrency Benchmarking Study by the Cambridge Centre for Alternative Finance, a wallet is generally "a software program that is used to securely store, send and receive cryptocurrencies through the management of private and public cryptographic keys." They also provide a user interface to track the balance of cryptocurrency holdings and automate certain functions, such as estimating what fee to pay to achieve a desired transaction confirmation time.
With cryptocurrencies going mainstream, it is estimated that the total number of wallets has increased more than 4x from 8.2 million in 2013 to nearly 35 million in 2016.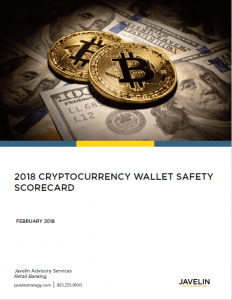 As the safeguards of cryptocurrencies, the security of wallets is crucial to the future development of the cryptocurrency ecosystem. It is with this context that Javelin has recently released the 2018 Cryptocurrency Wallet Safety Scorecard. In the report, Javelin evaluates 14 major cryptocurrency wallets regarding their fraud mitigation features against the fraud threats facing cryptocurrency investors.
Javelin is of the view that the future of cryptocurrency wallets lies in the custodial style of delivery. Users of custodial wallets are not only able to store a single or small number of cryptocurrencies and transfer them between wallet holders, they can also buy or sell cryptocurrencies – a feature that will be useful to users new to the cryptocurrency market. In addition, they provide security features that consumers would expect from traditional financial services providers, such as protection against consumer liability for fraud, transaction alerts, and risk-screening systems. Custodial wallets therefore provide a user experience that will be aligned with the expectations of a growing mainstream user base.
Javelin selected 14 custodial and non-custodial cryptocurrency wallets for evaluation: Abra, Airbitz, BitGo, BitPay, Blockchain, Bread, Coinapult, Coinbase, Copay, Exodus, GreenAddress, Jaxx, Mycelium, and Xapo.
There are three areas that Javelin investigates in its evaluation, namely prevention, detection, and resolution.
On prevention, it is the measures taken by the cryptocurrency wallets to prevent fraud. This entails authentication and account management tools, including but not limited to user name and password, fingerprint scanning, one-time password, and hardware security key. The leaders in this area are found to be Coinbase, GreenAddress, and Xapo.
On detection, it is the degree of sophistication of tools offered by cryptocurrency wallets to detect suspicious activities. This includes multiple alert channels and customizable notifications, or the ability to review recent account activity and identify suspicious devices. Blockchain, Coinbase, and Xapo are found to be leaders in this area.
Finally, on resolution, the offering of liability protections and remediation by cryptocurrency wallets against fraud are evaluated. This is the biggest gap between wallets and traditional financial services providers. Blockchain and Coinbase are leading in this area.
As cryptocurrencies become mainstream, consumers will demand the same level of protections to those offered by traditional financial services providers. Cryptocurrency wallets will be advised to look carefully into the above features when trying to achieve competitive advantage and differentiation.
Trade crypto here
NOTE: This article is not an investment advice. Any references to historical price movements or levels is informational and based on external analysis and we do not warranty that any such movements or levels are likely to reoccur in the future
GENERAL RISK WARNING
CFDs are complex instruments and come with a high risk of losing money rapidly due to leverage.
76% of retail investor accounts lose money when trading CFDs.
You should consider whether you understand how CFDs work and whether you can afford to take the high risk of losing your money.