4 min read 
Coinbase has announced through their blog the launch of a cryptocurrency index fund for large scale investors. The fund will be based on an index of cryptocurrencies currently listed on the exchange, an index that is designed to change as Coinbase adds new tokens to its lineup.
Fund is for US accredited investors only but that doesn't matter to traders, any avenue for new money to hit the market is a good thing for cryptocurrency. The minimum investment is $250,000, the max is $20 million, meaning only those with $1 million of investable assets or make more than $200,000 annually can participate.
The index is based on Bitcoin, Ethereum, Litecoin, Bitcoin Cash and Ethereum Classic and helps explain why Coinbase added BCH and ETC earlier this year. Looking to the future of the fund, Coinbase has already announced the listing of some ERC-20 tokens (cryptocurrencies based on the Ethereum protocol) and is expected to increase the number of other tokens they list as well.
While this news is good, it is just another in a string of similar announcements that points to institutional access to the cryptocurrency market. Binance, another major exchange and wallet provider, has announced the intention of launching a fund worth $1 billion and is currently looking for partners. Huobi, headquartered in cryptocurrency haven Singapore, has already listed a cryptocurrency ETF based on their proprietary Huobi 10 Index.

Traders should not discount the importance of these events as they go hand in hand with growing regulatory acceptance. The two (new inroads to the market and regulatory acceptance) will drive prices over the long term. With Bitcoin and other major currencies now trading at long term lows it seems like now is a good time to buy. IQ Option traders can take advantage using the platforms cryptocurrency CFD's and earn OTN tokens while they are at it.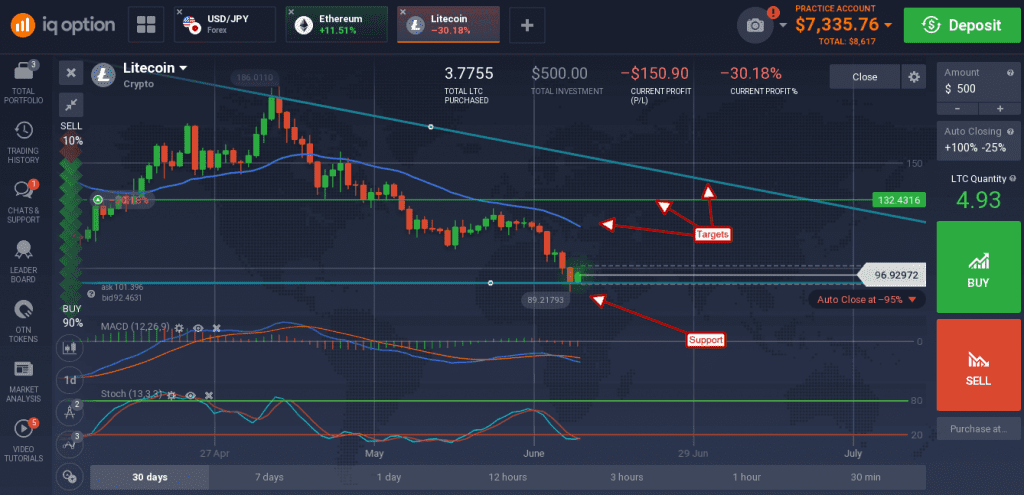 As of this writing the cryptocurrency market is trading at the long term low and exhibiting signs of support. Ethereum is up more than 1.6% and led by a 3% gain in Bitcoin and a 3.65% gain in Litecoin. Litecoin is bouncing off of its long-term low, a support level confirmed by divergences in MACD and stochastic and poised to move higher. The token may languish at this level in the near term but the longer-term outlook Targets for resistance are near $115 and along the down-sloping resistance target connecting the first-half 2018 peaks.
Trade now
NOTE: This article is not an investment advice. Any references to historical price movements or levels is informational and based on external analysis and we do not warranty that any such movements or levels are likely to reoccur in the future
GENERAL RISK WARNING
The financial services provided by this website carry a high level of risk and can result in the loss of all your funds. You should never invest money that you cannot afford to lose.