9 min read 
In the US, the equity market started the week with a solid bounce-back performance that reclaimed all of last week's decline and sent the S&P 500 to a new all-time high. Investors happily dialled back their estimates for damages related to Hurricane Irma–which was downgraded to a tropical storm on Monday morning–and cheered a show of restraint from North Korea. The Nasdaq the Dow and the small-cap Russell 2000 (+1.1%) settled roughly in line with the benchmark index.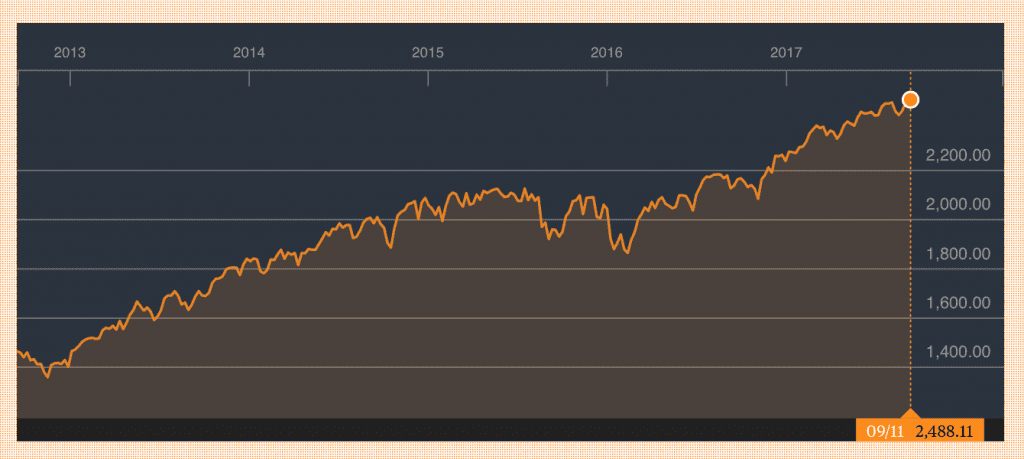 Irma made landfall in the Florida Keys on Sunday morning as a Category 4 hurricane, but the once historically powerful storm quickly petered out, falling to a Category 2 storm by the mid-afternoon. Millions of Florida residents are still without power and Jacksonville–Florida's most populous city–is experiencing substantial flooding, but the storm ultimately did far less damage than forecasts were predicting.  The prospect of fewer-than-expected hurricane related claims underpinned insurers like Travelers on Monday, helping the heavily-weighted financial sector finish at the top of the sector standings. Meanwhile, home-improvement retailers like Home Depot struggled, leaving the consumer discretionary sector near the bottom of the sector standings, as investors curtailed their expectations for home-repair demand.
North Korea remains a concern
A tempering of geopolitical concerns related to North Korea also fed into Monday's bullish bias after the hermit nation proved analysts wrong over the weekend, deciding to celebrate the 69th anniversary of its founding without another long-range missile launch. The tranquillity may prove to be short-lived, however, as the U.N. voted on further sanctions against Pyongyang on Monday evening.
Each of the eleven sectors settled Monday's session in the green, but gains varied pretty widely. In addition to financials, the technology and materials sectors outperformed. Within the tech group, Apple showed relative strength, climbing 1.8%, ahead of Tuesday's product event, in which the company is expected to unveil its latest iPhone lineup, including the high-end iPhone X–which is reportedly the much-anticipated tenth anniversary edition that's been generating buzz for months.
BTC still alive in China
Bitcoin enthusiasts in China aren't losing their cool even as China tightens its control of the use of cryptocurrencies. "As long as there are exchanges somewhere in the world, bitcoin is useful all over the world", an expert said. "I don't think it matters much that some exchanges are being shut down." China plans to ban trading of bitcoin and other virtual currencies on domestic exchanges, dealing another blow to the $150 billion cryptocurrency market after the country outlawed initial coin offerings last week.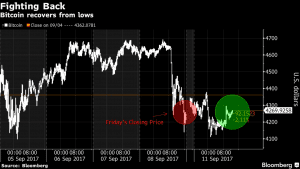 The ban will only apply to trading of cryptocurrencies on exchanges, according to people familiar with the matter, who asked not to be named because the information is private. Authorities don't have plans to stop over-the-counter transactions, the people said. China's central bank said it couldn't immediately comment. Bitcoin had slumped on Friday after reports that China's plans to cap the virtual currency's biggest weekly retreat in nearly two months.
The country accounts for about 23 percent of bitcoin trades and is also home to many of the world's biggest bitcoin miners, who use vast amounts of computing power to confirm transactions in the digital currency.
Samsung: Record pre-orders for Galaxy Note 8
Samsung said pre-orders for its Galaxy Note 8 premium smartphone have hit the highest-ever for the Note series, beating its predecessor Note 7 over five days by about 2.5 times. Samsung is banking on the device to protect its market dominance as it competes with Apple latest iPhones due to be today. Note 8 sales begin in the United States, South Korea and elsewhere on Friday.
Pre-orders reached about 650,000 Note 8 handsets over five days from about 40 countries, making the initial response "very encouraging," the president of Samsung Electronics' mobile communications business, said at a media event. The device succeeds the short-lived Note 7, whose battery fires resulted in Samsung pulling the device from the market after just a couple of months at a cost of billions of dollars.
Its reputation tarnished, the world's biggest smartphone maker by market share nevertheless decided to retain the Note brand after a survey showed 85 percent of 5,000 Galaxy Note users expressed brand loyalty.
Tesla Targets City Centers for Superchargers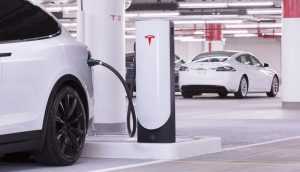 Tesla is trying to make it easier for city dwellers without plugs at home or at work to own its electric cars, targeting city centers with the expansion of its supercharger network. The first of Tesla's new urban stations to open for charging Monday will be a 10-stall location in Chicago and an eight-stall site in Boston, according to a company blog post. The chargers will deliver less power than those located along highways or at longer-distance destinations like hotels and resorts, meaning drivers will wait 45 to 50 minutes to replenish their battery.
In expanding its supercharger network, Tesla is paving the way for the arrival of its Model 3, its cheapest car yet. Reservation holders of the sedan, which starts at $35,000, skew younger and more urban, the global sales head said. Elon Musk is counting on more mass-market demand to support his ambitious plans for sales growth, with the goal being to produce to half a million vehicles in 2018, compared with almost 84,000 last year. "Supercharger stations in urban areas will be installed in convenient locations, including supermarkets, shopping centers and downtown districts, so it's easy for customers to charge their car in the time it takes to grocery shop or run errands," Tesla said in the blog post. "They also have the same pricing as our existing superchargers, which is far cheaper than the cost of gasoline."
Important events today:
2.30 am – Australia NAB business confidence (August): index expected to fall to 9 from 12. Market to watch: AUD crosses
9.30 am – UK CPI (August): CPI expected to rise 2.5% YoY from 2.6% in July, and rise 0.1% MoM from a fall of 0.1% a month earlier. YoY core CPI forecast to hold at 2.4%. Market to watch: GBP crosses
6.00 pm: Apple Townhall
Trade now
NOTE: This article is not an investment advice. Any references to historical price movements or levels is informational and based on external analysis and we do not warranty that any such movements or levels are likely to reoccur in the future.
In accordance with European Securities and Markets Authority's (ESMA) requirements, binary and digital options trading is only available to clients categorized as professional clients.
GENERAL RISK WARNING
CFDs are complex instruments and come with a high risk of losing money rapidly due to leverage.
73% of retail investor accounts lose money when trading CFDs with this provider.
You should consider whether you understand how CFDs work and whether you can afford to take the high risk of losing your money.