A round of spotty PMI data has marred the first day of trading in 2018. While positive much of it is below expectation leaving 4th quarter 2017 and 1st quarter 2018 GDP targets in question. The data comes from a broad swath of the developed world and shows a clear difference between North American and European economic trajectories.
The lions share of reports comes out of the EU ranging from member nations Germany, Italy, France and Spain to the broader arena as well. While German manufacturing PMI came in as expected at 63.3 and unchanged from the previous month most other did not. Spain, Italy, France and others reported declines and declines that were much steeper than expected. This was balanced by a few bright spots but resulted in no change from previous month at 60.6. The news is positive and a good sign overall, it is just not enough to spur ECB policy tightening or strength in the euro.
British manufacturing PMI was positive at 56.3 but also missed expectations and fell from the previous month. The euro had been advancing in the early hours of 2018 but fell back on the news. The pair is indicating resistance at the 0.8900 level and looks like it may have trouble moving higher. The indicators show an asset trading at resistance with a chance of falling; momentum is bullish but weak while stochastic is overbought and showing a bearish crossover. A move down from this level would confirm with a downside targets near 0.8800 and 0.8700. The risk is the moving average, just below Monday's candle, which could provide support.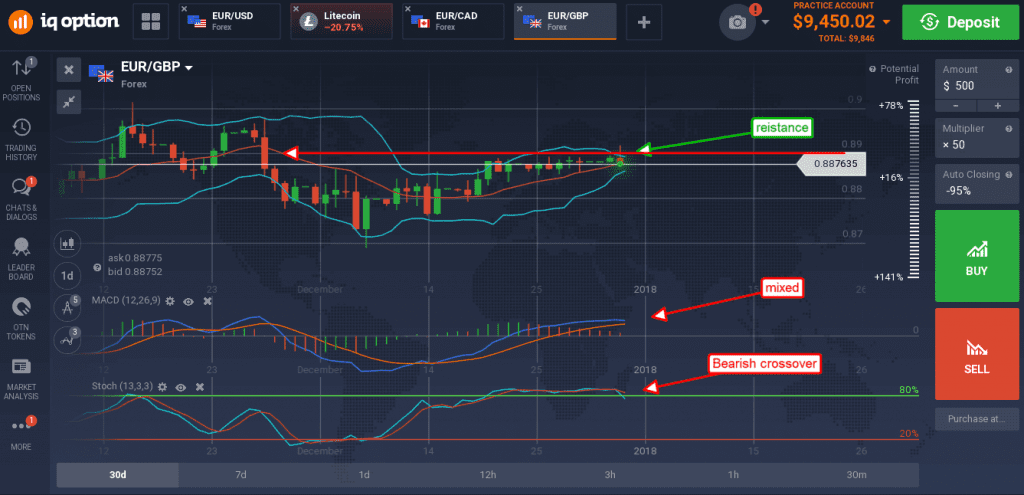 Canadian manufacturing PMI came in at 54.7, better than expected and expanding from the previous 54.4. The gains are driven by increased trade abroad and domestic activity. The euro, which had been gaining versus the Canadian dollar in early trading, fell on the news. The pair is indicating potential resistance at the 1.5100 level although other tools remains mixed.
Stochastic is showing a bullish crossover but it is a very weak one while MACD remains bearish, consistent with range bound trading at best and bearish continuation at worst. A move lower would help confirm resistance at 1.5100, a move below support targets at 1.5000 would be bearish.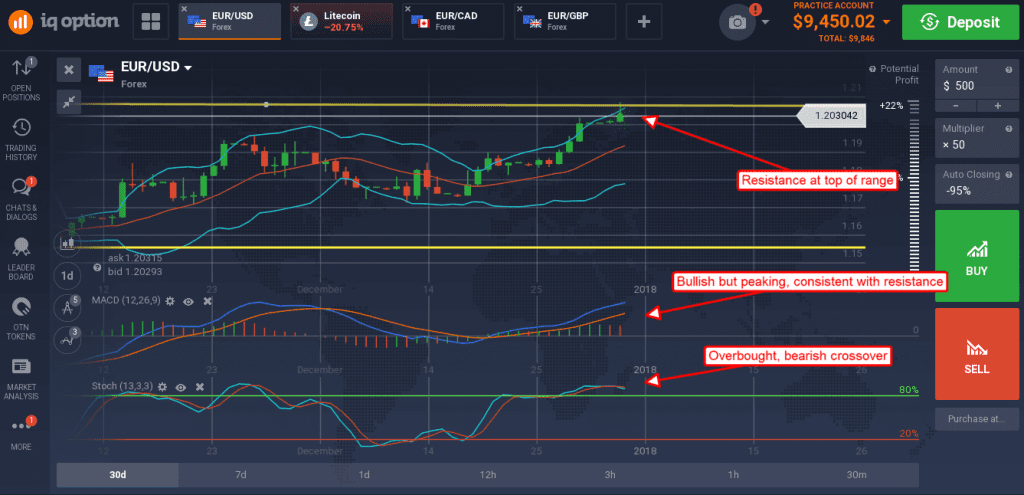 US manufacturing PMI was also better than expected and expansionary from the previous month, barely. The headline figure of 55.1 beat by a tenth and advanced by the same, indicative of slowly expanding growth within the sector. The news helped to solidify resistance in the EUR/USD, capping the pair at the 1.2500 level.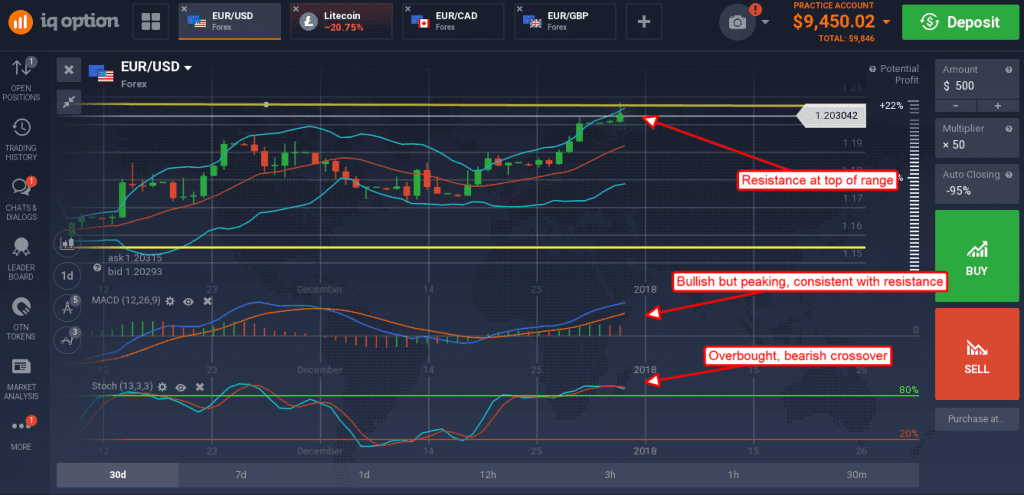 It remains range bound and could move lower should the remainder of the weeks data come in as it did today; weak in the EU and strong in the US. A move down from 1.2500 would confirm resistance with targets at 1.2000 and 1.19000 in the near term. Later this week be on the lookout for more PMI data from around Europe and the US as well as unemployment and NFP data on Friday.
[cta_en link="http://bit.ly/2w6LBL6″ name="Trade now"][/cta_en]