5 min read 
The inability to short-sell Bitcoin is one of the biggest complaints and mainstream traders alike. The reason is simple, without short-sellers prices can appreciate indiscriminately resulting in wildly trending markets and overblown valuations. The problem with this argument is that holders of Bitcoin and other cryptocurrencies, when those valuations get overblown, have no problem selling their tokens and driving those prices back down to more "normalized" levels.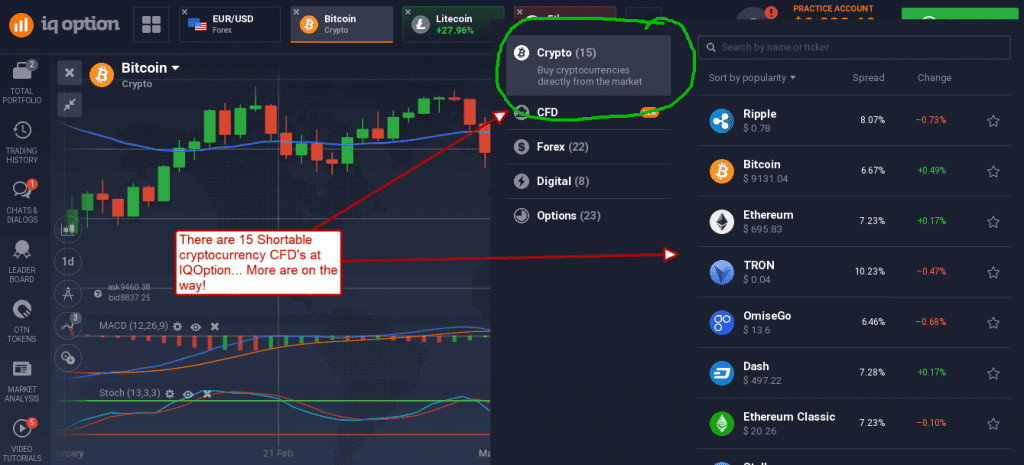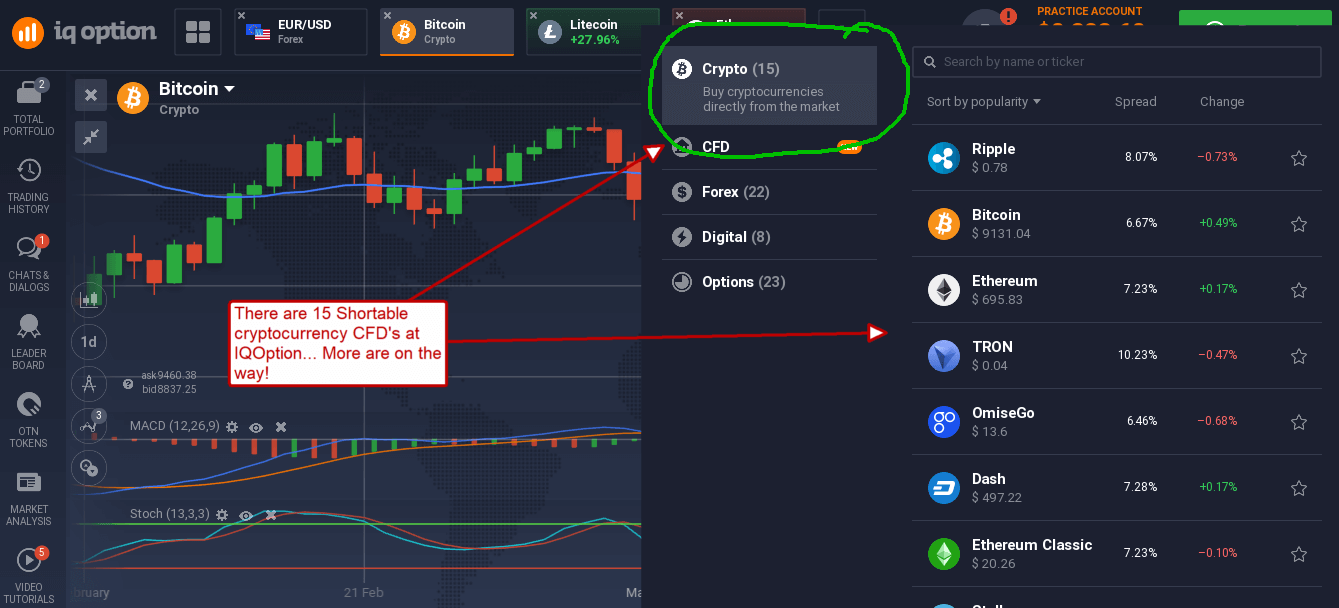 The real problem is that active traders can't take advantage of those moves. To profit from the wild swings and deep corrections you must already own BTC, ETH or LTC… but not if you trade at IQ Option. IQ Option is an up-and-comer in the cryptocurrency trading sphere and has taken steps to provide the most complete trading experience it can, including the ability to short-sell those cryptos.
It works like this; IQ Option offers CFD's on cryptocurrency that can be bought or sold to open. That is, you can go long a cryptocurrency or short it if you think prices will fall. This is the only way to profit from Bitcoin price declines without owning the token's outright. The catch is that trading CFD's does not result in ownership of tokens so if you are looking to physically buy you will need to use another method of trading.
Bitcoin Short-Sell Rules
Short-selling Bitcoin CFD's at IQOption is super easy to understand. The first step is to choose a crypto you want to short. IQOption has 15 of the top traded tokens listed as CFD's and there are more on the way.
Wait for the signal
The most important part of shorting is waiting for the good signal. It is possible to make massive profits shorting BTC but not if you trade at the wrong time. The adage "the trend if your friend, trade with the trend" is a rule that should be followed to the letter. Cryptocurrency markets often make large, protracted movements on momentum; shorting to soon can result in massive losses.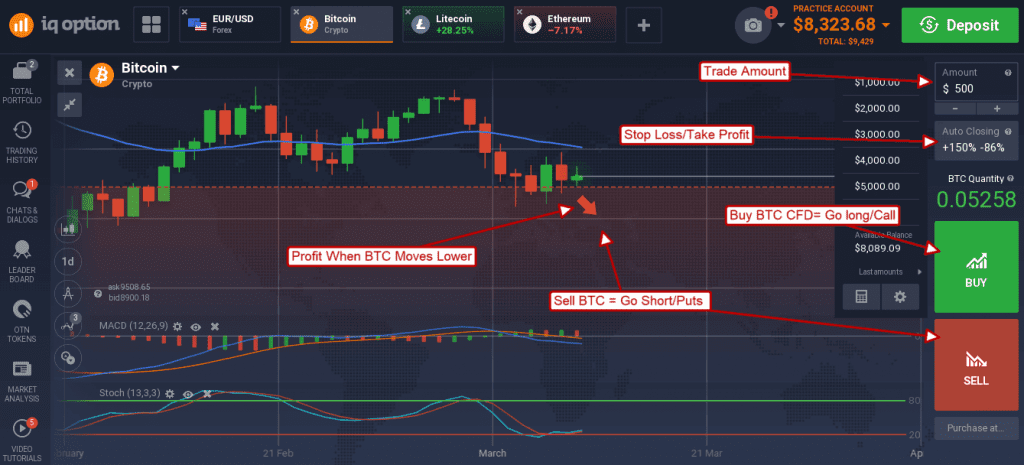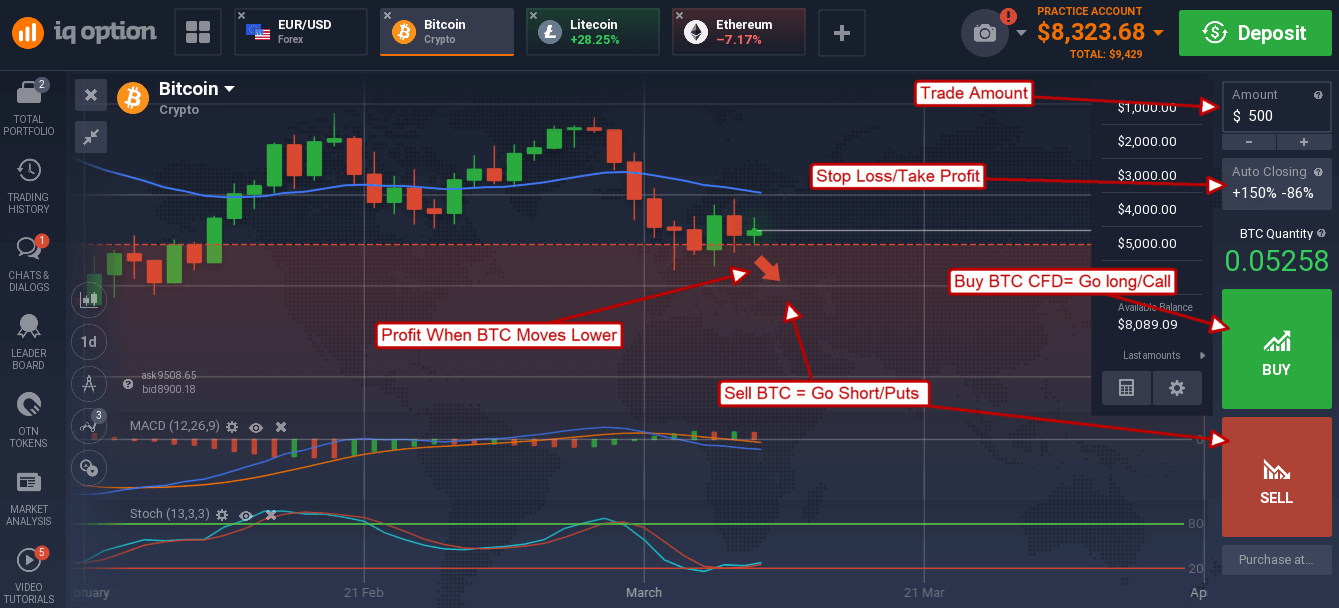 Enter the trade
There are three inputs for traders looking to short-sell Bitcoin, I suggest using them all.
The first is simply the trade amount; this is where you enter the amount you want to risk on your short-selling trade.
The next input is the auto-closing limits. IQOption lets you set stop-losses so you can close losing trades before they blow your account, IQ Option also lets you set a take-profit amount so you can close your winners automatically when they reach your targets.
Monitor the trade
Even with the stop-loss and take-profit it is important to monitor the trade. If Bitcoin makes a surprise move, or if an adverse news story hits the market, you may want to cut your losses early or take profits before they evaporate.
Close the trade
When it's time to close the trade enter the opposite order, buy back the short, assess your results and move on the next trade.
Buy Bitcoin now