6 min read 
 A user activated fork caused a hard split of the Bitcoin block chain, now what?
Some Bitcoin Owners Racked Up
After years of debate a solution to Bitcion's (BTC) problems, some of the problems, was decided on. The new problem is that not every body was happy with that solution and they did something no one thought would happen, they enacted a user activated fork (USAF) and created a hard split of the Bitcoin blockchain. The result is two versions of the crypto currency and for some owners it means two versions of Bitcoin in your wallet, if your exchange is prepared to handle it.
The problem with Bitcoin is the amount of throughput the system is able to handle. If you think of the blocks like a box of checks there are only so many checks each box can hold and at current usage those boxes are always full. The solution, or rather two solutions, are to increase the box size and/or to decrease the size of the checks in the boxes so that more will fit in. The difference is that if the box size is increased it will, and did, cause a hard split of the chain resulting in two currencies, Bitcoin and Bitcoin Cash (BCH).
If you decrease the size of the checks inside the box, a much more difficult change to implement, you can increase throughput and accommodate anyone who wishes to use a larger box. This solution ensures a harmonious transition to the new system, is backward compatible and allows the original Bitcoin block chain to go on uninterrupted. The problem that some miners have with it is that the means by which the checks are smallerized is to remove the signatures. This means that transactions can be verified but won't be tied to individual ID's. The roll out of this system was launched August 1st  with BP148 and expected to go into full effect by the end of the month.
The take away for traders and investors is that both the hard split and implementation of BP148 have been successful. There was a hard split from the original block chain, there are now 2 currencies and those in position of pre-split coins should now hold identical amounts of both, pretty dam sweet. The successful launch, while unexpected, helped to bolster investor sentiment and sent original Bitcoin up to set new all time highs.
Bitcoin record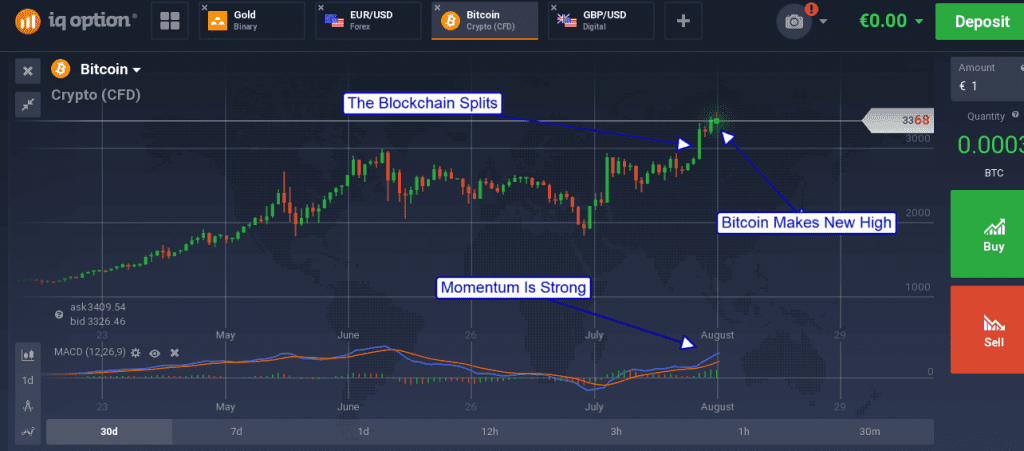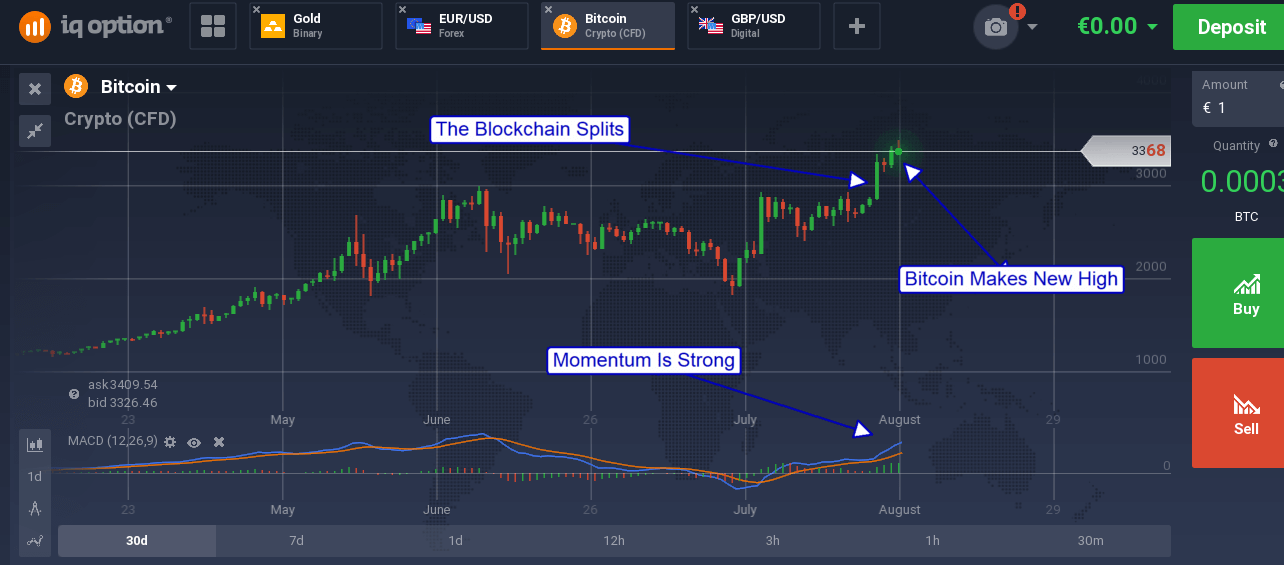 Bitcoin is now trading well above $3000 and set to move higher. This break to new highs is driven on mass investor appeal and growing confidence in the coins future. On a technical basis it has at least another $400 to go before hitting major resistance levels. This target is derived from the magnitude of the June/July consolidation zone, about $1000, and then projected from the top of that zone/previous all time high. This puts the target in the range of $3,800 to $4,000, or 12% to 15%, before the market is overextended and in danger of pulling back. Any weakness seen before that target is reached will be a likely entry point for bullish traders with longer term outlook, shorter term traders can use those times as launching points for trend following strategies.
Bitcoin Cash
Bitcoin Cash is another opportunity for traders and investors. It is currently trading about a tenth the value of Bitcoin and attractive for those looking to make gains similar to what Bitcoin has posted over the past year. On a year over year basis Bitcoin is up 475% since last year, it is up 250% year to date and expected to keep rising. IQOptions provides traders the opportunity to invest in both Bitcoin with binary options and CFD's, Bitcoin Cash with CFD's.
Trade on crypto now
NOTE: This article is not an investment advice. Any references to historical price movements or levels is informational and based on external analysis and we do not warranty that any such movements or levels are likely to reoccur in the future
GENERAL RISK WARNING
The financial services provided by this website carry a high level of risk and can result in the loss of all your funds. You should never invest money that you cannot afford to lose.