6 min read 
Trading Bitcoin can make you a millionaire very fast, if you know what you are doing. It can also make you a pauper just as fast which is why risk management in trading Bitcoin is so important. Perhaps more important than other markets and the reason is simple. Because cryptocurrency exchanges are so disconnected the market is very thin at the edges. This means the market is highly volatile, there are not always a lot of people who want to buy or sell at price $X. When a big order comes in, or a market moving event, prices can make big swings.
Real also: How to Safely Buy Bitcoin, Ethereum, Ripple
Those big swings are the key to your Bitcoin trading success and failure. Catch the right one and you could see your money double in minutes. Catch the wrong one and a highly levered account can be wiped out before you can turn around to spit. So, what do you do to avoid risk? As much as you possibly can. But IQ Option platform has a lot of tools to help traders reduce their risk.
Volatility Risk
You have to understand first and foremost that Bitcoin is a volatile market. An average daily swing for the original digital currency is well over 5%, a move that would mean near-immediate reversal in most other assets. If you cannot stomach wild swings in the assets price you should choose a less volatile asset to trade because you will see big swings in your profits/losses too.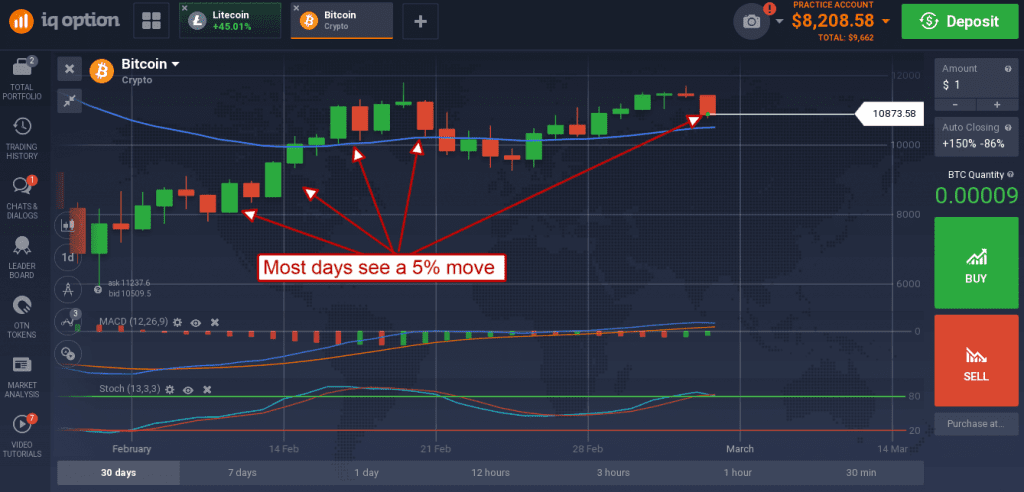 Regulatory Risk
Bitcoin has regulatory risk like no other asset on the planet. It is the only globally traded asset with no standard of regulation and dubious acceptance in many of the world's leading economies. The mere mention of regulation can spark big moves in the currency, a ban on trading BTC like what happened with China could wipe out 50% or more of the assets value in days. Keeping track of those events can not only help you avoid losses, they can help you make big gains by initiating new downtrends.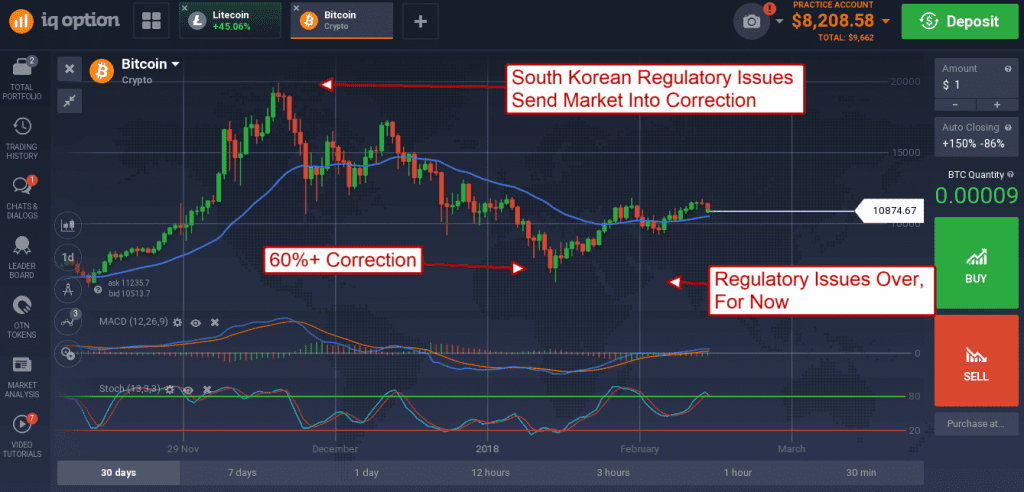 Technical Risk
Bitcoin is a trader's market. Sure, a lot of people are buy-and-hold investors, a few are doing transactions but for the most part it's traders that are driving the market. This means that technical analysis is crucially important. The market is following these signals so do not discount them. Further, because of the volatile nature of the market you can expect to see extreme targets reached. If a low is indicated by a long legged doji expect to see the very top of that doji retested before reversal takes place. IQ Option Has Purchase At feature that lets you set your target entry to automatically execute when price reaches that level.
Money Management Risk
Money management is a pillar of trading success no matter what you are trading. The idea is to trade only small amounts, using sound technical entries, to make small gains on regular basis. This theory works great with less volatile assets but can be a two-edged sword for cryptocurrency traders where average daily swings may easily wipe out traditional money management strategies. I suggest using the smallest amounts to trade, like 1% of your account, and setting a stop-loss at 50%.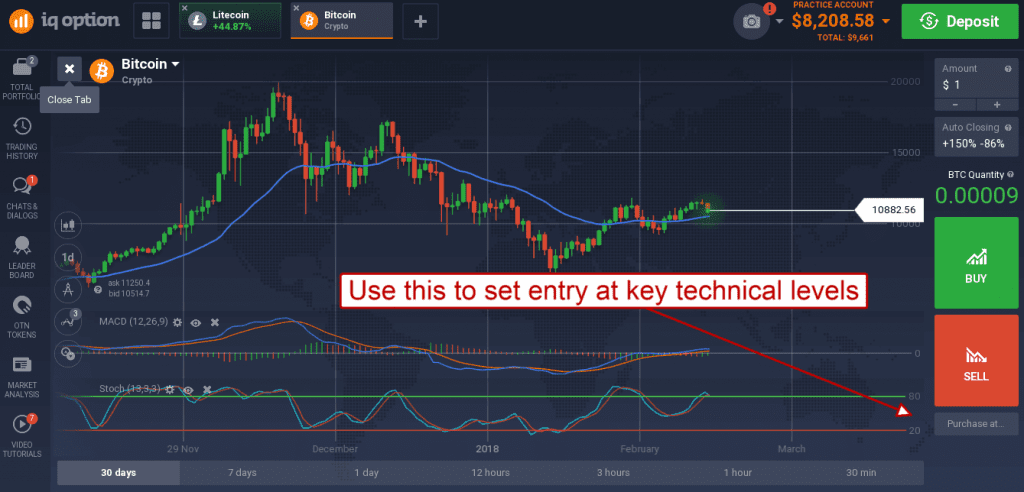 So, to sum it up, Bitcoin can make you rick you just have to understand the risks and manage them. The first step is to know the market, Bitcoin is risky. The second step is being aware of regulatory conditions and their changes because they can mean the difference between success and failure. The third step is to follow the technicals. Bitcoin is a trader's market, the technicals will tell you what the traders are doing so do what they do. Finally, be smart with your money. Sure, it would be great to make 1600% on your account in a few days, but it's not smart trading when you might lose your whole was trying to do it.
Buy Bitcoin now
NOTE: This article is not an investment advice. Any references to historical price movements or levels is informational and based on external analysis and we do not warranty that any such movements or levels are likely to reoccur in the future.
In accordance with European Securities and Markets Authority's (ESMA) requirements, binary and digital options trading is only available to clients categorized as professional clients.
GENERAL RISK WARNING
CFDs are complex instruments and come with a high risk of losing money rapidly due to leverage.
76% of retail investor accounts lose money when trading CFDs with this provider.
You should consider whether you understand how CFDs work and whether you can afford to take the high risk of losing your money.