3 min read 
In the volatile cryptocurrency market, Ripple is one of the stable coins. The coin did not have an exponential rise recently, but it did not fall drastically either. It is also backed by a very promising firm, which will give the token leverage in the long run. Currently, the token is holding above $9.3 billion in market cap and is the 5th largest coin as it lost its 4th spot to the booming IOTA.
Key Highlights
XRP/USD pair faced a stiff resistance between $0.246 to $0.25 since the midweek
XRP/BTC pair depreciated 25 percent over the week and currently trading around 0.000018 BTC

The coin started its week, be taking a dive from $0.27 to $0.22. Though the pit acted as a pivot and the token recovered to $0.24, it fell again to $0.22. But this time it pushed the coin until it reached $0.25. The token faced resistance at that level, but a support level also formed at $0.24.
After staying in this resistance-support band, it suddenly went up to $0.259. Testing that resistance level for a while, the token dropped. Though the support at $0.24 tried to hold the token's value, the new resistance formed above $0.246 checked any growth, and the token started to fall gradually and ultimately breached the support.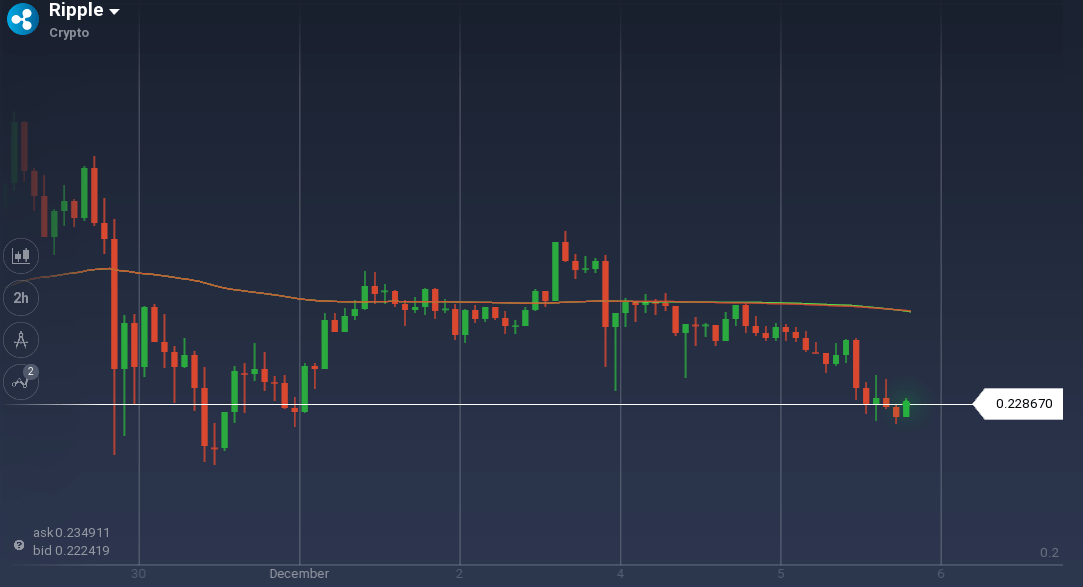 In the daily chart, the token is on a gradual downward move, and its value fell from $0.242 to $0.229. It is trying to find a new support level and is stabilizing around $0.23.
Due to the falling Ripple prices, the indicators are also running bearish. Stoch went under the overselling mark while RSI has recovered from 22 percent to 41 percent. MACD is also running bearish with a substantial gap between the curves.

XRP/BTC pair had bearish run all around the week mostly because of the rising BTC/USD. The pair dropped 0.000024 BTC to 0.000018 BTC over the week registering a loss of 25 percent.
Trade here
NOTE: This article is not an investment advice. Any references to historical price movements or levels is informational and based on external analysis and we do not warranty that any such movements or levels are likely to reoccur in the future
GENERAL RISK WARNING
The financial services provided by this website carry a high level of risk and can result in the loss of all your funds. You should never invest money that you cannot afford to lose.