13 min read 
Ripple is a distributed financial technology that allows banks to send real-time cross-border payments across global networks. Ripple was created in San Francisco by a team of cryptographers led by Brad Garlinghouse.
How Ripple Works
Ripple is classified as a cryptocurrency. It can be used to transfer funds to anyone, anywhere in the world using a global settlement network. Unlike Bitcoin and Ethereum which rely on the computers of just about any average Joe for peer-to-peer transaction confirmations, Ripple works with banks only and offers them a cheaper, safer, secure and less regulated method of sending money around the world. This process makes the existing systems of using SWIFT and other remittance payment systems such as Western Union and Moneygram look like cold war relics. It also eliminates the costly and time consuming currency exchanges that sometimes need to be done when sending money to countries whose currencies are not easily convertible.

For instance, it is not feasible under present banking conditions to send money from Brazil (sending currency: Brazilian Real) to Zambia (recipient currency: Kwacha) without an intermediary currency exchange. The Brazilian Real (BRL) has to be exchanged for US Dollars, and then from US Dollars to Zambian Kwacha. This process is costly for the sender and sometimes the receiver too, as exchange rate fluctuations could either reduce the amount expected to be received, or add to the cost of sending the funds. Also, the paperwork involved adds to the cost of administering the transfer. Using Ripple as a means of exchange, such a transfer could be done seamlessly and without the exchange rate fluctuations, since Ripple's currency (XRP) would in fact, be an acceptable means of exchange on both sides. The sender can easily exchange BRL for XRP, and the receiver could get the XRP in his or her Ripple wallet and exchange it for Kwacha.
Banks have been a bit slow to adopt this technology, for obvious reasons: central banks, the government agencies that regulate commercial banks, are not too keen on losing their regulatory stranglehold on the banks as well as their control of the monetary system based on fiat currency. However, there is no doubt that just as companies like Kodak ended up being blown away by the phone camera revolution, fiat currency would soon have to accommodate digital currencies such as XRP, or even give way entirely. Already, it is now possible to trade Ripple and other cryptocurrencies just the way fiat currencies are traded in the forex market. So what is to stop the adoption of XRP and others such as Bitcoin and Litecoin as media of exchange for goods and services? Only Father Time can. Besides, no one wants to have to wait several days for wire transfers to go through, or have them caught up by weekends and holidays. If snail mail could give way to emails, surely conventional bank wires may give way to instant bank wires using the Ripple platform.
Trading Ripple for Money: The Fundamentals
The price of Ripple would have to be tied to a few fundamental influences, one of which may be the general correlation of Ripple to the price of Bitcoin and Ethereum. However, this may not be the only fundamental factor to influence Ripple prices.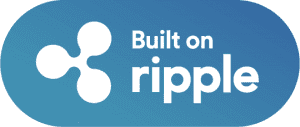 Since Ripple is meant for use by banks, any news of its adoption by a new major bank, endorsement by a major bank or a central bank or expanded use by existing bank clients may be triggers for price movements. Already, the Ripple platform is used by some of the world's major banks such as Banco Santander and UBS. By Ripple's estimates, a cost savings of $3.76 per payment can be achieved by using the XRP platform as opposed to conventional wire transactions. For banks that effect up to ten million transactions annually, this presents a significant cost-saving potential. Reduction in costs and increase in revenue are two areas where banks focus on to improve their revenue base. Ripple may present such an opportunity for banks.
Trading Ripple's Currency (XRP) with Technical Analysis
Option 1: Speculating on XRP Using Exchanges
Presently, the interest in Ripple is mostly in its amenability to speculative activity. This is actually where everyday people can make some good money for themselves. Investing in XRP took off in 2017 when XRP tripled in value from $0.01 to over $0.30 per XRP coin.  Ripple's market capitalization is behind that of Bitcoin and Ethereum, making it the 3rd most valuable cryptocurrency in terms of market capitalization.
Most speculators trade Ripple's currency using wallets. In this model, the aim is to profit from upside movements only. The strategy is therefore to purchase XRP when prices pull back, and wait for an appreciation of value of XRP to occur.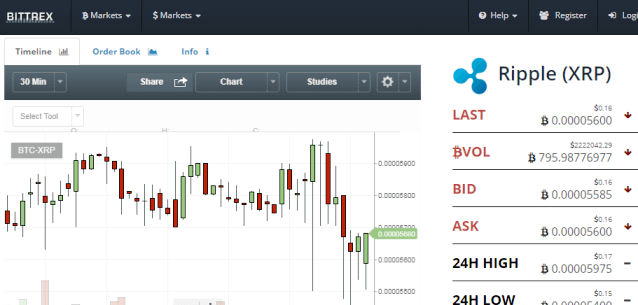 Obtain a Ripple (XRP) wallet
Ripple wallets can be downloaded as apps from the respective stores. They can also be acquired via desktop registration on the website of Ripple exchangers. On registration, a secret key to your Ripple wallet is provided. Ensure you keep this key information stowed away securely. This secret key provides secure access to your XRP wallet. A minimum of 20 XRP is required as minimum balance to guard against spam attacks. Examples of XRP wallets are:
Ledger Wallet (Nano S or Blue)
Rippex
Do your due diligence to see which of these wallets works for you.
Look for a Ripple Exchange
An exchange is where you can buy and sell your XRP for money. Several options exist to purchase XRP. You can use regular fiat currency or you can use other cryptocurrencies such as Bitcoin to purchase XRP (cheapest option). It may also be possible to purchase XRP using digital wallets such as Skrill, Neteller, etc.
Withdraw your XRP to your wallet
All XRPs purchased or traded should be kept in your wallet.
Buying low and selling high on exchanges is a good way to get introduced into the business of speculative trading of Ripple. But it has a major drawback. XRP is a volatile asset, and prices can reverse downwards very speedily, thus causing a decay in the value of any XRP held in the wallet. With no means of monitoring prices, or knowing when possible reversals may occur, many traders end up buying XRP at high values and end up losing a lot of money when prices crash. In other words, trading on exchanges is like trading blind; you never really know what is happening.
Option 2: Trading on Forex Platforms
For traders who want to really make money with Ripple, the better option would be to trade it on forex platforms, where it is possible to trade by buying Ripple to make money on upside moves, as well as shorting the Ripple asset to profit from downside price movements. This ability to trade in two directions offers a distinct advantage to traders who opt for this option over their wallet trading counterparts. Other advantages are as follows:
Ability to use tools of technical analysis (such as trend lines, indicators, etc) can provide some insight into the future price moves of the Ripple asset.
You can profit from falling prices as well as rising prices.
You can trade XRP without actually owning them. In other words, you trade XRP as contracts-for-difference (CFD) assets.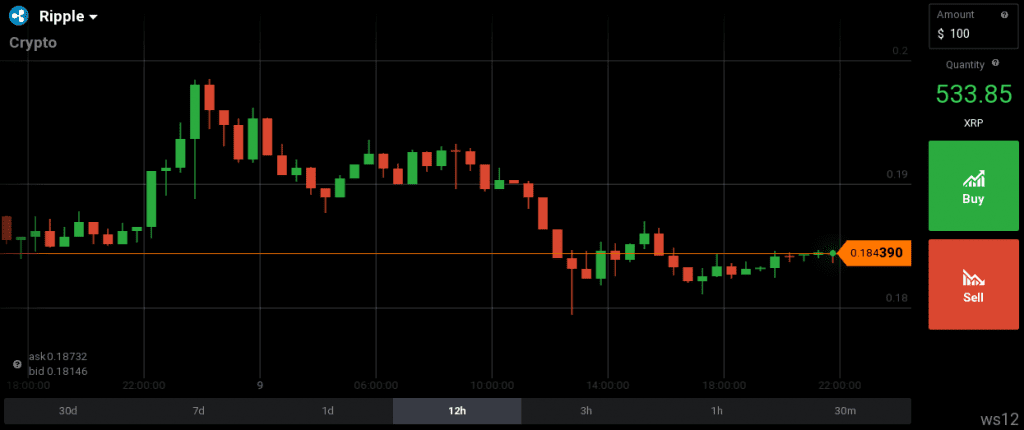 Notice the difference in the two charts. The 2nd chart is taken from the eToro forex platform, where it is possible to use tools of technical analysis to predict future price movements of XRP.
Conclusion
There will likely be some changes that will enhance the value of XRP going forward. Ripple has entered into a partnership with BitGo to mediate volatility risks, so as to make XRP more amenable to widespread adoption by banks. Furthermore, work is still ongoing to improve the security of the Ripple network.
These changes are expected to improve the value of XRP in the long term and put it at par or even surpass other cryptocurrencies.
Trade on Ripple now
NOTE: This article is not an investment advice. Any references to historical price movements or levels is informational and based on external analysis and we do not warranty that any such movements or levels are likely to reoccur in the future
GENERAL RISK WARNING
The financial services provided by this website carry a high level of risk and can result in the loss of all your funds. You should never invest money that you cannot afford to lose.