8 min read 
The chances of intervention from ECB's Draghi against the euro's appreciation increased after the currency climbed to its strongest level in more than two years versus the dollar, according to foreign-exchange strategists. The currency, which broke above the psychological $1.20 level for the first time since January 2015 on Tuesday, may see some profit taking in the near term, but banks have no doubts its trajectory remains bullish going forward, triggering an unwelcome tightening of financial conditions in the euro region.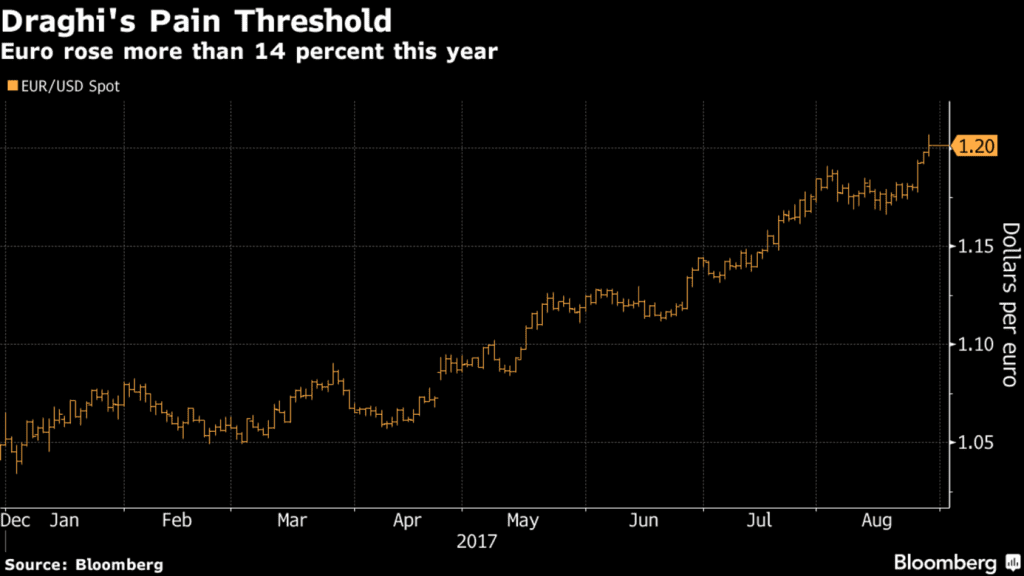 "The question is now what the European Central Bank will do in September to calm down the market," an expert said. "Draghi really needs his talent to stop the move in euro-dollar." The euro has gained more than 14 percent versus the dollar this year amid speculation the ECB will outline its intent to scale back its extraordinary package of quantitative-easing measures in the autumn. The ECB's next policy announcement is due on Sept. 7.
May Seeks to Preserve Gains From EU-Japan Trade Deal
Theresa May said she's keen for the U.K. to keep any benefits from a potential trade deal between the European Union and Japan after its scheduled departure from the bloc in March 2019."There's obviously a number of trade deals that the EU has with other countries and we are looking at the possibility of those being able to brought over certainly as initial trade deals with the United Kingdom,"  May told reporters Wednesday on a flight to Japan ahead of a three-day trip. "That I think will give business certainty which is what business wants at the point at which we leave."
Her lofty goal of convincing the world's third-biggest economy to use its trade deal with the EU as a basis for a future agreement with Britain comes as North Korea sours the mood with its latest missile tests. May will sit down with Prime Minister Shinzo Abe, Emperor Akihito and military and business officials, as she seeks to offer a key Asian ally and trade partner the kind of reassurances her top diplomat failed to do when he visited last month. Japan is in the final stages of brokering a free-trade agreement with the world's largest trading bloc, from which the U.K. is breaking away. That puts May in a difficult position, as her own predecessor hailed it as a landmark that would add an annual 5 billion to the U.K. economy.
Harvey breaks rainfall record, Houston imposes a curfew and death toll climbs to 18
City officials in Houston imposed an overnight curfew to guard against opportunistic crimes as Tropical Storm Harvey continued to deluge southeast Texas on Tuesday, breaking the record for the most extreme rainfall on the U.S. mainland. Authorities announced the curfew — midnight to 5 a.m. — after police arrested a crew of armed robbers who were hijacking vehicles, and officials warned residents of people impersonating Homeland Security investigators.
There also were fears of looting as thousands of houses lay partially submerged and abandoned. Since Harvey made landfall Friday night as a hurricane, some areas around Houston have seen in excess of 50 inches of rain — more than what they usually receive in a year. Authorities said the death toll had risen to 18, including a Houston police officer who drowned in his car on the way to work.
Gilead's $11.9 billion purchase of a groundbreaking cancer therapy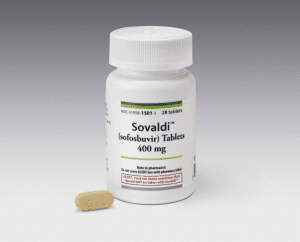 Gilead Sciences has ended the long-running suspense about what it would do with some of the billions in cash it has amassed from selling effective, but expensive hepatitis C drugs: Buy a groundbreaking cancer therapy. Gilead, which has come under congressional investigation for the $84,000 price tag it put on its first hepatitis C drug, announced Monday it would shell out $11.9 billion to acquire California-based Kite Pharma.
The acquisition could stir a whole new debate on drug prices. Kite has been one of a small group of companies at the leading edge of a new frontier in cancer therapeutics called CAR-T. The therapy is novel, personalized and intensive: Immune cells are harvested from a patient, genetically programmed to fight their cancer and then reintroduced to the patient. Kite's version of the therapy — for certain forms of the blood cancer, lymphoma — is enormously exciting from a medical standpoint, but it is also extremely likely to be costly. Cancer drugs are already routinely priced at more than $10,000 a month, and this new approach — a one-time treatment — has stoked hope for a whole new personalized approach to fight cancer. It might also need a whole new pricing model.
Economic events today:
10 am – eurozone business confidence (August): forecast to fall to 1.01 from 1.05. Market to watch: EUR crosses
1 pm – Germany inflation (August, preliminary): forecast to rise to 1.8% from 1.7%. Market to watch: EUR crosses
1.15 pm – US ADP employment report (August): forecast to see 180K jobs created, from 178K a month earlier. Markets to watch: US indices, USD crosses
1.30 pm – US GDP growth (Q2, 2nd estimate): expected to see QoQ growth of 2.7%, an upgrade from the 2.6% estimate a month earlier. Markets to watch: US indices, USD crosses
3.30 pm – US EIA crude inventories (w/e 25 August): forecast to see a drop of 200,000 barrels, from a 3.3 million barrel fall a week earlier. Markets to watch: Brent, WTI
Trade now
NOTE: This article is not an investment advice. Any references to historical price movements or levels is informational and based on external analysis and we do not warranty that any such movements or levels are likely to reoccur in the future.
In accordance with European Securities and Markets Authority's (ESMA) requirements, binary and digital options trading is only available to clients categorized as professional clients.
GENERAL RISK WARNING
CFDs are complex instruments and come with a high risk of losing money rapidly due to leverage.
73% of retail investor accounts lose money when trading CFDs with this provider.
You should consider whether you understand how CFDs work and whether you can afford to take the high risk of losing your money.