As you probably already know, the European Securities and Markets Authority (ESMA) has introduced new, stricter regulations to the market. You can read more about the upcoming changes in the following article. The new regulation is applicable to retail clients only. Professional clients will not be affected.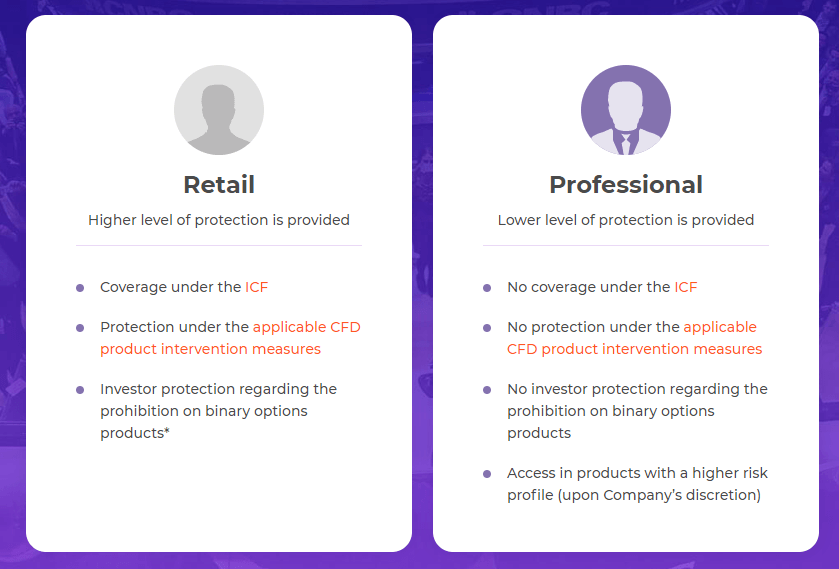 All existing IQ Option clients are automatically categorised as retail clients. A client who wishes to apply for categorisation as a professional client must fulfill certain criteria and also apply for this status. The procedure can be found on the IQ Option website  (https://eu.iqoption.com/en/pro).
In order to be re-categorised as a professional client, you will have to fulfil at least two out of three requirements:


Trading volume. You have made at least 10 deals (each worth €150 or more) per quarter for the last 4 quarters.


Sizable portfolio. Your financial portfolio — including financial instruments and cash — exceeds €500,000.


Relevant experience. You have at least one year of relevant experience working in the financial field.
Elective Professional Clients will be afforded the same level of protection as Retail Clients, with one notable exception: their funds will not be covered under the Investor Compensation Fund. Professional Clients have the right to change their status back to Retail at any time.
You can find more information in our client categorisation policy and request for a re-categorisation directly from your account.
[cta_en link="https://iqoption.com/lp/ultimate-trading/?aff=88&aftrack=proretail" name="To the platform"][/cta_en]