9 min read 
The U.S. Geological Survey said the quake had a magnitude of 8.0 and its epicenter was 165 kilometers west of Tapachula in southern Chiapas state not far from Guatemala. It had a depth of 35 kilometers. The U.S. Tsunami Warning System says widespread hazardous tsunami waves are possible on the Pacific coasts of several Central American countries.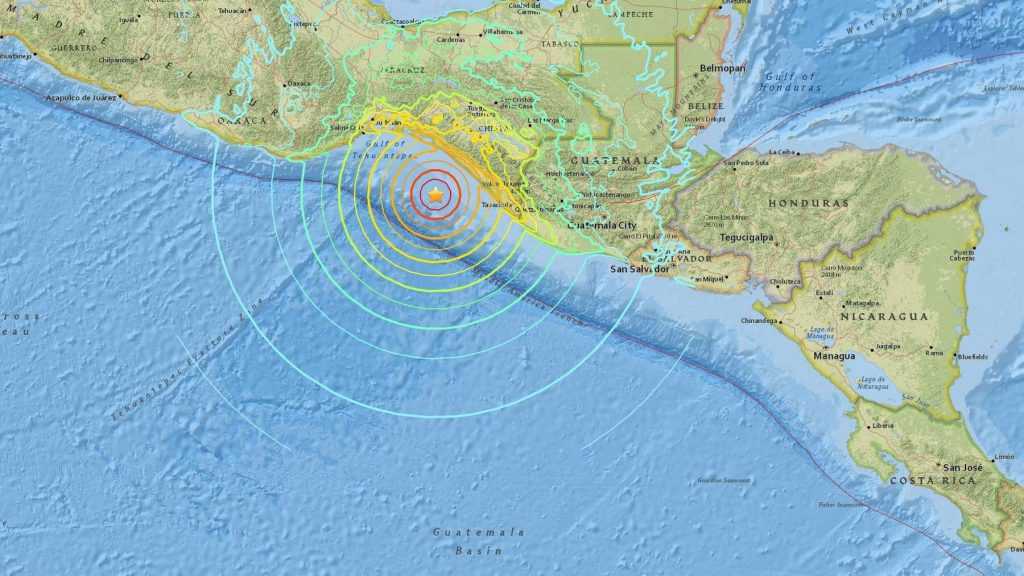 It said waves were possible within the next three hours for Mexico, Guatemala, El Salvador, Costa Rica, Nicaragua, Panama, Honduras and Ecuador. There was no tsunami threat for the U.S. West Coast. The quake was so powerful that frightened residents in Mexico's distant capital city fled apartment buildings, often in their pajamas, and gathered in groups in the street. Sections of Mexico City were without electricity.
Irma: Apocalyptic damage in the Caribbean
Hurricane Irma carved a path of destruction through the Caribbean, killing at least 12 people, leaving thousands of others homeless and plunging more than 1 million residents of Puerto Rico into darkness. As the eye of the Category 5 storm passed north of Puerto Rico early Thursday, a string of Caribbean islands grappled with flattened homes, flooding and widespread devastation. Irma battered the tiny island of Barbuda and the island territories of St. Bart and St. Martin, where local officials said about 95 percent of the island was completely demolished after Wednesday's thrashing.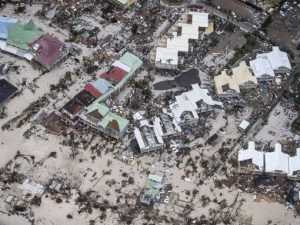 "It is an enormous disaster … I am in shock," Daniel Gibbs, chairman of a council on St. Martin, told Radio Caribbean International. While Irma, the most powerful Atlantic hurricane on record, skirted Puerto Rico on Wednesday night as it stayed just out to sea, it was expected to graze the Dominican Republic before targeting the Bahamas and Turks & Caicos on Friday. A hurricane watch was issued Thursday for portions of southern Florida and the Florida Keys.
The National Hurricane Center said a slight westward shift in Irma's projected path indicated that it could make landfall just east of Key Largo, bringing its eye wall, which carries the most destructive winds, over Miami with major hurricane winds. Conditions could start to deteriorate over South Florida before dawn Saturday as Irma approaches, it said. "During this weekend, all significant hurricane impact threats are possible, including especially life threatening storm surge flooding and damaging winds," the hurricane center said late Thursday.
More than 100,000 cruisers are seeing their vacation re-routed to stay our of the path of the Category 5 Hurricane Irma, whose powerful 185 mile per hour winds have ravaged popular cruise stops in the Caribbean. Expect safe haven investment as well as commodities to be in demand!
ECB: Draghi in no rush
The ECB president dismissed the notion that Europe is in an era of low inflation. "There is no question," he said when asked whether price increases in the euro zone will return to the bank's target of close to but just below 2 percent.  At some time. We just need to be patient.  And in explaining the bank's decision to maintain its stimulus, Draghi did stress patience yesterday, along with the importance of the euro's rally in dampening inflation. Forecasts presented today at the ECB's Governing Council Meeting projected growth in gross domestic product this year of 2.2 percent, the fastest since 2007.
At the same time, inflation isn't going anywhere fast — seen at 1.5 percent this year, easing to 1.2 percent next year before inching back up to 1.5 percent in 2019. But it will get back to target, Draghi said; it's just going to take some time. He didn't show any sign of feeling rushed toward a policy shift, even though the bank's current program of stimulus through bond-buying expires at the end of this year. He fielded several questions on details of what comes after that quantitative easing, and when it will be revealed. Wait until next month, he assured. All will likely be revealed. If it takes longer, so be it. Patience.  Officials will probably be ready by the next policy meeting on Oct. 26.
All the references to the euro, and the emphasis that faster growth hadn't yet translated to markedly faster inflation, suggests there will be no sudden stop to the ECB's bond purchases 1  of 60 billion euros a month. An abrupt end was always unlikely, but Draghi made it seem like a transition to, say, 40 billion a month might be more favored, rather than 30 billion or 20 billion.
Equifax Hit by cyberattack

Equifax said its systems were struck by a cyberattack that may have affected about 143 million U.S. customers of the credit reporting agency, shedding light on one of the largest and most intrusive breaches in history. Intruders accessed names, Social Security numbers, birth dates, addresses and driver's license numbers, Equifax said in a statement. Credit card numbers for about 209,000 consumers were also accessed, the company said. "This is clearly a disappointing event for our company, and one that strikes at the heart of who we are and what we do. I apologize to consumers and our business customers for the concern and frustration this causes," the CEO said in a statement. The company set up a website, www.equifaxsecurity2017.com, that consumers can use to determine whether their information was compromised. It's also offering free credit-file monitoring and identify-theft protection. The incident is a stark reminder of the risk of consumers' personal data being exposed online. It's particularly worrisome for the millions of people who trust credit-reporting agencies like Equifax to handle and protect their financial information.
Important events today:
3 am – China trade balance (August): surplus expected to rise to $48 billion from $46.7 billion. Markets to watch: China indices, CNY crosses
9.30 am – UK trade balance (July): previous reading was a deficit of £4.5 billion. Market to watch: GBP crosses
1.30 pm – Canada jobs data (August): unemployment expected to hold at 6.3%, while 26,700 jobs created after 10,900 a month earlier. Market to watch: CAD crosses
Trade now