2 min read 
Canadian long track speed skater Ted-Jan Bloemen is the first Olympic athlete to be paid in crypto after signing a sponsorship deal with cryptocurrency social network onG.social and virtual reality developer CEEK VR. The double world recorder holder, who is currently competing in the Pyeongchang Olympics, announced this unique partnership via Twitter.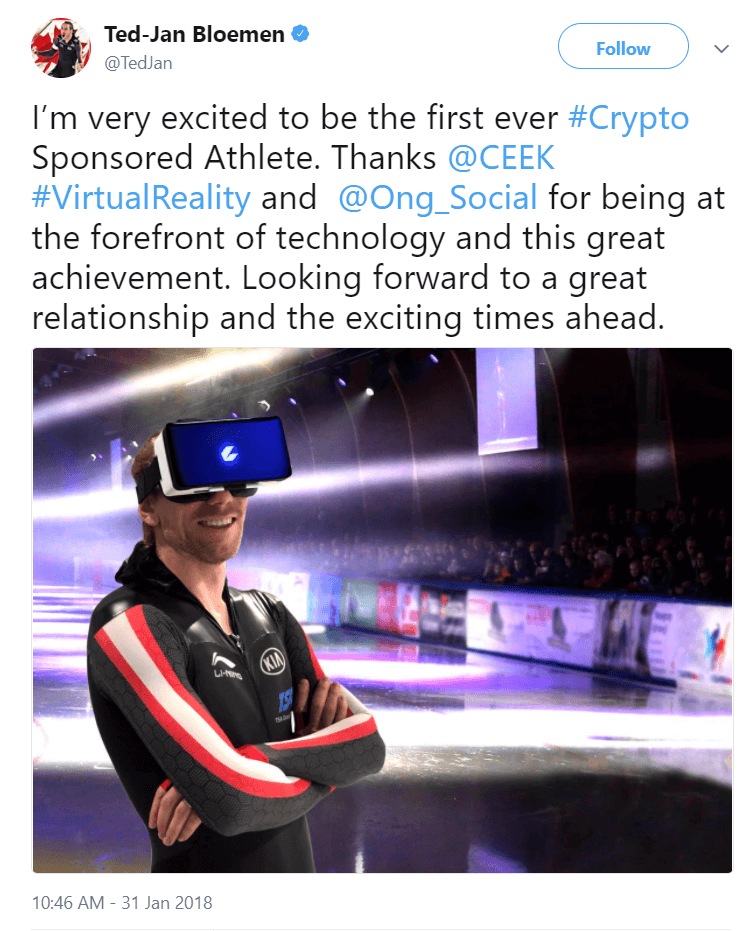 As part of the deal, Bloemen will receive compensation in crypto for documenting his Olympic journey on onG.Social and appearing in a 360° Virtual Reality Experience on CEEK VR. Despite the constant, unpredictable fluctuations of cryptocurrencies, Bloemen expressed confidence in the partnership, elaborating on the fact that he was partially paid in cash:
"For me, the real risk of not getting anything is not there, because I got a little (cash) out of it already. And that combination makes this sponsorship really fun, right."
Bloemen recently competed in the 5,000-meter speed skating event, winning the silver medal. He is set to skate in the 10,000-meter race on February 15.
Though Bloemen may hold the title of the world's first Olympic competitor paid in cryptocurrency, he is not the only athlete to accept payment in crypto. A few weeks ago, an amateur Turkey football club made headlines after signing what is believed to be the first player paid in Bitcoin. Cryptocurrency sponsorships in sports are also growing. Last month, Arsenal Football Club announced a partnership with CashBet Coin, a token designed for iGaming. Such partnerships suggest that cryptocurrencies continue to gain support around the world.
Trade crypto now