8 min read 
Elon Musk wasn't making doomsday predictions because North Korea is testing nuclear weapons. What's got Musk much more worried about world war is artificial intelligence. North Korea "should be low on our list of concerns for civilizational existential risk," Musk said in one of a series of posts on Twitter. The dire prediction was in response to a recent comment from Russian President Vladimir Putin. "Artificial intelligence is the future not only of Russia but of all of mankind," Putin said. "Whoever becomes the leader in this sphere will become the ruler of the world."

At the moment, the United States, China and India are the three countries leading the AI race, according to one top tech industry executive. But Musk believes others will try to catch up by any means possible. "Govts don't need to follow normal laws," he said in one tweet. "They will obtain AI developed by companies at gunpoint, if necessary." In another reply on Twitter, Musk speculated that an AI system could choose to start a war "if it decides that a prepemptive strike is most probable path to victory." Musk has repeatedly issued warnings about the perils of AI, calling for new regulation to keep the public safe. Time to get into AI!
United Technologies agreed to buy Rockwell for about $23 bn.
The acquisition, one of the biggest in aviation history, creates an aircraft-parts giant better positioned to withstand the squeeze from planemakers Boeing and Airbus SE for pricing discounts and higher output. The resulting company will boast a broad suite of products for commercial aircraft, from Rockwell Collins's touchscreen cockpit displays to jet engines made by the Pratt & Whitney division of United Technologies.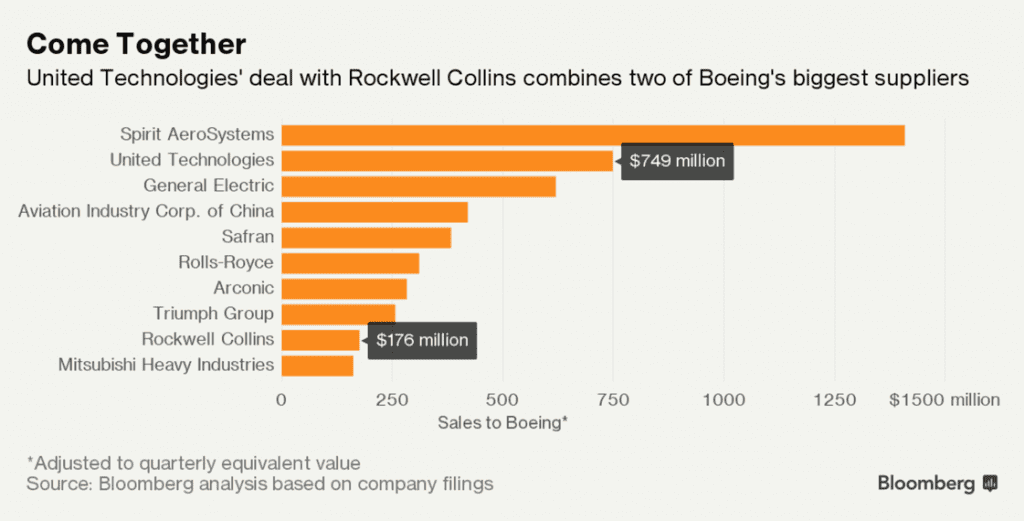 "This is a significant deal for UTC and the aviation industry in general," an expert said. By buying Rockwell Collins, which delivers avionics systems for the U.S. planemaker's 787, "UTC becomes a critically important supplier to Boeing and will have a strong negotiating position as Boeing is putting price pressure on suppliers."
Rockwell Collins shareholders will receive $140 a share in cash and stock, the companies said in a statement Monday. The price represents an 18 percent premium to Rockwell Collins's closing level on Aug. 4, before Bloomberg News reported on the deal talks.  Airbus issued a veiled warning to United Technologies to not let empire building get in the way of critical deliveries for the French planemaker. "Our total focus is on delivering planes, and we hope that this M&A would not distract UTC from their top operational priority," Airbus said by email.  United Technologies plans to combine its aerospace business with Rockwell Collins in a new unit named Collins Aerospace Systems. Rockwell Collins CEO Kelly Ortberg will head the division, while Dave Gitlin, who currently runs UTC Aerospace Systems, will serve as president and chief operating officer. "This acquisition adds tremendous capabilities to our aerospace businesses," CEO of United Technologies, said in the statement. Expect pressure on Airpus on Boeing stocks!
Lilium raises $90M Series B for all-electric flying taxi
While the interest in flying cars continues to swell, one of the most prominent start-ups working on the technology has gained a big new backer. Lilium Aviation, a German company that held a successful test flight of the Eagle, its two-seat electric jet at their Munich base this year, announced on Tuesday that it has raised $90 million in a new round of financing. The investment was led by a Chinese internet giant.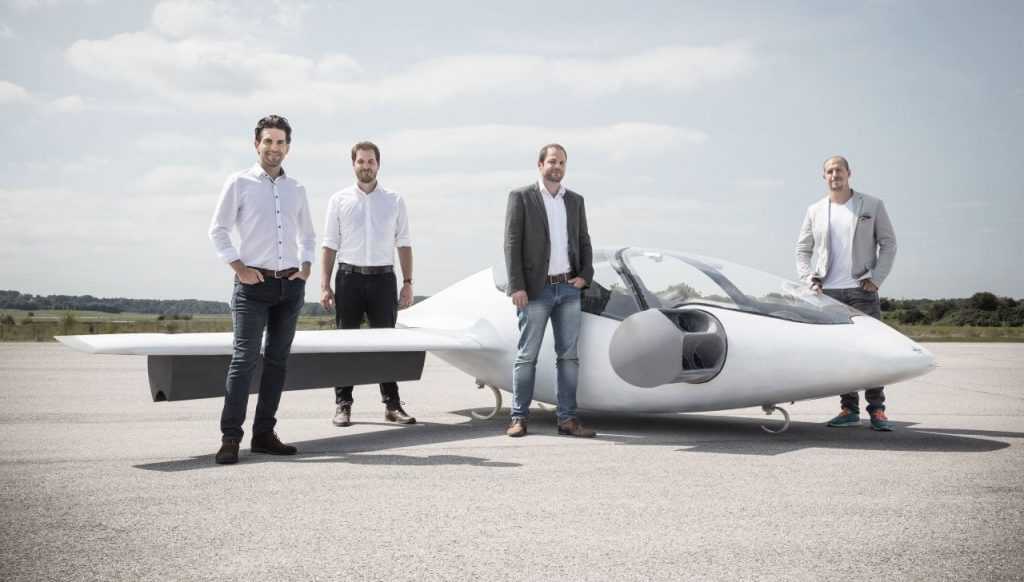 Other investors in the round included LGT, the investment vehicle of Lichtenstein's royal family; Atomico, the venture firm run by a founder of Skype, Niklas Zennstrom; and Obvious Ventures, the investment firm co-founded by the Twitter co-founder Evan Williams. Mr. Zennstrom has previously invested in the company. Lilium is among several companies looking to usher in an era of Jetsons-type flying cars, including those backed by the Google co-founder Larry Page, Uber and Airbus. But the two-year-old company is trying to stand out by focusing on an electric jet — unlike other models that effectively function more like hovercraft.
China's ICO ban just the start of tighter regulation?
China is driven to tighten rules on virtual currencies after regulators on Monday banned virtual coin fundraising schemes. China banned and deemed illegal the practice of raising funds through launches of token-based digital currencies, targeting so-called ICOs in a market that has exploded since the start of the year. In total, $2.32 billion  has been raised through ICOs globally, with $2.16 billion of that being raised since the start of 2017. Bitcoin rival Ethereum, which token-issuers usually ask to be paid in and which has seen dramatic growth this year, fell sharply on the news. It was down almost 20 percent on Monday at $283. Bitcoin was also down 8 percent, while the total value of all cryptocurrencies was down around 10 percent after China's ban was announced, according to industry website Coinmarketcap.com.
Important events today:
2.45 am – China Caixin services PMI (August): private sector survey is expected to show an increase in activity, with the index rising to 52.1 from 51.5. Markets to watch: China indices, CNY crosses
5.30 am – RBA rate decision: no change in policy forecast, with the rate held at 1.5%. Market to watch: AUD crosses
9.30 pm – UK services PMI (August): expected to edge down to 53.7 from 53.8. Markets to watch: FTSE 100/250, GBP crosses
Trade now